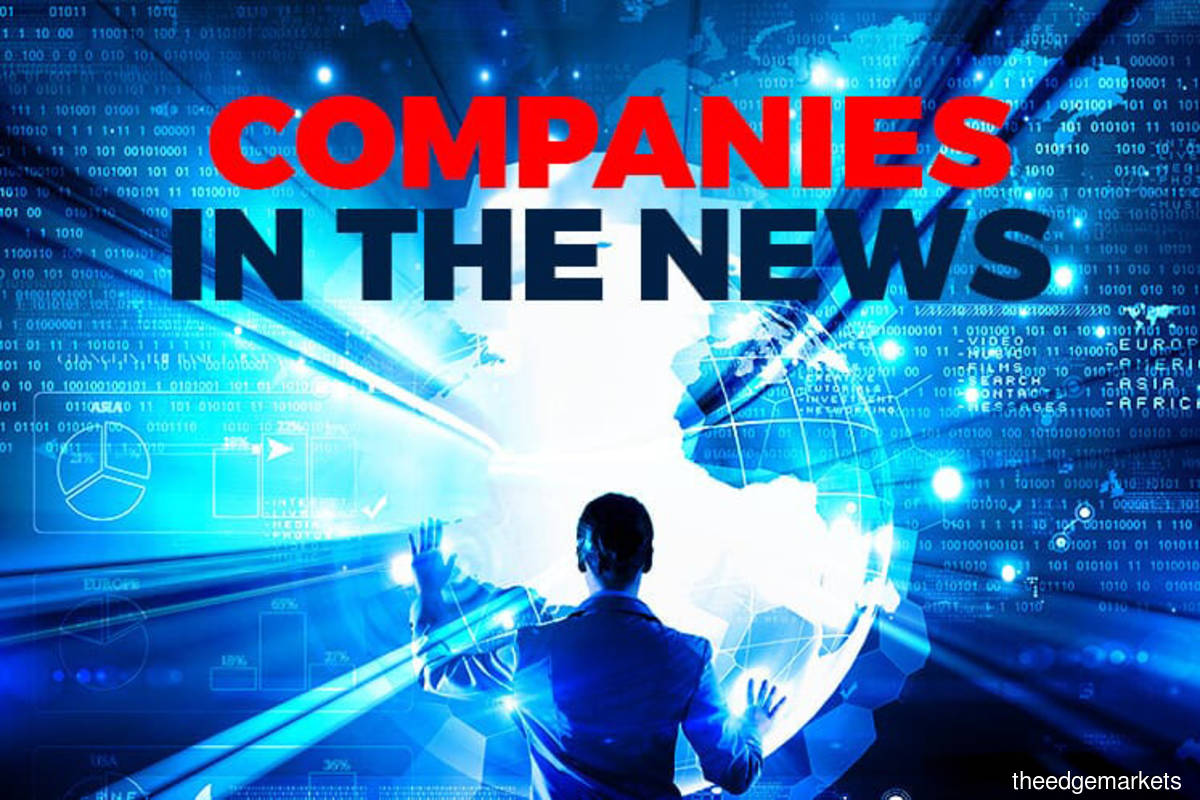 KUALA LUMPUR (Jan 15): Based on corporate announcements and news flow today, stocks that may be in focus on Monday (Jan 18) include: KNM Group Bhd, Kanger International Bhd, SKP Resources Bhd, Batu Kawan Bhd, Chemical Company of Malaysia Bhd (CCM), Daya Materials Bhd, Samaiden Group Bhd, MESB Bhd, Seacera Group Bhd, AT Systemization Bhd, Notion-VTec Bhd, Tenaga Nasional Bhd (TNB), Genting Malaysia Bhd (GenM) and FGV Holdings Bhd.
KNM Group Bhd plans to raise up to RM54.93 million via a private placement to pay off its bank borrowings and to fund some ongoing projects. The process equipment manufacturer aims to issue up to 10% of its share capital or 296.92 million shares, which will be placed out to third-party investors to be identified. It said RM20 million of the proceeds raised will be used to repay bank borrowings, while RM33.63 million will be used to procure raw materials, pay subcontractors and other related expenses for its ongoing contracts in Indonesia, Malaysia and Guyana.
Kanger International Bhd has diversified into the construction business by signing six deals totalling RM495.9 million today. It involves the group undertaking the remaining works at six construction sites in Kuala Lumpur and Pahang, the group said. The jobs were awarded by the main contractors of the projects and will provide a steady stream of revenue for the group during the tenure of the deals. The scope of works includes management of subcontractors appointed by the main contractors and the handling of financial matters which include fulfilling payments to the sub-contractors promptly.
SKP Resources Bhd is temporarily closing its Johor Bahru operations from Jan 16 till Jan 29, to facilitate Covid-19 screening of its employees, after five of them tested positive last week. This temporary closure is expected to result in a capacity loss of 3% of its annual output, SKP said.
Batu Kawan Bhd has updated that it now controls 92.14% of Chemical Company of Malaysia Bhd (CCM), after receiving more acceptances for its RM3.10 takeover offer. With its shareholding rising above 90%, Batu Kawan said it will not be maintaining CCM's listing on the Main Market of Bursa Malaysia. The group said the offer will remain open for acceptance until Feb 2.
Daya Materials Bhd, a Practice Note 17 (PN17) company, said its subsidiary has secured an RM23.86 million construction sub-contract in Banting, Selangor. The sub-contract awarded to its 51%-owned subsidiary Daya CMT Sdn Bhd involves the construction of a recycle pulp and packaging paper plant in Mahkota Industrial Park. It was awarded by Sing Foong Niap Engineering Sdn Bhd and is targeted to be completed by June 30.
Samaiden Group Bhd has secured a RM25.8 million contract from Gimzan Plywood Sdn Bhd to develop a biomass-based power plant in Terengganu. The contract will commence on Feb 2, and the job is targeted to be completed within 23 months.
MESB Bhd plans to venture into the waste recycling business, as it sees its loss-making trading and retailing of apparel and leather products business to continue to face challenges amid the Covid-19 pandemic. The group said the waste recycling business has a favourable outlook to enhance its prospects and financial performance, as well as reduce its sole dependency on the existing business.
Seacera Group Bhd is selling a 72,770 sq metre land in Taiping, Perak to AT Systematization Bhd's glove unit for RM10.5 million. The land being sold to AT Glove Engineering Sdn Bhd was valued at RM11.7 million by an independent valuer in June 2015. The deal is deemed to be a related party transaction because Asiabio Capital Sdn Bhd is a major shareholder of Seacera and AT Systematization.
Notion VTec Bhd announced today that some of its workers have been tested positive for Covid-19 and that the company has detected 87 positive and suspect cases thus far within its premises. The hard-disk drive manufacturer said as a precautionary and preventive measure, the company has conducted Covid-19 tests on workers who have had close contact with infected workers.
Tenaga Nasional Bhd (TNB) said it will implement the government-approved enhanced terms for the electricity connection charge and connected load charge, effective today. A connection charge is the upfront payment made by consumers who require new electricity supply infrastructure or an upgrade of existing infrastructure to cater for additional power supply. Meanwhile, the connected load charge is a mitigating tool to discourage consumers from over-declaring their electricity load requirement, TNB said.
Genting Malaysia Bhd's (GenM) wholly-owned subsidiary Genting UK plc permanently closed its Genting Casino Southport, in the north-west of England, with 38 staff members facing redundancy. According to gaming news portal G3 Newswire, GenM said the closure was "simply unavoidable" due to the lack of business as a result of Covid-closures. The gaming group has already closed casinos in Margate, Torquay and Bristol and has reduced its workforce in London, Glasgow, Edinburgh, Blackpool and Birmingham.
Federal Land Development Authority (Felda) has acquired 5.14 million FGV Holdings Bhd shares for a total of RM6.64 million yesterday, following an earlier purchase of 22 million shares, as part of its efforts to take the group private. The smaller tranche of shares was also bought at RM1.29 apiece, one sen below its cash offer of RM1.30 for FGV shares. To date, the agency has acquired 27.1 million of FGV's shares from the open market, representing a 0.74% equity stake.