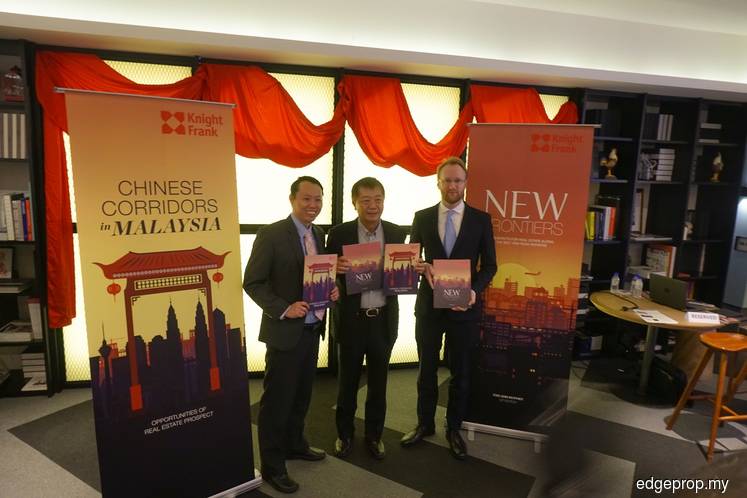 KUALA LUMPUR (Feb 7): With the improving infrastructure in Malaysia and China's Belt and Road Initiative (BRI), Chinese property developers may explore opportunities in the Malaysian real estate sector, particularly in industrial-driven township developments, said Knight Frank Malaysia.
As the outlook for the commercial and high-rise residential property segments remains cloudy, the property consultancy firm expects Chinese developers to try to create their own market by tapping into the port, rail and highway projects, which will spur the growth of industrial activities and thus create an opportunity for them to develop townships.
Knight Frank Malaysia executive director of Capital Markets Allan Sim said that many developers are building "too fast and too many" high-rise homes to cater for local demand, which has created a tough market.
"Sometimes, you cannot rely too much on the local demand, so you have to create your own market. Hence, we foresee that many of these Chinese developers may bring in their manufacturing partners from China [to tap on the growing industrial activity] and by then they may start to build a township," he told reporters at the launch of two research reports on Chinese investment trends across the Asia Pacific today.
He added that industrial and mixed-use property in Malaysia will be buoyed by rising interest from Chinese investors into the manufacturing sector as Chinese manufacturers are expected to set up production facilities here.
Similarly, the industrial sector will also benefit from China playing a pivotal role in developing Malaysia's digital economy, alongside the rapid development in Malaysia's logistics and warehousing sectors.
"And in the longer term, we can also expect a flow-on effect to business activities, creating a demand for hospitality related services," he elaborated.
The two new reports by Knight Frank, "New Frontiers: The 2018 Report" and "Chinese Corridors in Malaysia", aim to assess the investment opportunities that are rising in Malaysia and help investors understand potential opportunities that the BRI could generate beyond its borders.
According to the "New Frontiers: The 2018 Report", Malaysia ranked third in China outbound real estate investments into Belt and Road countries with US$2.37 billion (RM9.26 billion) received over the past four years.
The report showed that the total Chinese outbound real estate investment into the Belt and Road countries from September 2013 to October 2017 stood at US$10.2 billion, of which US$5.2 billion were spent on purchasing development sites, while another US$3.1 billion were spent on office buildings.
Among the countries, Malaysia ranked third in the Belt and Road countries, behind Singapore (US$3.87 billion) and South Korea (US$2.74 billion).
Meanwhile, Malaysia ranked sixth in the top 20 rankings of the New Frontiers: The 2018 Report's Belt and Road Index, which assessed the 67 countries considered core to China's Belt and Road Initiative. The assessment is based on six categories: economic potential, demographic advantage, infrastructure development, institutional effectiveness, market accessibility and resilience to natural disaster.The index aims to provide a macro view of each country and the  key criteria that can help form investment strategies along the Belt and Road.
"Malaysia, which is strategically positioned along the Belt and Road link, offers many advantages, in terms of better resources, good growth potential and similarities in culture due to historical ties. The country can be China's gateway to Asean and beyond. In fact, Malaysia has seen an upsurge of BRI-related investments, with China emerging as the largest foreign investor in recent years," said Knight Frank Malaysia executive chairman Eric Ooi.
Data from the Malaysian Investment Development Authority (MIDA) showed that China was the strongest supporter of the manufacturing industries in Malaysia, contributing investments of RM4.77 billion in 2016, bringing total foreign direct investment in the manufacturing sector to RM27.42 billion.
Moving forward, Chinese investment will continue to transform Malaysia, particularly in the manufacturing, construction, infrastructure, property and e-commerce sectors, he said.