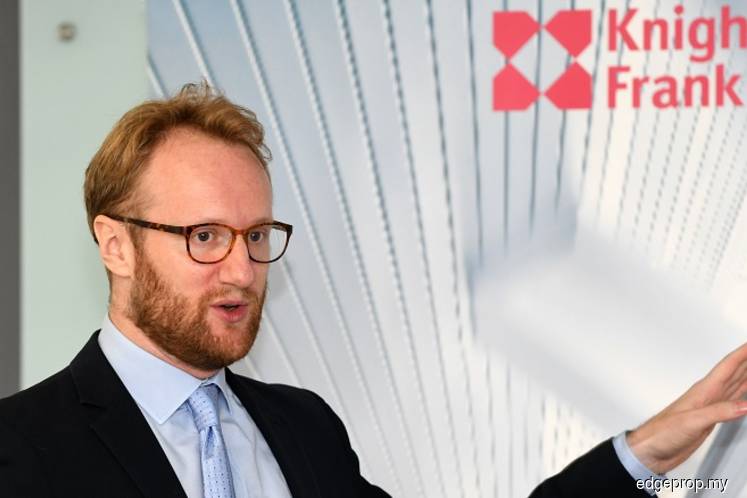 KUALA LUMPUR (Feb 7): Chinese buyers are not expected to drive up Malaysian house prices as most of them regard their property purchases in the country as long-term investments while the capital controls by the Chinese government will curb their overseas activities, said property consultancy firm Knight Frank Malaysia.
"We have seen certain markets around the world targeted by the Chinese buyers for various reasons — diversification, second homes, children's education, wealth preservation, etc. In certain places like Vancouver, Hong Kong, Sydney, Melbourne and London, these have been the markets where we can see a lot of Chinese investors.
"[However], in China, there are capital controls in place at the moment. That's impacting some outbound activities, especially on the developers and institutions level. Even on the individual level, it is challenging and more difficult to get their money out. So in the short-term, the capital controls will probably keep a lot of the capital in China to a certain extent," Knight Frank Asia-Pacific head of research Nicholas Holt told reporters at the launch of two research reports on Chinese investment trends across the Asia Pacific today.
"Generally, we don't really see this happening yet. I think there are more Chinese [buyers] coming into Malaysia looking for long-term investment instead of speculating — buy and go in three or five years' time. Some of them even come for the education of their children, so it is from a totally different point they look at Malaysia," added Knight Frank Malaysia executive director of Capital Markets Allan Sim.
Sim noted that even China's property developers are holding a long-term view on Malaysia's real estate market.
Looking into 2018 and beyond, Knight Frank Malaysia expects Chinese developers to seek opportunities in the Malaysian real estate sector, particularly in industrial-driven township developments as China's Belt and Road Initiative (BRI) is expected to bring more capital inflow into the local market.
"Four of the top 10 Chinese developers by contracted sales value in 2017 have made inroads onto the Malaysia property market, including Country Garden Group, China Vanke, Greenland Group and China Overseas Land & Investment.
"Among the rest who haven't ventured into Malaysia, China Fortune Land Development and Greentown China have indicated interest in the industry, including the Bandar Malaysia development," said Sim.
Although the Chinese developers will bring in more competition for local players, there will be more benefits for the local property industry over the long run.
"In whatever sets we are talking about, when there more investments come in, that's going to bring more competition. But more competition, for the consumer and economy in general, is a good thing as people will up their game, there are opportunities for knowledge transfer and open up opportunity for bilateral two-way trade and investment," said Holt.
Sim added: "We should look at a more holistic view, just look at what they can bring in besides their core businesses. They can bring in big manufacturing firms, which are already starting to come into Malaysia, but we don't give them credit on that. All these things will take time for all of us to realise that there could be long-term benefits."