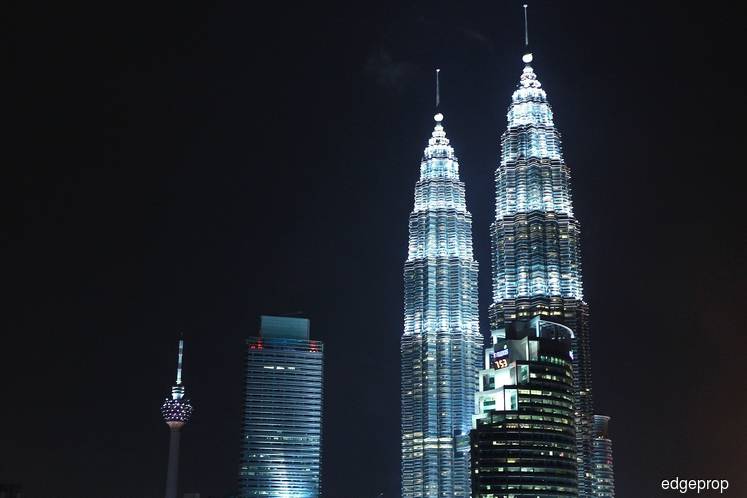 KUALA LUMPUR (Sept 13): Kuala Lumpur's office rental market has recorded the steepest decline in the Asia Pacific region in 2Q2018, according to Knight Frank's Asia-Pacific Prime Office Rental Index for 2Q2018.
The index showed KL's office rent had declined 0.8% over the quarter.
"With more supply due to come online over the next 12 months, rental growth could be limited. Supply concerns in Kuala Lumpur pushed rents down another 0.8% quarter-on-quarter," Knight Frank Malaysia's Corporate Services executive director Teh Young Khean said.
He added that the office market outlook for both KL and Selangor remains lacklustre as impending supply coupled with tight leasing market continue to put pressure on occupancy and rental levels.
"Landlords with older and newly completed buildings, especially in KL City, are more accommodating in providing additional incentives to retain existing tenants as well as to attract potential tenants," said Teh in a statement released with the index.
On the overall office rental market in Asia-Pacific, Knight Frank Asia-Pacific's head of research Nicholas Holt said steady demand can be seen in the prime office market and this is expected to bolster rental growth for the second half of the year.
"Despite several headwinds, including tensions around trade, regional economic growth continues to fuel demand for Grade-A office space," Holt reckoned.
Knight Frank's Asia-Pacific office rental index has increased by 2.4% quarter-on-quarter in 2Q, which is almost three times that of 1Q, primarily driven by rent increases seen in Tokyo, Bengaluru, Hong Kong and Sydney.
Tokyo's Central 5 Wards Grade-A rents grew 5.5% quarter-on-quarter as limited supply drove vacancy levels down to 1.1% during the period making it a record 10-year low.
Bengaluru, India's largest office market by size, saw a solid 7% quarter-on-quarter rise in rents as corporate occupiers jostle for large quality space within the tightly supplied CBD and off-CBD districts, while others are pre-committing to upcoming supply, exacerbating the supply situation further.
In Hong Kong, a near full occupancy Hong Kong Central sub-market saw rents up 1.7% quarter-on-quarter, while Taipei's downtown rents were up 0.6% quarter-on-quarter.
Meanwhile, the persistent supply demand imbalance in Sydney continues to support rental growth which was up 4.2% quarter-on-quarter. Brisbane rental growth of 1% quarter-on-quarter was supported by relocating landlords from the fringe markets back into the CBD. — EdgeProp.my
| | | | |
| --- | --- | --- | --- |
| Asia-Pacific Prime Office RentsCity | Submarket(s) | 3-month % change (Q1 2018 - Q2 2018) | Forecast next 12 months |
| Bengaluru | CBD | 7.0% | Increase |
| Tokyo* | Central 5 Wards | 5.5% | Same |
| Melbourne | CBD | 4.6% | Increase |
| Sydney | CBD | 4.2% | Increase |
| Manila | Various | 2.4% | Decrease |
| Hong Kong | Central | 1.7% | Increase |
| Bangkok | CBD | 1.7% | Increase |
| Guangzhou | CBD | 1.2% | Same |
| Brisbane | CBD | 1.0% | Increase |
| Singapore | Raffles Place, Marina Bay | 0.8% | Increase |
| Beijing | Various | 0.6% | Decrease |
| Taipei | Downtown | 0.6% | Increase |
| Perth | CBD | 0.3% | Same |
| Mumbai | Bandra Kurla Complex | 0.0% | Increase |
| Phnom Penh | City Centre | 0.0% | Same |
| NCR | Connaught Place | 0.0% | Same |
| Seoul | CBD, GBD, YBD | 0.0% | Same |
| Shanghai | Puxi, Pudong | -0.7% | Same |
| Kuala Lumpur | City Centre | -0.8% | Decrease |
Source: Knight Frank Research / *Sanko Estate
Click here to visit EdgeProp.my for the latest news on all things property