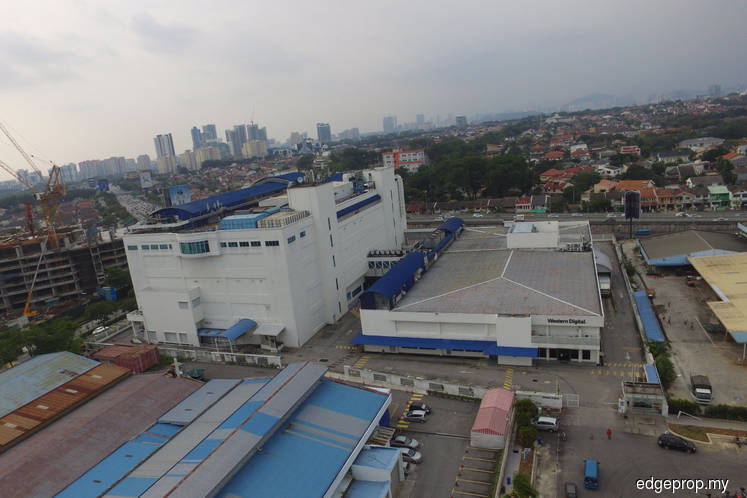 PETALING JAYA (June 11): Knight Frank Malaysia has been appointed the exclusive agent by Western Digital to market the latter's hard disk drive (HDD) assembly facilities in Sungai Way Free Trade Industrial Zone (FIZ), Petaling Jaya, Selangor.
In a statement today, Knight Frank Malaysia capital markets executive director Allan Sim said the Western Digital plants are undoubtedly one of the most prominent and visible buildings along the Puchong-Damansara Expressway (LDP) and it is rare for such a sizable facility within an established free trade zone in Petaling Jaya to be made available to the market.
"Most existing FIZs within the Klang Valley are generally full or occupied," he said. FIZs are export processing zones to cater to the needs of export-oriented industries. Companies in FIZs are allowed duty-free imports of raw materials, components, parts, machinery and equipment directly required in the manufacturing process.
"Western Digital was operating in these sites for the company's hard disk manufacturing operations and have fitted out the plants with high-grade equipment including large Class 100 clean rooms. This is a great opportunity for large manufacturers looking to expand their footprint in Malaysia with high-grade facilities ready for immediate operation," he added.
According to Knight Frank Malaysia, there are two sites for sale in Western Digital's HDD assembly facilities, which flank the North Eastern and North Western corners of the Sungai Way FIZ, respectively.
While both sites come equipped with high-grade clean room facilities, the first site measures around 3.6 acres in land size and comprises a double-storey building and a 5-storey building with two basement levels offering an estimated total built-up area of close to 500,000 sq ft.
The other site measures about 11 acres in land area with a total built-up area of close to 500,000 sq ft as well.
"We have received numerous enquiries on the sites. Both end-users and developers are keen on the prospect of the sites being rejigged to house new export-oriented manufacturing activities or to be redeveloped in the future," said Sim.