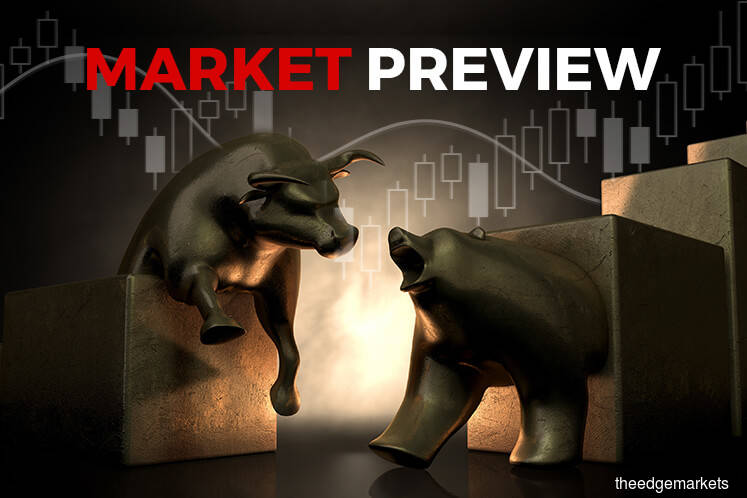 KUALA LUMPUR (March 8): The FBM KLCI is expected to trade range bound today, following the overnight slip at most global markets on fears of a global trade war risk.
A key gauge of world stock markets slipped on Wednesday after a strong advocate of free trade resigned from the White House, fanning fears that U.S. President Donald Trump will proceed with protectionist tariffs and risk a global trade war, according to Reuters.
But the U.S. dollar recovered most of its overnight losses as some investors wagered that even with the departure of Trump's chief economic adviser Gary Cohn, the president's hard talk could be a tactic amid ongoing trade negotiations with Canada and Mexico, it said.
The Dow Jones Industrial Average fell 106.72 points, or 0.43 percent, to 24,777.4, the S&P 500 lost 5.46 points, or 0.20 percent, to 2,722.66 and the Nasdaq Composite added 14.36 points, or 0.19 percent, to 7,386.37. said Reuters.
AllianceDBS Research in ite evening edition Wednesday said the FBM KLCI had on March 7 fallen below the 1,840 level to reach a low of 1,834.66 as market participants chose to play on the selling side in anticipation of a lower market.
It said under the persistent selling pressure, the benchmark index was in the red throughout most of the trading sessions before settling at 1,837.90 (down 10.47 points or 0.57%).
"In the broader market, losers outnumbered gainers with 991 stocks ending lower and 163 stocks finishing higher. That gave a market breadth of 0.16 indicating the bears were in control," it said.
AllianceDBS Research said the marker saw selling activity on March 7 with the benchmark index breaking below the 1,840 level.
"Market participants apparently were keen to play a selling game given a choice to trade the market.
"On March 5, the market may have protected its fort at 1,840, but the inability on the part of the market to stage a much stronger rebound on March 6 gave rise a general view of an underlying weakness," it said.
The research house said when the market failed to inch higher than 1,848.85 after the opening bell, many market participants became concern.
It said negative thoughts about the market developed, market participants began to worry about their stock positions in hands.
"So, instead of waiting for the market to take them out of the game, these market participants had chosen to sell ahead of what they had earlier expected the market would do to them.
"As the selling supply exceeded the buying demand, the benchmark index declined further to reach a low of 1,834.66," it said.
AllianceDBS Research said following the down close on March 7, there should be selling attempt again with immediate support zone, 1,824 - 1,830. 
Based on corporate announcements and newsflow yesterday, stocks in focus today could include Malayan Banking Bhd, JAKS Resources Bhd, Taliworks Corp Bhd, SCH Group Bhd, Omesti Bhd, Atta Global Bhd and Hibiscus Petroleum Bhd.