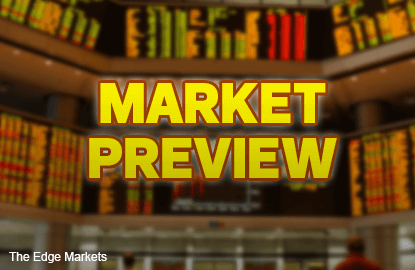 KUALA LUMPUR (Oct 30): The FBM KLCI is to expected to remain lacklustre today as the negative investor perception on the local market persists.
Sentiment at the local market could also be weighed by utility heavyweight Tenaga Nasional Bhd which saw its fourth quarter net profit plunge 39.5% due to ringgit depreciation, resulting in foreign exchange (forex) translation loss.
Stock markets around the world fell and bond yields rose as investors weighed the implications that a U.S. interest rate rise before the end of the year would have for the global economy and markets, according to Reuters.
The Federal Reserve, which kept its rates on hold as expected on Wednesday, took the unusual step of strengthening its language about timing in its statement, making it clear that a December rate hike was still possible. The Fed also removed a previous warning about slowing global growth, it said.
AllianceDBS Research in its evening edition Thursday said the FBM KLCI continued to be on a losing streak, and that the benchmark index had on Oct 29 broken the lower level of support zone between 1,675 and 1,680 to settle at the day's low of 1,666.98 (down 19.53 points or 1.16%) as market participants continued to play on the selling side in anticipation of a lower market
"In the broader market, losers outnumbered gainers with 511 stocks ending lower and 393 stocks finishing higher. That gave a market breadth of 0.76 indicating the bears were in control," it said.
AllianceDBS Research said sellers had an overwhelming control over the buyers on Oct 29, adding this could be seen from the downside violation of the lower level of support zone between 1,675 and 1,680 on Oct 29.
"The market opened the day on a firm note in an attempt to pull away from the 1,680 level, however more selling supply chipped in when the last buying order at 1,691.28 was filled.
"As selling supply began to chase after the buying demand, market could only go lower, this imbalance demand and supply forces had caused the market to drift down to 1,666.98.
"The sell down in the last few days was believed to be more of an association with certain negative perception about the market, which made existing market participants feeling uncomfortable and unsupported of hanging longer onto their stock positions," it said.
The research house said following the weak down close, the benchmark index was gearing towards the next support zone, 1,635 – 1,640, adding that indicator wise, the MACD was below the 9-day moving average line.
"The analysis of overall market action on Oct 29 revealed that buying power was weaker than selling pressure.
"As such, the FBM KLCI would likely trade below the 1,666.98 level on Oct 30," said AllianceDBS Research.