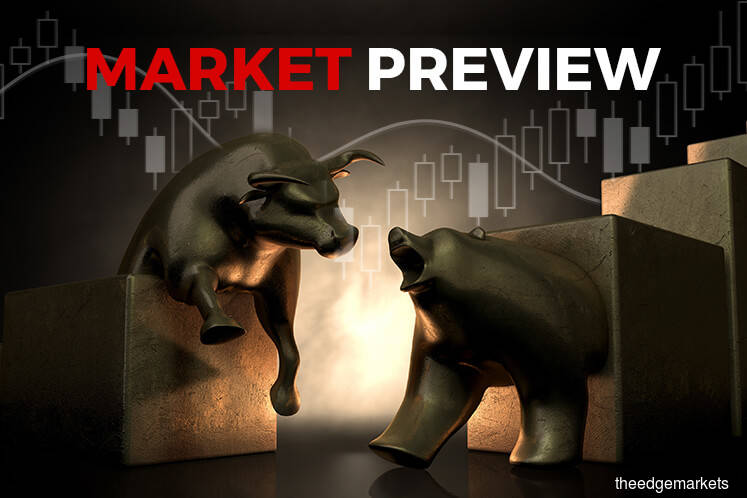 KUALA LUMPUR (Sept 4): The FBM KLCI is seen extending its poor start to September and trend lower for the fourth day running today, in line with the weaker overnight close at most global markets, with immediate support at 1,811. 
Global stock markets fell for a third straight day on Monday, hurt by worries over the escalation of trade disputes between world powers and a deepening sell-off across emerging market currencies, according to Reuters.
With U.S. markets closed for Labor Day, trading activity was generally subdued, it said.
AllianceDBS Research in its evening edition Monday said the FBM KLCI had on Sept 3 traded lower to 1,809.57 as market participants continued to play on the selling side in anticipation of a lower market.
It said under the persistent selling interest, the benchmark index was in the red throughout most of the trading sessions before settling at 1,813.58 (down 6.08 points or 0.33%).
"In the broader market, losers outnumbered gainers with 723 stocks ending lower and 267 stocks finishing higher. That gave a market breadth of 0.37 indicating the bears were in better control," it said.
AllianceDBS Research said the market witnessed selling activity on Sept 3 with the benchmark index falling below the 1,811 level, but the market did not go far down.
"This can be seen from the day's low of 1,809.57. In fact, a buying attempt on the opening bell with a 1.4 point higher than previous market settlement of 1,819.66 was initiated with an intention to lift the benchmark index upward.
"Unfortunately, there was no stronger follow through buying interest to keep the benchmark index on the high end.
"When the benchmark index failed to inch above the 1,822.52 level, certain amount of concern developed among the market participants," it said.
The research house said this led to selling pressure which pushed the benchmark index down below the 1,811 support level to reach a low of 1,809.57.
However, it said the market did not stay long in the area of 1,809.57 as risk taking supportive buying interest chipped in to lend a helping hand.
It said following the down close on Sept 3, there should be selling attempt with immediate support at 1,811. 
"The analysis of overall market action on Sept 3 revealed that buying power was weaker than selling pressure.
"As such, the FBM KLCI would likely trade below the 1,809.57 level on Sept 4," said AllianceDBS Research.
Based on corporate announcements and news flow yesterday, companies that may be in focus today may include the following: Lotte Chemical Titan Holding Bhd, AirAsia Group Bhd, FGV Holdings Bhd, Marine & General Bhd, HeveaBoard Bhd, Uzma Bhd, Vertice Bhd, Vizione Holdings Bhd, DBE Gurney Resources Bhd.and Supermax Corp Bhd.