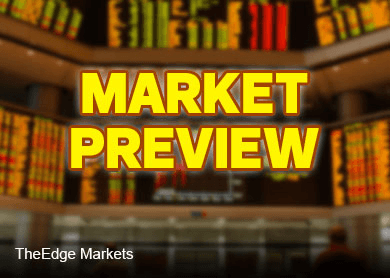 KUALA LUMPUR (June 25): The FBM KLCI is expected to trend higher today, albeit with limited gains given the jittery global sentiment given the spectre of a Greek debt default.
Global equity markets and the dollar fell on Wednesday as skittish investors sought the safety of less-risky assets like bonds as the possibility of a Greek debt default loomed a little bit larger, according to Reuters.
The dollar slid after hitting its highest in more than a week on Tuesday, while yields on U.S. 10-year Treasuries dipped as investors weighed the prospect of higher U.S. interest rates, it said.
AllianceDBS Researcgh in its evening edition Wednesday said that the FBM KLCI had on June 24 traded marginally lower to 1,725.04 as market participants chose to play on the selling side in anticipation of a lower market.
The research house said the benchmark index kept its position near the low end throughout most of the trading sessions before rebounding to settle at the day's high of 1,731.68 (+ 4.82 , +0.28%) in the last few minutes buying of selective blue chip stocks.
"In the broader market, gainers outnumbered losers with 443 stocks ending higher and 353 stocks finishing lower. That gave a market breadth of 1.35 indicating the bulls were in control," it said.
AllianceDBS Research said the lower low on June 24 indicated that buying power is weaker than selling pressure, but the inability of the benchmark index to go far down showed that sellers were unwilling to play an aggressive game given the proximity of market support in the area of 1,718.
The research house said given the market actions in the last 5 days, buyers and sellers would continue to exchange their stock positions until we see a breakout.
"A breakout of the range between 1,718 and 1,735 would dictate the next immediate market direction.
"A crossover of 1,735 would lift the benchmark index to the next resistance at 1,745.
"Conversely, a fall below 1,718 could send the market down to the subsequent support zone between 1,700 and 1,706," it said.
The research house said that indicator wise, the MACD was above the 9-day moving average line.
"The analysis of overall market action on June 24 revealed that buying power was stronger than selling pressure.
"As such, the FBM KLCI would likely trade above the 1,731.68 level on June 25," said AllianceDBS Research.