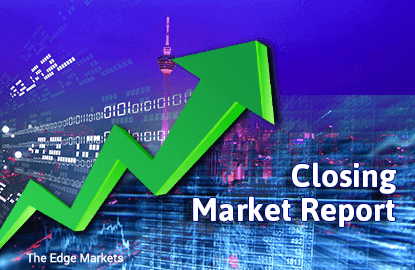 KUALA LUMPUR (Jan 23): The FBM KLCI closed 0.39% higher today on the back of better liquidity and a weaker US dollar.
The benchmark index rose 6.42 points to close at 1,671.31.
"The main factor for KLCI to perform well is improved liquidity. The local market seems to be moving in alternate directions for some time now, but generally it is quite bullish," said Interpacific Research's head of research Pong Teng Siew.
"Volumes have improved, the banks are lending more, and money supply has moved away from the contraction phase. I am quite optimistic that it will continue to perform well in the first half of 2017," Pong said when contacted by theedgemarkets.com.
"However, a better liquidity may signal the arrival of general election. We may see interference if there is a sudden announcement on election date," added Pong.
A total of 1.53 billion shares worth RM1.81 billion changed hands. Decliners led gainers by 467 to 322, while 358 counters closed unchanged.
The US dollar traded weaker today, as President Donald Trump's "buy American, hire American" inauguration speech shed little light on his actual plans to boost the country's economy.
The ringgit continued its positive rally, reaching 4.4385 against the greenback at 5pm. However, it traded lower against other major currencies such as the pound and the yen.
In other Asian markets, Japan's Nikkei 225 lost 1.29% amid the strengthening of the yen against the US dollar.
Elsewhere, Hong Kong's Hang Seng closed 0.06% higher, and South Korea's Kospi gained 0.02%.
Reuters noted that despite the US dollar's decline, Trump's reaffirmed protectionist outlook resulted in US stocks rising. It is the first time in over 50 years that a new US president has been welcomed by a rising equity market on his first day in office, said the new agency .