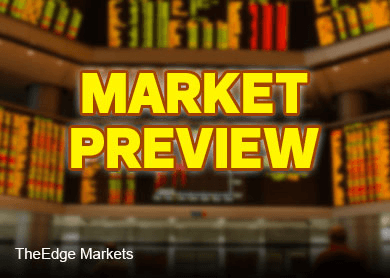 KUALA LUMPUR (June 4): The FBM KLCI is expected to chalk up modest gains in line with the higher overnight close at Wall Street.
Wall Street stocks rose modestly on Wednesday on hopes for an imminent Greek debt agreement and after data pointed to renewed life in the U.S. economy, while German debt yields climbed after comments from European Central Bank President Mario Draghi, according to Reuters.
Greece's international creditors signaled on Wednesday they were ready to compromise to avert a default even as Athens warned it might skip an IMF loan repayment due this week, it said.
AllianceDBS in its evening edition Wednesday said despite the down close in the preceding day, the FBM KLCI had on June 3  traded higher to 1,750.68 as market participants changed their game play pattern from selling to buying in anticipation of a technical rebound.
The research house said in the absence of stronger selling pressure, the benchmark index was in the green throughout the trading sessions before settling near the day's high at 1,749.17 (+7.80, +0.45%).
"In the broader market, gainers outnumbered losers with 444 stocks ending higher and 358 stocks finishing lower. That gave a market breadth of 1.24 indicating the bulls were in control," it said.
AllianceDBS Research said the benchmark index did not trade lower on June 3.
It said the higher low followed by a higher high was a relief to many market participants because the recent sell down from the high of 1,823 (April 18) to the low of 1,732 (June 1) without retracement during this period was something unexpected. "Following the technical rebound with an up close on June 3, we should see the market gearing higher again with an immediate hurdle at 1,752.
"A rise above 1,752 would lift the benchmark index to the subsequent resistance at 1,760," it said.
The research house said that indicator wise, the MACD was still below the 9-day moving average line.
"The analysis of overall market action on June 3 revealed that buying power was stronger than selling pressure.
"As such, the FBM KLCI would likely trade above the 1,750.68 level on June 4," said AllianceDBS Research.