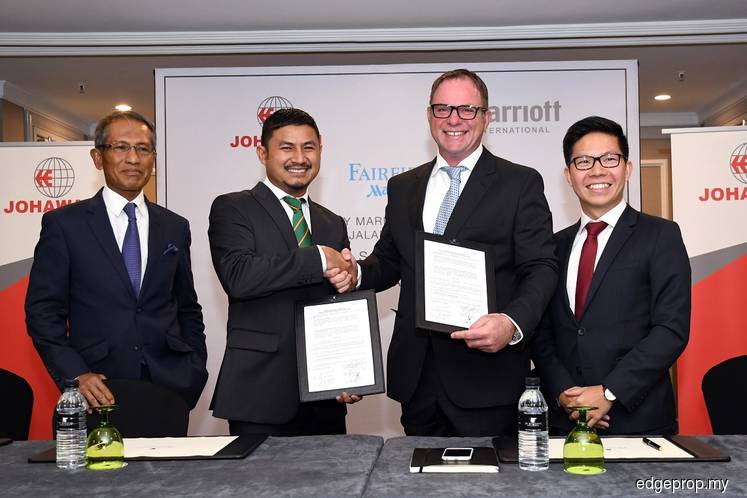 KUALA LUMPUR (Jan 18): Marriott International Inc has partnered with Johawaki Holdings Sdn Bhd to introduce the first Fairfield by Marriott in Kuala Lumpur.
JH Hospitality Sdn Bhd, a wholly-owned subsidiary of Johawaki Holdings, signed hotel management agreements for the 188-room hotel at Jalan Pahang today.
JH Hospitality will undertake the construction of the hotel with a total development cost of RM85 million, Johawaki Holdings deputy CEO Mohd Akmal Dato Johari said at the agreement signing ceremony here.
Sitting on an 8,000 sq ft-land next to Grand Seasons Hotel at Jalan Pahang, the 14-storey Fairfield by Marriott Kuala Lumpur is expected to be fully operational by 2020, he said, adding that the hotel is the first flagship project of JH Hospitality in the hospitality business.
"Fairfield by Marriott Kuala Lumpur is strategically located at Jalan Pahang and have easy access to Jalan Tun Razak and the DUKE (Duta–Ulu Klang Expressway) highway as well as nearby facilities such as hospitals and monorail stations," he said.
"The development concept is modern and will transform the existing Jalan Pahang into a new and fresh look and enhance the beautification of the surrounding area. As it is located in the heart of Kuala Lumpur with thousands of attractions, I'm sure the 188 rooms can be filled easily," he added.
He added that he hoped that the success of the project would pave the way for more developments with Marriott International in the future.
Marriott International's regional vice president of hotel development Peter Gassner said the collaboration is an exciting opportunity for the company as Malaysia, particularly Kuala Lumpur, is a key market for its development strategy in the Asia Pacific region.
"In Kuala Lumpur, we now have 15 hotels which are open under 11 brands and I'm very excited to introduce the new brand — Fairfield by Marriott in the city," he said.
Fairfield by Marriott Kuala Lumpur is the second hotel under the brand in Malaysia, with the first one being Fairfield by Marriott Bintulu Paragon, which is expected to be opened in 2019 or 2020, Gassner added.
Marriott International is also set to unveil a Marriott hotel in Kota Kinabalu later this year, followed by the opening of Courtyard by Marriott in Penang and Melaka and Marriott Executive Apartments in Kuala Lumpur in 2019, he added.
Akmal said Johawaki Holdings hopes to have more collaboration with Marriott International in the future to expand its presence in hospitality business.
Currently, the company has some 50 acres of land in Alor Setar, Kedah; Seremban, Negeri Sembilan; and Melaka that are currently earmarked for more hotel developments.