This article first appeared in The Edge Malaysia Weekly, on July 29, 2019 - August 04, 2019.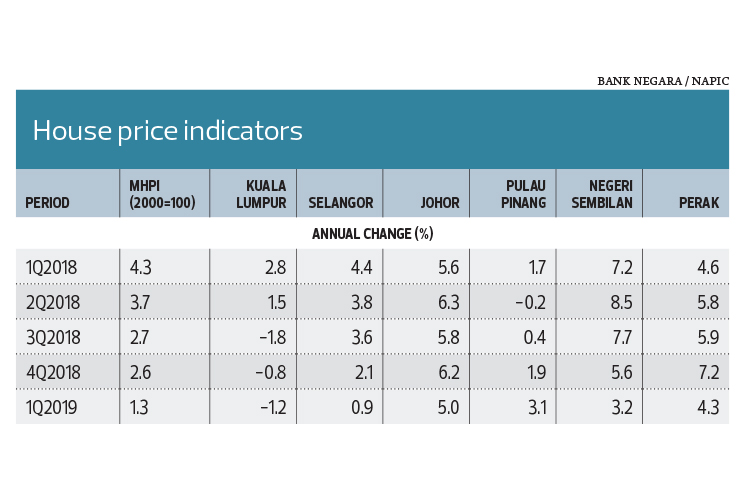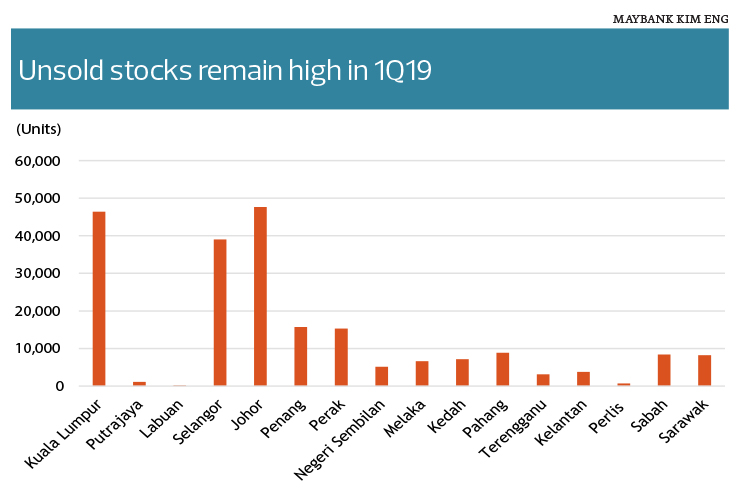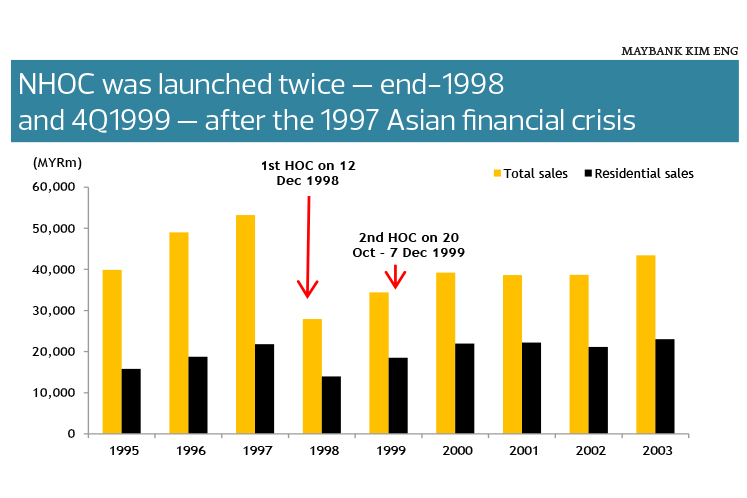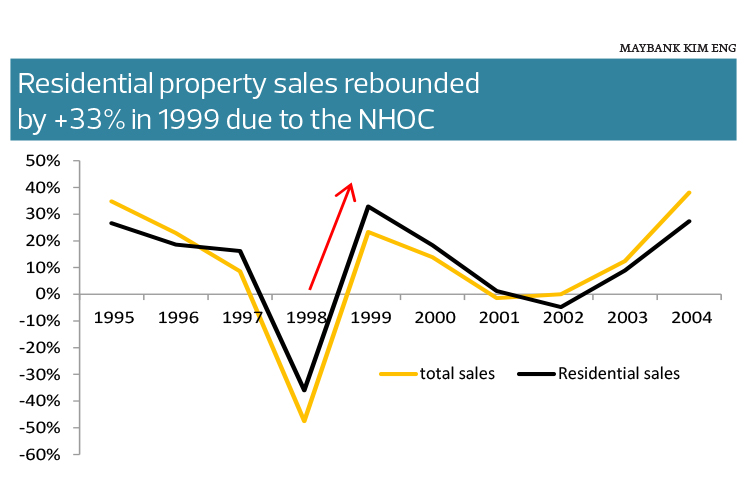 HOUSE prices in Kuala Lumpur have contracted for three consecutive quarters year on year, statistics from the National Property Information Centre (Napic) and Bank Negara Malaysia show.
For the third quarter of 2018, house prices fell 1.8%, and in the fourth quarter, contracted by 0.8%. In the first quarter of 2019, prices dropped 1.2% y-o-y.
Property observers say this is a reflection of the move towards affordable housing as well as the price discounts dished out by developers.
"Developers are switching to affordable housing and that move is reflected in the drop in average house prices. Additionally, the property market is challenging right now. The decline in pricing should in fact have been larger than that reported in the official Napic data, we believe, as huge discounts/rebates offered by the developers were not reflected in the SPAs signed," says Wong Wei Sum, property analyst at Maybank Investment Bank Research.
CBRE|WTW managing director Foo Gee Jen believes the contraction in annual prices in Kuala Lumpur for three quarters in a row is "healthy".
"The last five to six years, developers have overdone it. For example, we have some cases of terraced units with built-ups of up to 3,500 sq ft — that is not the requirement of the market as it is far too big. Even in terms of specs, the developers were stretching themselves by giving built-ins and high-tech features, but in reality, buyers just want lower prices. So, in the last few years, there are developers who have been lowering the specifications, therefore, you see a contraction in pricing," he explains.
Knight Frank Malaysia managing director Sarkunan Subramaniam says although house prices have contracted, it is not a significant drop.
"I see this as a trend of house prices being stable in the range of RM779,000 to RM789,000. This shows that the market is stabilising and I do believe it has bottomed out," he adds.
Wong notes that in 1Q2019, the House Price Index (HPI) rose 1.3% y-o-y but slipped 0.9% q-o-q for the first time since 2009. Meanwhile, the average selling price per unit for residential properties declined 3.6% q-o-q to RM349,668 from RM362,711 in 4Q2018 as developers focused more on affordable housing.
Foo believes there is still room for pricing adjustments for residential properties around RM300,000 at the national level and in the RM450,000 to RM600,000 range in the Klang Valley. "This is for properties targeted at the B40 level. There is still room to adjust by another 10% to 15% for this bracket of housing," he says.
"The current oversupply of property boils down to pricing — it is still a pricing issue. The market has to do a lot more correction to reach the right level. Developers have to do a bit more. For example, rather than giving freebies, they should cut prices. It must translate into putting the money back with the buyer," he adds.
On whether there is room to adjust prices further, Wong says it depends on the individual developer.
"Margins are already on a downward trend. In the past, property developers used to have margins above 20%, but today, it has come down to 15% to 18%," she says.
"There are companies with strong balance sheets and in net cash positions that would rather not launch anything right now, rather than cut prices and sacrifice margins.  Companies that are highly geared and cannot afford to hold land and inventory will lower their prices," she explains, adding that companies with strong balance sheets include Tambun Indah Land Bhd and UOA Development Bhd.
Wong says the challenging economic outlook and record number of unsold properties — which jumped 23% y-o-y in 1Q2019 — have prompted a growing number of developers to make their properties more attractive by offering more rebates and/or fully furnished/rent-to-own schemes.
"These will eat into the developers' margins and could stress their cash flows. Elsewhere, the upcoming Budget 2020 in October and another potential overnight policy rate cut are important events to watch out for," she says.
Meanwhile, Foo cautions that going into affordable housing does not mean that will solve the oversupply issue.
"This is because there is still a mismatch in terms of pricing and location. Sometimes, so-called affordable units are far from infrastructure. So, demand for these cheaper units will be low compared with, say, something closer to infrastructure or the city, but priced out of the reach to many," says Foo. He feels that should be "more political will from the government to open up government land to be offered at competitive prices".
Maybank IB Research in a July 19 report notes that despite the y-o-y improvement in overall property transactions as well as various efforts in place to contain the surge in unsold properties, unsold residential property (completed units, launched units under construction and launched but not constructed, including SoHo and serviced apartments) continued to pile up, reaching 217,152 units in 1Q2019, an increase of 23% y-o-y. Most were located in Johor (22%), followed by Kuala Lumpur (21%) and Selangor (18%).
Wong expects sales to pick up strongly in 2Q2019 due to the National Home Ownership Campaign as well as attractive marketing packages from developers.
"Already, Eco World Development Group Bhd has reported a 246% increase in sales (RM796 million) for March to May 2019 versus RM230 million in November 2018 to February 2019. Our view is further supported by the strong 37% jump y-o-y in mortgage applications and a 15.9% increase y-o-y in mortgage approvals in May. From our channel checks, we understand that a few local banks are supportive of the government's initiatives in promoting affordable housing," she shares.
Sarkunan strongly believes prices have bottomed out and an improvement will be seen in 2Q2019.
"There are signs of our residential agency receiving more enquiries while the frequency of viewings has been increasing," he says.