This article first appeared in The Edge Malaysia Weekly, on January 18, 2021 - January 24, 2021.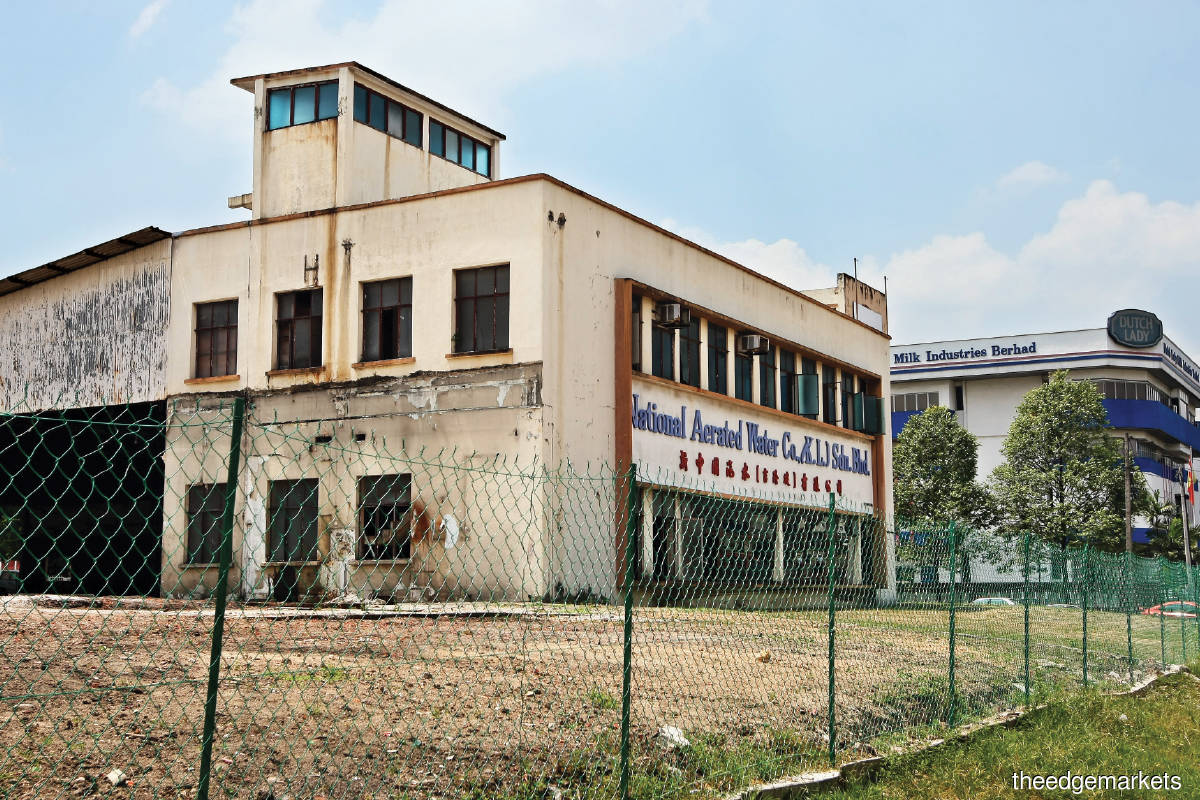 THE former Sinalco and Kickapoo Joy Juice bottling factory site in Petaling Jaya's Section 13 is believed to have set a new record for industrial land transactions in the area following its sale to a Penang-based property developer.
Singapore-based National Aerated Water Co (KL) Sdn Bhd has disposed of the site to GSD Land (M) Sdn Bhd for RM46 million, according to sources. The deal works out to RM514 psf — a new high for industrial land transactions (now zoned for mixed commercial) in the area. Real estate agents say the deal was agreed upon prior to the Covid-19 outbreak.
The bottling plant, which ceased operations over a decade ago, sits on 2.06 acres or 89,560 sq ft of leasehold land. Called Lot 54, it was put up for sale in late 2019 with 41 years remaining on the lease, now reduced to 39 years come April.
One of the attractions of the land is its dual frontage. It faces Jalan 13/6 and Jalan Professor Khoo Kay Kim, formerly known as Jalan Semangat.
Savills Malaysia was appointed the exclusive marketing agent. When contacted, its deputy managing director and head of capital markets Nabeel Hussain told The Edge, "We are in the final stages of the disposal", but declined to provide further information.
A land title search conducted by The Edge at the Registry of Land Titles at the Selangor Land and Mines Office in Shah Alam reveals that a company called Palma Indah Sdn Bhd entered a caveat on the land to secure its interest as early as February 2020. A further search with the Companies Commission of Malaysia shows that Palma Indah is wholly owned by GSD which, in turn, is owned by Khor Chong Hai (65%), Khor Chong Guan (20%), Khoek Su Kiang (10%) and Yew Kuok Yee (5%).
According to the company's website, the group's projects — which are mostly located in the northern region — include Summerton Bayan Indah, Sierra Residences, Gardens Ville and Skycube Residence. In 2019, The Edge reported that GSD's wholly-owned unit Lakaran Ceria Sdn Bhd was Yayasan Wilayah Persekutuan's joint-venture partner for the development of serviced apartments in Setapak.
Commenting on the sale of the former factory site, VPC Alliance (M) Sdn Bhd managing director James Wong says, "The sale of the Kickapoo factory at RM514 psf is probably the highest commercial land sale in the commercial precinct of Petaling Jaya's Section 13. The sale was transacted pre-Covid-19 pandemic."
He adds that the buyer likely paid a high price because "the land is zoned for mixed commercial development with a plot ratio of 3.25" and there is "limited supply of commercial land in Petaling Jaya, which is in good demand".
For comparison, in November 2018, Sin Chew Media Corp Bhd paid RM392 psf or RM18.4 million for industrial land measuring 46,978 sq ft that was less than 1km from this parcel.
The Kickapoo tract is located within Zone 1 of Majlis Bandaraya Petaling Jaya's Special Area Plan for Section 13, which facilitates the conversion of land use from industrial to mixed-use or limited commercial. Potential development activities on the site are manifold and can include services, commerce, retail, residential, facilities and infrastructure, and utilities.
A valuer, who declined to be named, voiced surprise at the handsome price paid for Lot 54. He pointed out that if the purchaser plans to convert the land to commercial from industrial, it will have to bear yet another cost on top of the purchase price. This is usually 10% of what a government appointed valuer would estimate to be the commercial value of the land. Also, with just 39 years left on the lease, the buyer will likely have to extend the lease, which could set it back by several million ringgit.
Following the sale of the former Kickapoo factory site, attention will now turn to the much larger tract of 9.93 acres belonging to Dutch Lady Milk Industries Bhd, located across the road from the site. The dairy company will be relocating to [email protected], having acquired 32.59 acres of freehold industrial land in Enstek from Pelaburan Hartanah Bhd for RM57 million.
The lease on the Dutch Lady land, with a net book value of RM28.4 million, expires in 38 years. Expressions of interest in the sale closed on Oct 15 last year.
Industry experts opine that Dutch Lady will not be able to fetch as high a price as the Kickapoo deal, mainly because of two factors: the current softer property market and the quantum factor — the price per sq ft for a large parcel is usually lower than for a smaller plot.
The Section 13 area is already a hive of activity with several land parcels nearby, on which factories used to sit, being redeveloped into serviced apartments. These include Atwater by Paramount Corp Bhd and Ryan & Miho serviced residences by OSK Property Holdings.
National Aerated Water Co's roots go back to 1929. It was reported that the company was run by the Ching brothers — Kwong Yew, Kwong Kuen and Kwong Lum. They established a bottling factory in Serangoon Road, Singapore, in 1954, which became a landmark that was popularly known as the Kickapoo Building. In 1964, the Malaysian plant was opened at a cost of $350,000.
National Aerated Water Co was wound up in the 1990s as the bottling industry faced high production costs due in part to rising fuel prices.