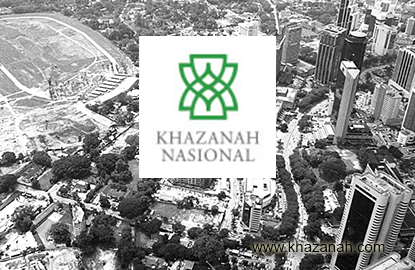 KUALA LUMPUR (Sept 14): Khazanah Nasional Bhd will inject RM6.77 billion in domestic investments to support the government's economic measures announced by Prime Minister Datuk Seri Najib Razak today.
In a statement today, the strategic investment fund said it has identified  projects that are incremental to investment plans announced previously, or are being accelerated.
"The projects, to be delivered by Khazanah through relevant investee companies and our development partners, have already been identified, have received or are in advanced stages of receiving the necessary approvals, and are already in various stages of implementation or are ready to be implemented imminently. The projects have a total value of RM6.77 billion," said Khazanah.
The projects include Desaru Coast Destination Resort — an integrated leisure and tourism resort in Desaru, Johor, with a development cost of about RM4.5 billion between now and 2017 to 2022; a new tourism venture fund of RM50 million for qualified tourism entrepreneurs in the sub sectors of eco-tourism and cultural/heritage tourism; new hospitals and extension of existing hospitals under IHH Healthcare Bhd, costing approximately RM670 million between 2015 and 2017 in Medini, Iskandar, Kuala Lumpur, Klang, Melaka, and Kota Kinabalu; and a new in-patient rehabilitation hospital business with investment approximately RM100 million over the next two years until 2017.
Other projects include the development of Dataran Muzium and Tugu Park at an estimated development cost of RM1.1 billion between 2016 and 2018 to 2020, with Khazanah funding approximately RM730 million of the cost; the set-up of Sonneratia Capital — a RM50 million coinvestments fund to finance production of local content for the export markets, which expects to see the release of the films in various regional markets, starting from the end of 2015.
i2M Sdn Bhd, a 100% subsidiary of Khazanah, will also accelerate an investment of RM90 million in Iskandar Malaysia, Johor, to attract a targeted RM2.2 billion of additional foreign investment by 2020, in the business process outsourcing sector.
"An additional RM115 million for the domestic innovation and technology sector across several initiatives, including the creation of physical innovation and accelerator space, startup bootcamps, angel matching co-investments in early-stage companies and seed-stage venture capital funding for the information technology (IT) and non-IT sectors, respectively," it added.
In line with the government's call to increase the Skim Latihan 1Malaysia (SL1M) programme allocation from 10,000 to 15,000 participants in 2015 (from the overall SL1M programme total of 4,500 participants in 2014), Khazanah is committed to more than double its existing commitment from 1,330 to 3,800 participants, at an estimated total cost of RM95 million per year.
"The above projects and initiatives are over and above Khazanah's existing commitments and investments through its various subsidiaries, major investee companies, and investment programmes, including those under major investee companies such as Tenaga Nasional Bhd, TM Bhd, CIMB Bhd, Axiata Bhd, UEM Group Bhd, Malaysia Airports Holdings Bhd, Malaysia Airlines Bhd, ValueCap Sdn Bhd and Iskandar Investment Bhd," said Khazanah.
Khazanah also said it will periodically announce further initiatives and projects, consonant with its investment policies and strategies and in support of the government's proactive economic measures.
Earlier today, Najib announced that ValueCap, a government equity investment firm, will be given RM20 billion to boost the country's stock market. The prime minister also announced other measures, such as import duties exemption for the factory sector to strengthen the country's economic fundamentals and address the impact of financial turbulence in the global markets on local economy.