This article first appeared in The Edge Singapore, on July 1, 2019 - July 7, 2019.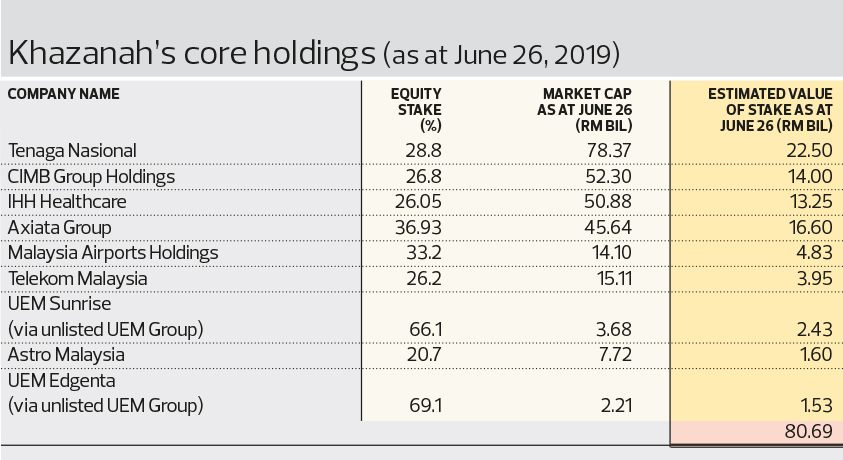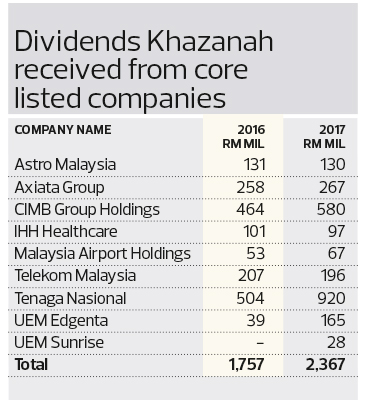 In an interview with The Edge Malaysia in February, Shahril Ridza Ridzuan, who was appointed managing director of Khazanah Nasional last August, disclosed that the company had divided its assets into two baskets — commercial and strategic.
This was the first time Khazanah publicly classified its assets as such, and its listed assets alone are worth around RM80 billion ($26.1 billion).
Its commercial assets, which make up 70% of its portfolio, can be fully or partially divested at the right price at the right time, while its strategic assets such as Malaysia Airlines (MAB) will be kept, even if they lose money, in the national interest (see our Cover Story "Man with a new mandate", ­Issue 1254, Feb 18).
Three months before the interview, Khazanah had sold a 16% stake in IHH Healthcare to Mitsui & Co for RM8.42 billion, leaving it with a 26% equity interest that is worth RM13.13 billion today. Mitsui is now IHH's bigger shareholder with a 32.9% stake.
The quick sale of the IHH stake came as a surprise, as under its previous management, Khazanah had painstakingly built the premium healthcare provider into a major regional medical service company over a few years.
But RM8.42 billion is a lot of money. When asked about the sale in the February interview, Shahril said, "The divestment is part of Khazanah's strategy to grow the businesses that we have invested in and to find the appropriate time and value to create liquidity for our future capital and investment needs."
The message was clear. Khazanah will sell part or all of its non-strategic assets to raise cash either to pay dividends to its shareholder, the government of Malaysia, or to fund strategic assets that are bleeding red ink, such as MAB (see our Cover Story "Will Khazanah's assets be sold to reduce government debt?", Issue 1223, July 16, 2018).
To put things in perspective, Khazanah suffered a loss before tax of RM6.27 billion in 2018 compared with a profit before tax of RM2.89 billion the previous year.
As at Dec 31, 2018, the sovereign wealth fund had RM136 billion in realisable asset value (RAV), down from RM157 billion at end-2017, and net worth adjusted (NWA) of RM91 billion, down from RM116 billion at end-2017.
The market downturn last year had clearly impacted Khazanah's portfolio. Indeed, had the fund sold its 16% IHH stake earlier, it could have got more for it. And with the ongoing US-China trade war and market uncertainty, it does make sense for Khazanah to sell some of its commercial assets now before prices fall further.
As at July 2018, Khazanah's core listed assets were worth RM84.5 billion. Today, the same assets are worth about RM80 billion.
According to a source, Khazanah's current strategy is to discontinue playing the parent's role of running the companies it controls.
In an email response to questions from The Edge Malaysia, a Khazanah spokesperson says: "As we've publicly said before, we are restructuring our portfolio in line with our refreshed mandate. In this regard, Khazanah's key transitional priorities in the next five years include rebalancing our Commercial Fund and developing our Strategic Fund. A recent example of efforts to restructure our portfolio is the partial divestment of our shareholding in IHH Healthcare. Proceeds from the divestment will be utilised for new investments and capital requirements. We will announce any new investments and divestments as and when appropriate."
UEM Group assets could be divested next
Sources familiar with Khazanah tell The Edge Malaysia that there have been active discussions involving assets that are part of UEM Group, for example, listed companies such as UEM Edgenta and UEM Sunrise, and unlisted UEM Builders, Cement Industries of Malaysia (CIMA) and highway operator PLUS Malaysia. "There's much going on," says a source.
When asked about its divestment plan, UEM Group says in an email response: "UEM Group, the infrastructure arm of Khazanah Nasional Bhd, is currently undertaking a restructuring exercise that will see it becoming a more commercially viable investment holding company, one that empowers its subsidiaries to maximise their value and potential through greater autonomy, focus and agility. The restructuring exercise will also see UEM Group developing a business model that best suits its capabilities and being in a better position to deal with the changing markets and expectations.
"UEM Group is always looking at both investment and divestment opportunities for its assets, but only if the valuation is right."
UEM Group's past divestments include Pharmaniaga and Touch 'N' Go Sdn Bhd in 2010.
The group is basically Khazanah's infrastructure and property arm, whose listed assets include UEM Sunrise, in which it has 66.06% equity interest. At its close of 82 sen on June 26, UEM Sunrise had a market capitalisation of RM3.68 billion. At a 20% premium, the group's 66.06% stake in UEM Sunrise is worth RM2.92 billion. If the group were to sell 51% of the stake at a 20% premium, it would set the buyer back by RM1.49 billion. It is also noteworthy that UEM Sunrise's net asset value per share as at March 31 was RM1.57, which means the company's current share price is less than 55% of its NAVPS.
In the first three months of FY2019, UEM Sunrise registered a net profit of RM30.1 million on revenue of RM419.26 million.
It was previously reported that Jakel Group could be eyeing UEM Sunrise, but given the soft condition of the property market, any acquirer would need considerable financial muscle.
Another listed company is UEM Edgenta, whose core business is hospital support and hotel management services. UEM Edgenta ended trading at RM2.66 on June 26, giving the company a market capitalisation of RM2.21 billion. UEM Group's 69.14% stake in the company is worth RM1.61 billion, but at a 20% premium, it could fetch RM1.93 billion.
In its first three months of FY2019, UEM Edgenta recorded a net profit of RM32.66 million on revenue of RM515.88 million.
About four years ago, UEM Builders was said to be up for grabs and companies such as Malaysian Resources Corp were said to be eyeing it. However, there has been very little news about UEM Builders since then.
In its financial year ended Dec 31, 2017, the company reported a profit after tax of RM25.67 million on revenue of RM303.63 million.
The PLUS story
The jewel in UEM Group's crown could be its 51% stake in highway operator PLUS Malaysia. The Employees' Provident Fund holds the remaining 49%.
The following are the highway concessions under PLUS' belt, all of which expire in December 2038:
• A concession that includes the 846km North-South Expressway, the New Klang Valley Expressway, the Federal Highway Route 2 and the Seremban-Port Dickson Highway;
• The 63km Expressway Lingkaran Tengah Sdn Bhd, which includes the North-South Expressway Central Link;
• The 47km Linkedua (M) Bhd, which includes the Malaysia-Singapore Second Crossing;
• The 17km Konsortium Lebuh Raya Butterworth-Kulim Sdn Bhd or better known as the Butterworth-Kulim Expressway; and
• The 13.5km Penang Bridge.
Three individuals are said to be interested in PLUS. One is Halim Saad, who, of course, is the man who built the North-South Expressway in the late 1980s but subsequently lost it when his Renong/UEM Group ran into financial difficulties during the 1987/88 Asian financial crisis and its assets were taken over by Khazanah in 2002.
The other two are Syed Mokhtar Albukhary and Abu Sahid Mohamed of Maju Group, which built and now operates the 25km Maju Expressway that links Kuala Lumpur to Putrajaya.
Whoever is eyeing PLUS should be aware that while it has good cash flow, its financials are far from stellar.
In its financial year ended Dec 31, 2017, the highway operator suffered an after-tax loss of RM101.46 million on revenue of RM3.9 billion. Its total liabilities amounted to RM33.02 billion, while its total assets stood at RM32.43 billion. It is also noteworthy that from 2013 to 2017, PLUS paid almost RM4 billion in dividends to its parent UEM Group.
As at Dec 31, 2017, PLUS had accumulated losses of RM3.98 billion, which could be the result of its dividend payouts exceeding its profits. Its debts, mainly bonds, totalled RM30 billion.
MAHB and MAB
While Malaysia Airports Holdings (MAHB) and MAB are deemed strategic assets that Khazanah will not divest completely, sources say the fund is looking at strategic tie-ups through which it could pare its stake in these companies to partners that can manage them and increase their profitability and, therefore, their value.
Sources say discussions have already begun with the UK's Gatwick Airport — the company that is licensed to operate Gatwick Airport in West Sussex, London — to take up a stake in MAHB, with Khazanah retaining 10% to 20% of it.
The airport has been managed by VINCI Airports and Global Infrastructure Partners since 2009. VINCI Airports recently acquired 50.01% of the airport operator while Global Infrastructure Partners took up the remaining 49.99%.
VINCI Airports manages the development and operations of 46 airports in the US, the UK, Japan, France, Sweden, Portugal, Serbia, Brazil, Chile, Cambodia, the Dominican Republic and Costa Rica, among others.
In an interview with The Edge Malaysia in May, Transport Minister Anthony Loke said the government was looking at breaking up MAHB's 38 airports and landing strips into four clusters — Sabah, Sarawak, Sepang and the rest of Peninsular Malaysia — after which MAHB ccould look for new investors.
After hitting a 52-week low of RM6.60 on April 11, MAHB's share price gained 28.59% to close at RM8.50 on June 26, giving the company a market capitalisation of RM14.1 billion.
Khazanah's 33.21% stake in MAHB had a market value of RM4.83 billion as at June 26. At a 20% premium, the block of shares is worth RM5.8 billion.
In its first three months of FY2019, MAHB registered a net profit of RM149.58 million on revenue of RM1.25 billion.
As for MAB, sources say a tie-up with Germany's Deutsche Lufthansa, Europe's largest airline in terms of passengers carried, and China Eastern Airlines is being explored.
In its last filed financial results for 2017, MAB suffered an after-tax loss of RM812.11 million on revenue of RM8.67 billion. The airline lost RM2.35 billion between 2015 and 2017, eating away at Khazanah's cash. Resolving MAB's problems will have to take priority or any cash the sovereign wealth fund gets from the sale of assets will only be burnt by the ailing airline.
This may well mean having to set aside jingoism and teaming up with a successful international airline willing to put cash and expertise into MAB.