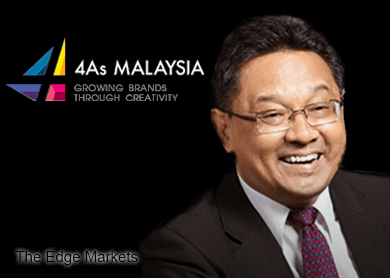 KUALA LUMPUR: The Association of Accredited Advertising Agents of Malaysia (4As) has appointed Khairudin Rahim as chief executive officer from July 1 this year, replacing executive director Kenneth Wong.
In the newly created role, Khairudin is tasked with developing the strategy and long-term plan for 4As to remain relevant in the changing advertising industry landscape.
The 4As said Khairudin's remit also includes rebuilding its value and forging local and international partnerships with the end-goal of creating a future generation of professionals.
In a statement yesterday, 4As president Datuk Johnny Mun said Khairudin will continue the legacy and serve the industry to help drive its ambitions and vision for the future development of the creative industry.
"My primary role is to provide the vision, strategy and support on matters relating to governance, objectives, programmes, services, and operations of the 4As," said Khairudin. "While the president is responsible for the overall formation of plans and programmes with the aim of enriching the 4As members, my job is to ensure that this vision materialises to directly benefit the members and their professional well-being and profitability." 
Khairudin started his career with McCann-Erickson in 1975 before moving to Lowe where he spent more than 30 years building brands. His career included postings in Sydney and Manila. His last position was chairman of Lowe Malaysia.
The 4As, founded in 1971, represents more than 100 multinational and local agencies.
This article first appeared in The Edge Financial Daily, on June 24, 2015.