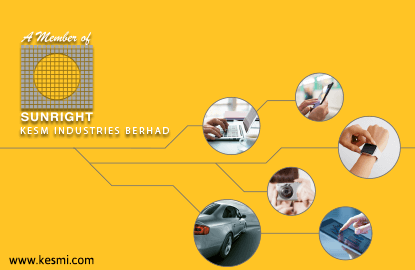 KUALA LUMPUR (July 18): KESM Industries Bhd gained as much as 22 sen or 4% on buying interest after the electronic component-testing specialist announced a special dividend of 4.5 sen a share.
Shares of KESM rose to their highest so far today at RM5.81. At 12:30pm, the stock settled at RM5.79 to become Bursa Malaysia's third-largest gainer.
Last Monday (July 11), KESM said the 4.5 sen dividend was for financial year ending July 31, 2016. The ex and payment dates fall on July 27 and Aug 18 respectively.
Today, KESM shares had risen with semiconductor manufacturers' shares, possibly in anticipation of higher semiconductor demand ahead major smartphone launches in the second half of this year.
At 2:35pm today, Unisem (M) Bhd shares rose seven sen or 3% to RM2.62. The stock saw some two million shares traded.
Maybank Investment Bank Bhd analyst Ivan Yap said in a report today semiconductor players could have seen a rise in demand in the second quarter ahead of smartphone launches next month and September.
Yap said the second half marked the start of stronger component shipments in preparation for major smartphone launches by manufacturers including Apple and Samsung.
"We expect global semiconductor sales to grow faster in June leading up to Apple and Samsung's launch of a new generation model, as opposed to a facelift model in 2015," he said.