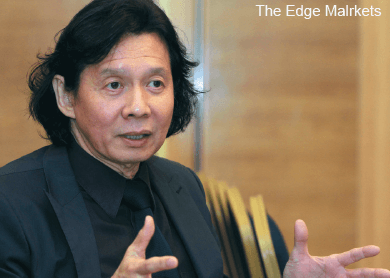 WHILE the stocks of software and e-solution providers have led a broad market rally in recent months, there has also been a resurgence of investor interest in semiconductor players.
And with the chip industry seemingly on the cusp of a cyclical uptrend, the outlook for KESM Industries Bhd — whose primary business is the provision of semiconductor testing and burn-in services — is vastly improved, say analysts.
It is worth noting that on April 16, the company got its shareholders' approval for the acquisition of the remaining 34.62% stake it does not own in KESM Test (M) Sdn Bhd for RM35 million from Singapore-based Sunright Ltd, the world's largest independent semiconductor testing outfit.
KESM Test has been KESM's most important earnings contributor in recent years despite not being a wholly-owned subsidiary. It accounted for nearly all of the latter's net profit in the past three financial years, offsetting losses recorded by other subsidiaries with overseas exposure.
Following the group's extraordinary general meeting on April 16, KESM CEO Samuel Lim Syn Soo told reporters that it was the perfect time to acquire the remaining stake in KESM Test, citing the growth in the use of semiconductors in automotive applications.
New testing equipment is required as the electronic components of cars become more technologically advanced, he said, adding that KESM Test already had the expertise and was the leader in the field.
After the shareholders gave the green light to the acquisition of the KESM Test stake, KESM's shares skyrocketed. Between April 16 and 24, they leapt from RM2.70 to RM3.05 — a 13% increase. The shares have since surrendered some of the gains and closed at RM2.82 on April 29, giving KESM a market capitalisation of RM120.44 million.
In tandem with the growth in the Malaysian automotive industry, KESM Test reported an increase in testing capacity demand in its financial year ended July 31, 2013 (FY2013), and FY2014 while a reduction in its manufacturing cycle time boosted efficiency. Revenue was RM58 million in FY2013 and RM68.5 million in FY2014, representing an average top-line growth of around 17% per annum over the past two years.
"It is worth noting that KESM Test does not have a direct peer due to its full focus on automotive products. Its operations are scalable and the company enjoys a first-mover advantage to capitalise on the rising demand," says the semiconductor sector analyst of a research house.
In an April 20 non-rated note, TA Securities Research says KESM's earnings per share (EPS) may rise as much as 41.9% year on year if the acquisition goes through. In FY2014, the group reported an EPS of 25.3 sen on net profit of RM10.88 million. Revenue for the year was RM254.37 million.
"Mimicking the recovery in global semiconductor sales, the group achieved a record of over one billion semiconductor devices shipped in FY2014, apart from benefits enjoyed through better productivity and positive cost-control measures," says the research house, which has a fair value of RM3.05 for KESM.
The only downside of KESM's growth story is that it has invested heavily — to the tune of RM68 million in FY2014 — in new testing equipment to keep it up to date with current technological specifications. Still, as at Jan 31, it was in a strong net cash position of RM48.8 million or RM1.13 per share.
The capital-intensive nature of the business is underlined by the fact that a typical piece of test equipment costs as much
US$2 million. TA Securities Research notes that KESM, which has 100 installed testers now, plans to add 5 to 10 more a year.
The bigger profit contribution from the testing division also means things are not rosy in KESM's burn-in service and electronics manufacturing service segments. The group did not provide a breakdown of segmental earnings in its results reports.
Meanwhile, the company's earnings trend has been erratic in the past few years. Net profit plunged from RM12.38 million in FY2011 to RM4.16 million in FY2012 due to higher costs. In FY2014, its net profit more than doubled to RM10.88 million from RM4.57 million in FY2013, thanks largely to KESM Test's contribution (see table).
In fact, if not for KESM Test's sterling earnings growth and consolidated net profit contribution, KESM would have suffered a significant loss in each of its past three financial years. The proposed acquisition is thus part of a revamp to focus on semiconductor testing, as mentioned in the group's latest annual report.
The semiconductor industry is notorious for its short-term up cycles. The growth in chip use in the niche automotive industry may have no correlation to the broader market, which is dominated by demand in the consumer electronics product industry.
As the automotive industry already contributes about 70% to KESM's total revenue, the company's new focus could prove to be its biggest strength or its biggest weakness, depending on whether the industry's expected strong demand for semiconductors materialises. In a report last month, market research firm IC Insights forecast the industry to grow at a compound annual growth rate of 6.5% over the next four years. However, its share of the integrated circuit market is forecast to be only 8% this year and no more than 10% by 2019.
---
Note: The Edge Research's fundamental score reflects a company's profitability and balance sheet strength, calculated based on historical numbers. The valuation score determines if a stock is attractively valued or not, also based on historical numbers. A score of 3 suggests strong fundamentals and attractive valuations. Visit www.theedgemarkets.com for more details on a company's financial dashboard.
This article first appeared in The Edge Malaysia Weekly, on May 4 - 10, 2015.