This article first appeared in The Edge Malaysia Weekly, on March 4, 2019 - March 10, 2019.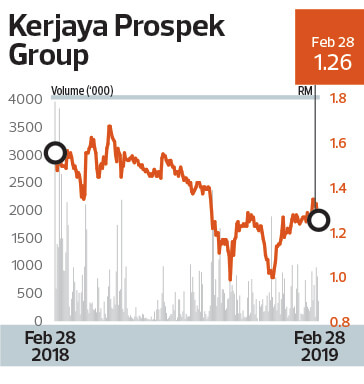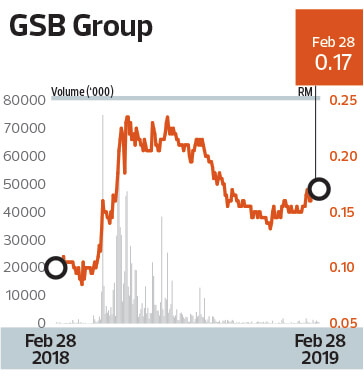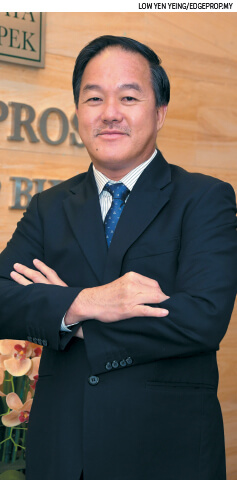 Tee says any of KPP's assets are up for sale, if the price is right
KERJAYA Prospek Group Bhd's largest shareholder, Datuk Tee Eng Ho, is trying for the backdoor listing of privately owned property developer Kerjaya Prospek Property Sdn Bhd (KPP) yet again, after his offer to buy out GSB Group Bhd fell through some eight months ago.
Sources close to Kerjaya Prospek say Tee will inject a yet-to-be-named mixed-use development in Jalan Kelang Lama, Kuala Lumpur, that is owned by KPP into GSB in return for the company's shares.
However, he will likely keep the listing status of GSB and might need to place out shares to other investors in order to do so, says another source who is close to the contractor.
The sources add that the exercise will be announced in the second half of the year.
"The Old Klang Road project has a gross development value of about RM1.2 billion. It will feature a 64-storey office building that will house Kerjaya Prospek's new corporate headquarters," says a source. "Tee's vision is to have Kerjaya Prospek as the construction arm while the new GSB will become the property development arm."
GSB's average share price to date is 15.7 sen. To acquire KPP's Jalan Kelang Lama project at RM1.2 billion, GSB will have to issue 7.64 billion new shares, if the consideration were to be fully satisfied via the issuance of shares.
At 20 sen per issued share, which is at a 27.4% premium to the average share price to date of GSB, the company will have to issue six billion shares to satisfy the acquisition. As at Sept 30, 2018, GSB had issued 552 million shares.
When contacted by The Edge, Tee refuses to comment on the possibility of his injecting assets into GSB to do an RTO. However, he does mention that any of KPP's assets are up for sale, if the price is right.
To recap, on Dec 18, 2015, Tee, his wife Datin Toh Siew Chuon and his brother Tee Eng Seng emerged as substantial shareholders of GSB via Javawana Sdn Bhd after subscribing for 88 million shares placed out by the small property development outfit at 10 sen each.
The subscription gave Javawana a 16.67% stake in GSB, thus making it the second largest shareholder of the company, taking over from Suria Bitara Sdn Bhd (15.24%). The largest shareholder at the time was the Gan family, led by Datuk Gan Seng Biang, with 22.39%.
On May 18 last year, Javawana acquired an aggregate of 127 million shares in GSB or a roughly 24.05% stake for RM16.5 million cash or 13 sen per share from its then largest shareholder.
This acquisition triggered a mandatory general offer (MGO) by Javawana for all the remaining shares in GSB not owned by the company at 13 sen each. According to the offer notice, the price was at a 23.2% premium to GSB's three-month volume weighted average price up to May 18 last year.
However, following the announcement of the MGO, GSB's share price shot up to 17 sen on May 21, and continued to rise until it peaked at 25.5 sen on June 21 last year. The offer was open for 21 days and lapsed on June 8 last year.
Almost all the eligible minority shareholders did not take up Javawana's offer as the counter spiked ahead of the closing date.
However, the stock succumbed to selling pressure after peaking and had tumbled to 13.5 sen as at Dec 21 last year. The counter has risen 25.9% since, ending at 17 sen last Thursday and giving GSB a market capitalisation of RM94 million.
For the six-month period ended Sept 30 last year, GSB narrowed its net loss to RM2.22 million from RM5.76 million in the previous corresponding period, on revenue that more than quadrupled to RM32.12 million during the period.
However, the group, which began life as a manufacturer of optical discs in 1992, had RM18.2 million in short-term debt and only RM4.5 million in cash and bank balances as at Sept 30. Its land held for property development was worth RM74.45 million.
According to GSB's annual report for its financial year ended March 31, 2018, the group had six acres of freehold land in Klang and two parcels of leasehold land measuring 1.15 acres and 1.07 acres in Shah Alam. It also had several parcels of freehold land in Bentong, Pahang.
GSB is not the only listed property developer in which Tee owns shares. Kerjaya Prospek, while widely known as a construction outfit, is also a property developer. Its maiden project — Vista Residences @ Genting Highlands — was launched in 2016 and has a GDV of RM300 million. It also has two property developments in the pipeline.
At Kerjaya Prospek's briefing on its results for 4QFY2018 ended Dec31 last Thursday, Tee said the group will launch a property development with a GDV of RM250 million next to the Monterrez Golf Club in Shah Alam next year.
It will also launch a joint-venture project with Yakin Land Sdn Bhd in Batu, Kuala Lumpur. The development plan for the project is under review by Dewan Bandaraya Kuala Lumpur as the developer has submitted a new one.
The new plan will replace a three-block apartment tower with one 60-storey tower and increase its GDV by 30% to up to RM500 million, said Tee. The 1.83ha plot offers more open space under the new development plan.
Tee, however, confirmed that Kerjaya Prospek will not utilise its huge cash reserve to buy land. Instead, the group will enter into JVs with landowners, including KPP, to jointly develop projects, he said.
When asked what he planned to do with Kerjaya Prospek's cash hoard, Tee said there will be investment opportunities that the group could look at, including investing in the quoted securities of other public-listed companies.
In FY2018, Kerjaya Prospek recorded revenue of RM1.07 billion — up 12% year on year — on the back of strong construction job wins and contribution from Vista Residences @ Genting Highlands. Its profit after tax rose 10% during the year to RM138.55 million.
The group's cash and bank balances had tripled to RM154.26 million as at Dec 31, 2018, while on the other side of the balance sheet, short-term borrowings stood at RM60 million. The group did not have any long-term borrowings.
However, due to an increase in its issued shares to 1.24 billion from 564.5 million due to the issuance of 670 million bonus shares in February last year, the group's net assets per share diluted to 79 sen apiece from RM1.55 as at Dec 31, 2017.
Tee is confident that Kerjaya Prospek will achieve the targeted construction order book of RM1.2 billion this year. Year to date, the group has secured two contracts from HCK Capital Group Bhd worth a total of RM395 million.
Kerjaya Prospek is also highly likely to get the contract to build KPP's Jalan Kelang Lama project worth RM400 million by April this year, and more construction contracts from Eastern & Oriental Bhd's Seri Tanjung Pinang Phase 2, said Tee.
Save by subscribing to us for your print and/or digital copy.
P/S: The Edge is also available on Apple's AppStore and Androids' Google Play.