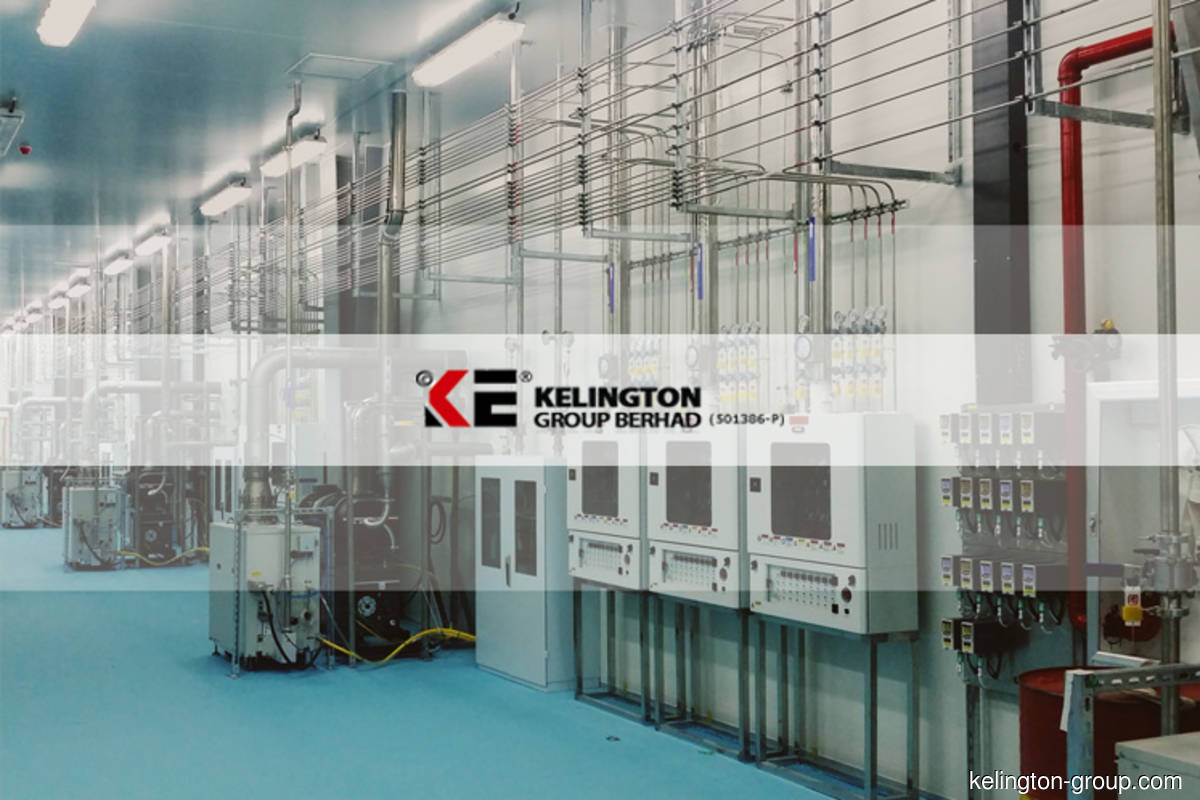 KUALA LUMPUR (Nov 30): Kelington Group Bhd's net profit surged 62.28% to RM7.96 million for the third quarter ended Sept 30, 2021, from RM4.9 million a year earlier, on the back of strong contribution from its ultra high purity (UHP) and process engineering segments.  
Quarterly revenue was up 8.25% to RM106.37 million from RM98.26 million, following a higher completion of projects in Malaysia and Singapore.
On a quarter-on-quarter basis, Kelington saw its net profit increase 8.27% from RM7.35 million recorded in the immediately preceding quarter. Revenue, however, slipped 15.84% from RM126.39 million.
For the cumulative nine-month period, Kelington's net profit jumped 117.63% to RM20.86 million, from RM9.58 million in the same period a year earlier, while revenue climbed 29.68% to RM337.58 million, from RM260.32 million.
Kelington said global semiconductor shortage has accelerated the development of new semiconductor wafer fabs, which bodes well for the group as one of the leading UHP solutions providers.
"While our Malaysian operations were disrupted due to the implementation of Full Movement Control Order from June 1 to mid-August, it has since resumed to full capacity from September onwards.
"Other operating markets such as China and Singapore remain resilient and are well on track for growth due to robust orderbook in hand," it said.
Kelington said project flow remains buoyant as the group secured an additional RM891 million worth of projects so far in 2021, with the majority of the new orders secured from China, Malaysia and Singapore.
Inclusive of the carried forward projects from FY20, Kelington said the group's total orderbook grew to RM1.2 billion, of which RM932 million remains outstanding.
On the group's industrial gases division, Kelington said the production of liquid carbon dioxide is on the rise, with more demand coming from the domestic and overseas markets such as Singapore.
"Barring any unforeseen circumstances and further lockdowns, we are confident to record a strong financial performance in FY21, underpinned by our healthy replenishment of orders, as well as favourable industry backdrop arising from the advent of 5G network and strong expansion by semiconductor players," it added.
Shares of Kelington rose 1.26% or two sen to close at RM1.61 on Tuesday (Nov 30), giving the group a market capitalisation of RM1.03 billion. The counter saw 5.07 million shares traded.