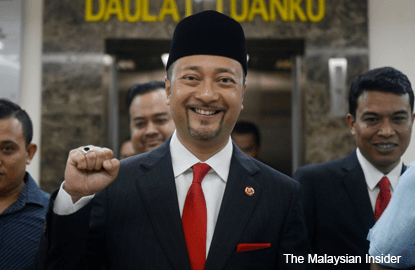 KUALA LUMPUR (Feb 3): After two weeks of brouhaha over the Kedah menteri besar issue, opposition party leaders in the state today say they respected Datuk Seri Mukhriz Mahathir's decision to step down.
Kedah DAP chairman Tan Kok Yew said there was nothing left to say after Mukhriz chose to relinquish his MB post on his own accord.
"We just have to respect his decision. It would be a different story if he was told to resign, but refused to do so.
"I heard that he decided to leave on his own so the state government and administration could proceed and function as usual. We thank him for his services to Kedah for over two and a half years," he told The Malaysian Insider.
Mukhriz, after facing an internal revolt in Kedah Umno, resigned as menteri besar today after losing support in the legislative assembly.
The Malaysian Insider reported that he only had the support of 16 state representatives, while 17 wanted him out and two abstained.
There are 21 Barisan Nasional assemblymen and 15 opposition assemblymen from PAS (eight), PKR (four), DAP (two) and Parti Amanah Negara (one).
The Kedah Regency Council informed him that he lost the support of the majority after the council interviewed Barisan Nasional (BN) and opposition elected reps, who were asked to state their support on Monday and Tuesday respectively.
Yesterday, after an audience with the regency council, several opposition reps told the press that the best way to resolve the crisis was to table a motion of no confidence at the state legislative assembly and put the matter to a vote.
Asked if he was disappointed that things did not progress the way they had hoped, Tan said nothing could be done now.
"That is normal. That is how they do things in Umno. That is their party style... can't comment much on that," the Derga assemblyman said.
PAS's Alor Mengkudu assemblyman Ahmad Yahya said his party accepted the outcome, as long as it was reached in a democratic manner.
"What we were not okay with was removing the menteri besar by calling a press conference, using SDs (statutory declarations) and forcing and threatening some people to sign it," he said.
Datuk Phahrolrazi Zawawi, Parti Amanah Negara's sole assemblyman in Kedah, said he was happy that the regency council interviewed all elected reps for their view on the matter.
"They asked each of us if we supported Mukhriz. At the end, it was clear that he did not have the support of the majority, and was advised to step down.
"To me, the procedure was okay. Now we have an outcome and there is no need to drag the issue any longer. The next order of business is to appoint the new menteri besar," the Pangkalan Kundur rep said.
Kedah PKR chief Dr Azman Ismail said his party also respected the decision to change the menteri besar, and would not question the matter.
Being an internal issue in Umno, he said PKR would not have bothered with the power tussle if its elected reps were not asked to state their views.
He said from the beginning, the menteri besar crisis was an internal Umno problem as there were no "reasonable and solid" (munasabah dan kukuh) justification to dismiss Mukhriz.
"We don't see a valid reason to dismiss Mukhriz, except for the power grab by (Prime Minister Datuk Seri) Najib Razak's group.
"It was also highly irresponsible for the issue to be dragged for two weeks...changing the MB (menteri besar) had also created unnecessary tension for the people," he told The Malaysian Insider today.
Dr Azman, who is also Kuala Kedah MP, said it remained PKR's long-term goal to take over from BN at state and federal levels.
He said BN was not administering state and federal governments well, ruining the country and its people.