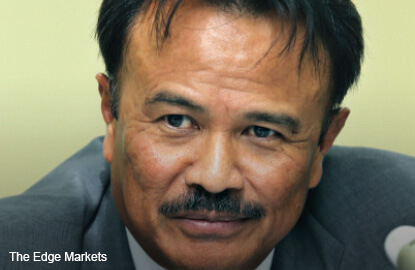 This article first appeared in
Corporate, The Edge Malaysia Weekly
, on August 29 - September 4, 2016.
EXPRESS bus operator KBES Bhd is said to be close to inking a deal with Beijing-based Beiqi Foton Motor Co Ltd — the world's largest manufacturer of commercial vehicles in terms of sales — to assemble vehicles for both the domestic and regional markets, sources say.
It is understood that KBES' wholly-owned subsidiary Super Coach Assembly Plant Sdn Bhd, which is based in Kamunting, Perak, will handle the assembly and fabrication of bodies for buses and the provision of related maintenance services for Beiqi Foton in a deal likely to be inked over the next few days.
"If KBES does pull off this deal, it is likely to be a game changer. Talks are ongoing, being firmed up and most of the main issues have been sorted out. It's looking good for KBES, just a matter of time before the deal is signed," an industry source tells The Edge.
KBES managing director Datuk Che Azizuddin Che Ismail was not available for comment.
It is learnt that Che Azizuddin, who is the largest shareholder of KBES with a 29.96% stake as at June 23, has been instrumental in bringing the talks to the current level.
He surfaced as a substantial shareholder in the loss-making company in August last year and took over as managing director in May this year. Prior to his entry, KBES was run by the wLau family.
Che Azizuddin is well known in transport circles, having been a substantial shareholder and former CEO of Konsortium Logistik Bhd. He sold his controlling stake in Konsortium Logistik to Ekuiti Nasional Bhd in October 2010 and left the company in 2013.
Then, he took over another transport company — Arca Transline Sdn Bhd (formerly known as Warisan Movers Sdn Bhd). Arca Transline's assets included a vessel — MV Arca Emerald — used for transporting cars from Peninsular Malaysia to Sabah and Sarawak. However, it is unclear what has happened to this business or if it is still going on.
Arca Transline also had car carriers and a fleet of prime movers and lorries.
KBES, it seems, has cast its net far and wide, looking for a Chinese partner. Initially, it was in talks with SAIC Motor Corp Ltd (formerly Shanghai Automotive Industry Corp) on the possibility of KBES assembling and distributing the latter's commercial vehicles. However, negotiations fell through in the first quarter of this year.
Meanwhile, talks between KBES and Beiqi Futon are understood to have escalated to an advanced stage. Beiqi Futon is a subsidiary of BAIC Group or officially, Beijing Automotive Industry Holding Co Ltd.
For KBES, the assembly of commercial vehicles for the regional market could be a big deal and could impact its earnings if the business takes off. However, it is likely to need a capital injection.
For the first quarter ended March 31, 2016 (1QFY2016), KBES posted a net loss of RM921,000, compared with a net loss of RM928,000 a year ago. Revenue rose 21% year on year to RM9.83 million.
Other than a brief respite in 2QFY2015, the company saw six straight quarters of losses.
As at end-March, KBES had cash and bank balances of RM575,000, short-term debt commitments of RM7.37 million and long-term borrowings of RM6.64 million. However, its shareholders' funds stood at RM43.27 million, which works out to a gearing of 0.31 times.
Other than Che Azizuddin, KBES has no other substantial shareholders. It is also worth noting that a chunk of his shares has been pledged.
However, in KBES' list of top 30 shareholders, among the names that stand out is Tan Sri Ab Rahman Omar, who owns 4.88% equity interest. He was previously with Edaran Otomobil Nasional Bhd, the distributor of Proton cars. Another individual who stands out despite holding only two million shares or a 1.59% stake is Datuk Kamarudin Meranun of AirAsia Bhd fame.
While Kamarudin has been a long-time passive shareholder, Ab Rahman's entry seems new.
Then again, Che Azizuddin's other known businesses are in the automotive industry — Aiman Motor Sdn Bhd deals in Suzuki, Subaru and Mazda vehicles — which could be how he got acquainted with Ab Rahman.
KBES' shares closed one sen or 3.7% higher at 28 sen last Friday, giving the company a market capitalisation of RM35.3 million.