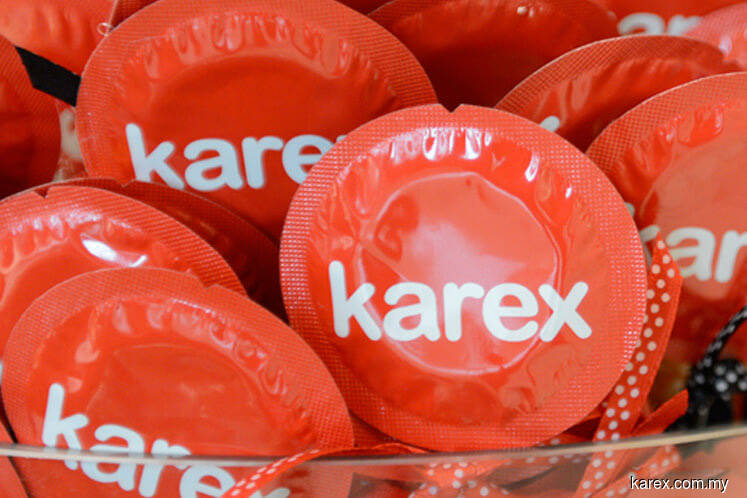 KUALA LUMPUR (Aug 28): The world's largest condom maker Karex Bhd saw its net profit for the fourth quarter ended June 30, 2018 (4QFY18) fall 49.83% to RM1.46 million or 0.15 sen per share, from RM2.90 million or 0.29 sen per share previously, due to rising production costs which outpaced adjustments to its selling prices. 
Revenue for the quarter inched up 1.95% to RM93.42 million from RM91.63 million a year ago, due to higher volume of condom sales, particularly from the sexual wellness and medical segments, Karex said in a filling with Bursa Malaysia. 
For the full year (FY18), Karex said net profit plunged 63.85% to RM10.10 million or 1.01 sen per share, from RM27.95 million or 2.79 sen per share a year earlier.
This is despite revenue rising 12.88% to RM408.01 million, from RM361.45 million in FY17.
Karex said lower earnings in FY18 were due to a less favourable economic climate and higher distribution and administrative costs, despite higher revenue.
The higher revenue for FY18 was backed by the sales contribution from the Sexual Wellness segment.
"The sexual wellness segment grew by 14.3% in FY18 to RM375.5 million, through condom and lubricating jelly sales volume growth, in comparison to the corresponding period in the preceding year," Karex said in the filling.
"Sales from the tender and commercial markets have expanded by 13.7% and 13.6% respectively, reflecting the successful capture of new business in Asia and the Americas. Own brand sales maintained an encouraging growth trajectory, in line with our recent strategies to expand the market share presence of our own brand products," it added.
Going forward, Karex is wary of the turbulence in the economic environment that has persisted in recent months.
"The rising cost of production, coupled with erratic condom purchasing patterns, have presented a challenging climate to condom manufacturers around the world," it added.
Shares in Karex closed unchanged at 73.5 sen today, for a market capitalisation of RM736.75 million.