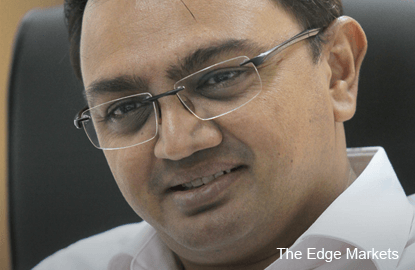 KUALA LUMPUR: Kamdar Group (M) Bhd's managing director Kamal Kumar Kishorchandra is contemplating an appeal against the High Court's decision on dismissing Kamdar Sdn Bhd's (KSB) claim against its largest shareholder Bipinchandra Balvantrai, former chief executive officer Jayesh Kamdar and contractor Eric Yap Kim Hong on the alleged withdrawal of RM8.8 million in cash.
When contacted after the High Court's decision was announced last Wednesday, Kamal said it is likely that he would take the case to the Court of Appeal. "I will be discussing with my lawyer … we are contemplating an appeal," he told The Edge Financial Daily, adding that no decision had been made yet.
The family feud that has turned into a legal battle involves RM8.8 million in cash in Kamdar Group's wholly-owned subsidiary, KSB. Kamal, who is also the textile retail group's chairman, alleged that the sum had been utilised by Bipinchandra, Jayesh and Yap partly to purchase shares in Kamdar Group.
Kamal and Bipinchandra are cousins. Bipinchandra is the largest shareholder holding a 28.9% stake in Kamdar Group, while Kamal is the second biggest stakeholder with a 27.01% stake.
Kamal said the High Court last Wednesday decided to take reference to the general ledger signed by the previous management. The accounting record showed that the RM8.8 million was taken out from Kamdar as a loan to the late chairman and founder of Kamdar Group, Harsukhlal Maganlal Kamdar (HM Kamdar), who passed away in April 2008.
The judge said last Wednesday that KSB suffered no loss as the deposits paid into its account were repayment for the loan taken by HM Kamdar, according to a document sighted by The Edge Financial Daily.
The judge also made a finding of fact that the four payments taken out from KSB were indeed a loan or advance taken by HM Kamdar, "hence there is no breach of fiduciary duty by Bipinchandra and Jayesh".
According to Kamal, some family members and shareholders had forked out money to plug the hole after the sum of RM8.8 million was withdrawn from KSB, including himself (Kamal) chipping in RM1.9 million cash for that.
The family feud started when Binpinchadran wanted to oust Kamal from Kamdar Group's board two years ago. After Kamal managed to retain his executive position, he hired Messrs Morison Anuarul Azizan Chew to conduct a special audit on KSB's accounts in April last year.
The special auditors found that there were four non-business withdrawal transactions amounting to RM8.84 million effected from KSB's accounts between March 23 and 26, 2005 by two individuals who were former officers of Kamdar.
The special auditors concluded that the transactions were different from the general ledger of Kamdar, adding that the financials were misstated in the ledger. "Several shareholders advanced a sum of RM8.76 million to Kamdar from March 28, 2005. There is no conclusive proof as to what these advances were for," said an announcement dated June 20 on Bursa Malaysia.
Meanwhile, a source close to the family said other family members had tried to resolve the family dispute, but both sides were unwilling to talk to each other.
"Things could have been resolved in a much nicer manner," said the source.
Kamdar's share price has been on a decline in the past 12 months, falling to 42 sen last Friday from 82.8 sen a year ago. The retailer's market capitalisation was at RM83.2 million last Friday.
The group's financial performance did not fare well too. Kamdar Group's net profit almost halved to RM2.49 million for the financial year ended Dec 31 2014 (FY14) from RM4.75 million. Revenue dipped 14% to RM44.19 million from RM51.46 million. The lower profit was on the back of general curtailment of demand in the retail industry and the temporary closure of a store due to a fire incident, explained the group in its financial announcement in February this year.
This article first appeared in The Edge Financial Daily, on July 6, 2015.