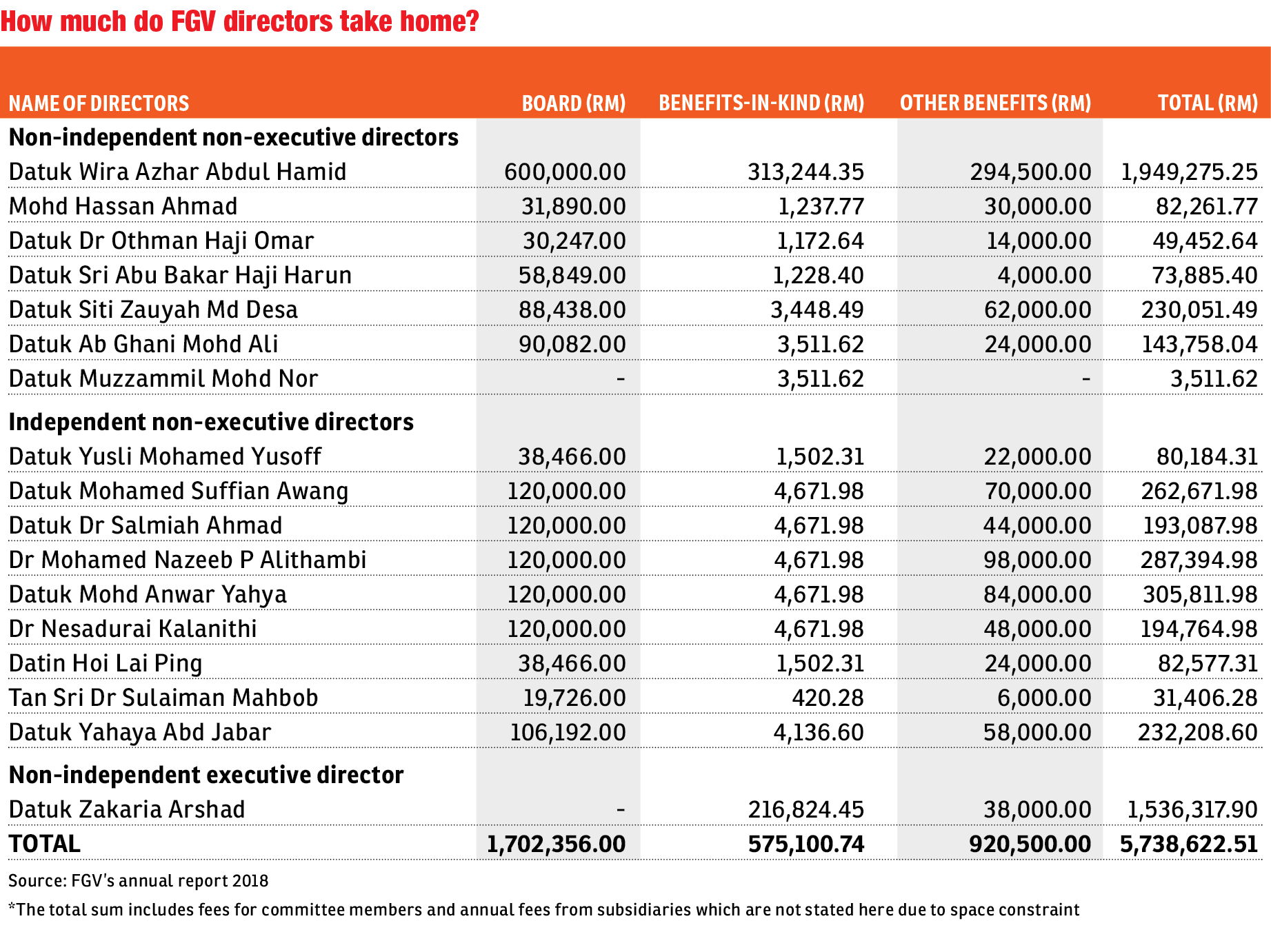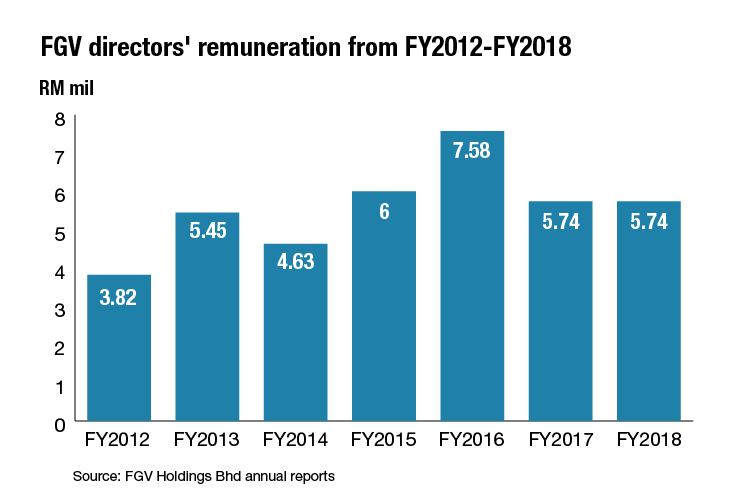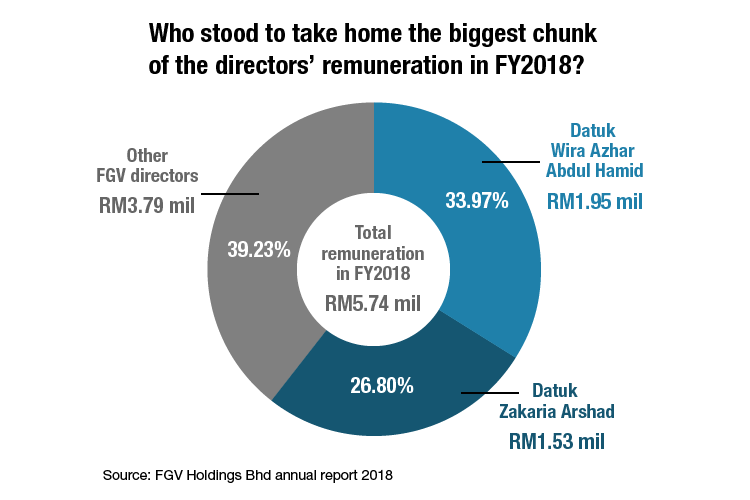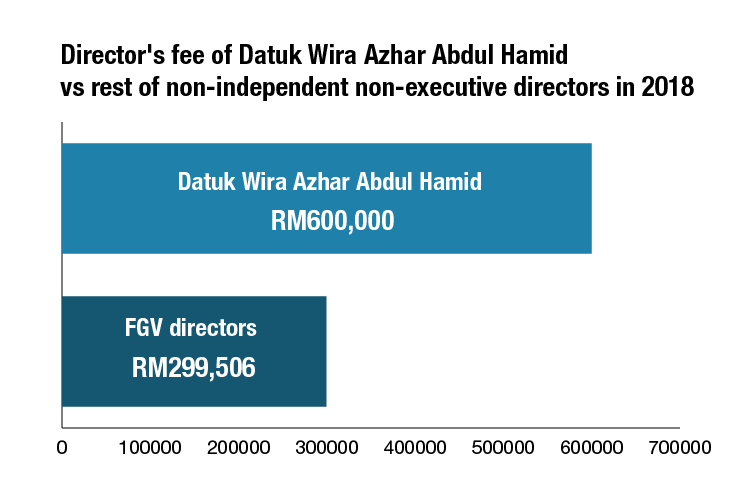 KUALA LUMPUR (June 27): The remuneration that FGV Holdings Bhd's board gets has become the talk of town, sparking debates about whether the directors' pays are justifiable.
The plantation group's non-executive chairman Datuk Wira Azhar Abdul Hamid is the highest paid board member, with RM1.95 million payable as his remuneration for the financial year ended Dec 31, 2018 (FY18), followed by Datuk Zakaria Arshad, who resigned as CEO and President in September last year.
However, the controlling shareholders -- namely Federal Land Development Authority (Felda), Koperasi Permodalan Felda Malaysia Bhd (KPF), as well as Lembaga Tabung Angkatan Tentera (LTAT) -- are not happy with the directors' pay. They expressed this unhappiness by voting against the resolutions on the proposed FY18 remuneration for the entire board.
But the three shareholders did not tell the board just which director's pay is too high, and the ideal sum they should be paid. This has not only left the board puzzled, but has exposed what appears to be a dysfunctional relationship between FGV and its controlling shareholders.
Azhar's pay makes up one third of the total RM5.74 million proposed board remuneration for FY18 -- which is the same as FY17's. Besides a director's fee of RM600,000, his remuneration package includes a salary of RM415,483.90, an annual fee from subsidiaries of RM315,000, and benefits in kind that amount to RM313,244.35.
Stacking his RM600,000 fee against the rest of the group's non-independent non-executive directors reveals that he makes slightly more than double their combined RM299,506 (see table).
In comparison, the non-independent non-executive director who earns the second-highest fees is Datuk Ab Ghani Mohd Ali, who will get a director's fee of RM90,082, followed by Datuk Siti Zauyah Md Desa's RM88,438.
Interestingly, the RM5.74 million includes a payout of RM1.53 million for Zakaria. Zakaria resigned after being sent on compulsory leave during a forensic investigation into several of FGV's past investments and acquisitions.
The former CEO's pay is 26.8% of the total RM5.74 million board payout. His remuneration package includes a director's fee of RM1.49 million, a bonus of RM206,880, and benefits in kind of RM216,824.45.
Zakaria's pay was at RM1.668 million in FY17 -- the highest among all board members -- though his bonus at then was lesser, at RM86,912.50, while his director's fee was at RM1.25 million.  
In FY17, the second highest paid among the board members was its former non-executive chairman, Tan Sri Isa Samad, who took home RM1.48 million. Isa is currently facing criminal breach of trust (CBT) and bribery charges involving over RM3 million.
It should be noted that when Isa was FGV's chairman, he was also the chairman of Felda Investment Corp Sdn Bhd, Felda, as well as for 39 subsidiaries under Felda and FGV.
Meanwhile, among the independent non-executive directors, the highest fee paid in FY17 was RM120,000 -- which was the amount paid to five of the nine independent directors, namely Datuk Mohamed Suffian Awang, Datuk Dr Salmiah Ahmad, Dr Mohamed Nazeeb P Alithambi, Datuk Mohd Anwar Yahya and Dr Nesadurai Kalanithi.
Anwar Yahya was the highest paid independent director, with a total remuneration of RM305,811.98, followed by Mohamed Nazeeb at RM287,394.98 and Mohamed Suffian at RM262,671.98.
Read also:
FGV shareholders vote against directors' remuneration
Watch out for our follow-up piece on theedgemarkets.com.