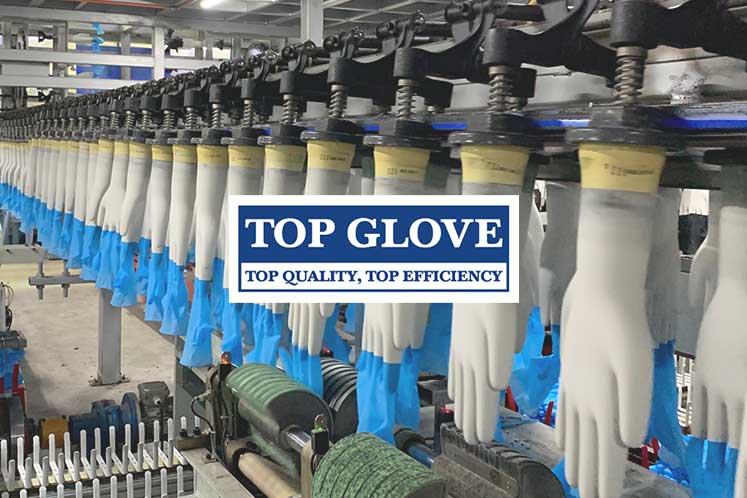 KUALA LUMPUR (Oct 15): The demand for rubber glove stocks has not faltered, judging by the narrowing gap between Malayan Banking Bhd's (Maybank) market capitalisation (cap) and Top Glove Corp Bhd's.
Based on Top Glove's record high closing share price of RM9.48 on Wednesday, the world's largest rubber glove maker just needs to climb 52 sen more to overtake Maybank as the largest company on Bursa Malaysia - assuming Maybank's share price stays unchanged at RM7.24 - as Top Glove's market cap would have grown to RM77.59 billion. A 50-sen gain will expand Top Glove's market cap by RM4.23 billion.
In contrast to Top Glove's share price rally, Maybank's share price has been declining over the last two years from its all-time high of RM10.88 in May 2018. The country's largest lender closed at RM7.24 on Wednesday after slipping 11 sen, which valued it at RM81.39 billion.
Meanwhile, another rubber glove maker, Hartalega Holdings Bhd, has taken the spot as the third largest company on Bursa, pushing Public Bank to the fourth place.
Based on its share closing price of RM18.16 on Wednesday, Hartalega has a market value of RM62.25 billion, while Public Bank's market cap stands at RM61.88 billion, as its shares settled at RM15.94 apiece.
The Big Four rubber glove makers' rise in ranks is no mean feat. A check on Bloomberg data shows that Top Glove and Hartalega were ranked 34th and 26th, respectively, based on their market caps at the start of the year.
As for Supermax Corp Bhd and Kossan Rubber Industries Bhd, both joined the ranks of being the top 30 largest counters on Bursa Malaysia in July.
Now the 18th largest counter on Bursa with a market cap of RM27.33 billion, Supermax was ranked 124th at the start of this year, while Kossan (valued at RM20.41 billion) has climbed to the 23rd spot from the 62nd.
Maybank IB Research analyst Wong Chew Hann, in a report dated Oct 9, wrote that Supermax and Kossan may be included into the FBM KLCI in the next review, should their current rankings be sustained.