This article first appeared in The Edge Financial Daily, on September 6, 2018.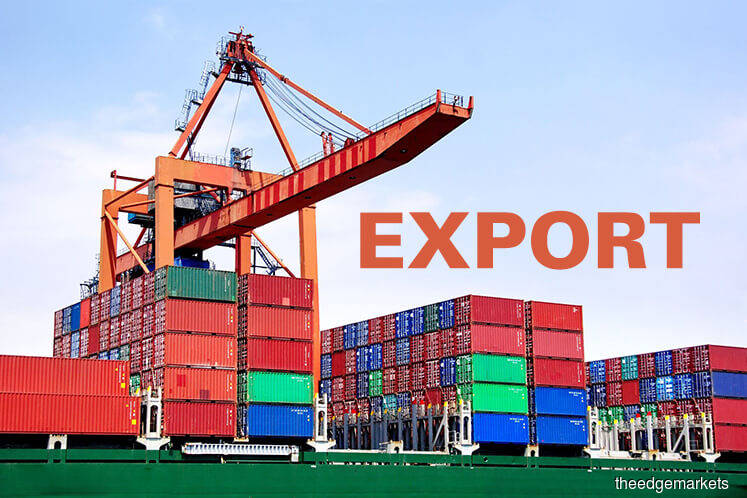 KUALA LUMPUR: Malaysia's exports rose 9.4% year-on-year (y-o-y) in July to a record RM86.1 billion, driven primarily by higher export volume of electrical and electronic (E&E) products, crude petroleum, as well as natural rubber and timber.
The growth exceeded market expectations of 4.7%. Exports rose by 7.9% y-o-y in June.
In a note yesterday, UOB Malaysia's senior economist Julia Goh said the July reading came in ahead of the bank's forecast of 4.5%.
She said there were noticeable gains in exports to the US, China and Hong Kong, suggesting that Malaysia is benefitting from the US-China trade tensions with diversion of trade flows to the region.
"On the impact of US-China trade dispute on Malaysia, our preliminary analysis shows that about US$21 billion (RM87.15 billion) of Malaysian export products could be affected directly and indirectly, which are equivalent to about 6% to 7% of Malaysia's gross domestic product, should the US go ahead with the additional tariffs on US$200 billion worth of Chinese products," Goh said.
She added that major products that will be impacted include electrical machinery and equipment, mineral fuels and oils, rubber, plastics and chemical items.
UOB is maintaining its export growth estimate at 6.5% for 2018 and 5% for 2019, as it remains cautious that US-China trade tensions could cloud the global trade outlook and have potential negative spillovers on broader trade.
Yesterday, the Statistics Department said exports of E&E products rose by 23.6% y-o-y to RM34.5 billion in July, compared with 6.9% y-o-y growth in the previous month, thanks to higher shipments to Asean countries such as Vietnam and Thailand.
Outbound shipments of crude petroleum also registered enormous double-digit growth of 90.1% y-o-y in July.
"Meanwhile, liquefied natural gas shipments continued to post larger negative growth at 38.4% y-o-y in July, largely due to supply-side issues which resulted in sharp decline in exports to Japan despite robust demand from the country due to sweltering weather," MIDF Research noted.
Imports, on the other hand, rose 10.3% y-o-y in July, moderating from 15.9% y-o-y in June, with gains in imports of consumption and capital goods signaling resilience in domestic demand.
Total trade expanded by 9.8% to RM164 billion from a year ago, while trade surplus for July 2018 rose 1.7% to RM8.3 billion.
Looking ahead, MIDF believes that export performances of the key products will stay on an uptick level given that the economic environment in major economies are still sanguine, both from consumer and business levels.
"In the coming months, we anticipate Malaysia's exports to remain optimistic on the back of tax holiday period and stable retail fuel price. Nevertheless, concerns on global trade spat remained," it said in a note yesterday.
It noted that for the first seven months of 2018, exports growth stood at 7.3% y-o-y, which is far lower than 22.6% y-o-y registered in the same period last year.
"The moderating pace is mainly due to higher base effect and in tandem with the expectation of slight slowdown in overall business performance," it said.
MIDF forecasts export growth to average 9.3% in 2018, underpinned by a more sanguine outlook as well as global recovery in commodity prices.
RHB Economic Research, on the other hand, is more conservative in its outlook, maintaining its forecast for exports this year at 6.5%.
"Despite the rebound in July's exports, growth momentum has weakened, and will likely continue into the second half of 2018, in our view," it said in a note.