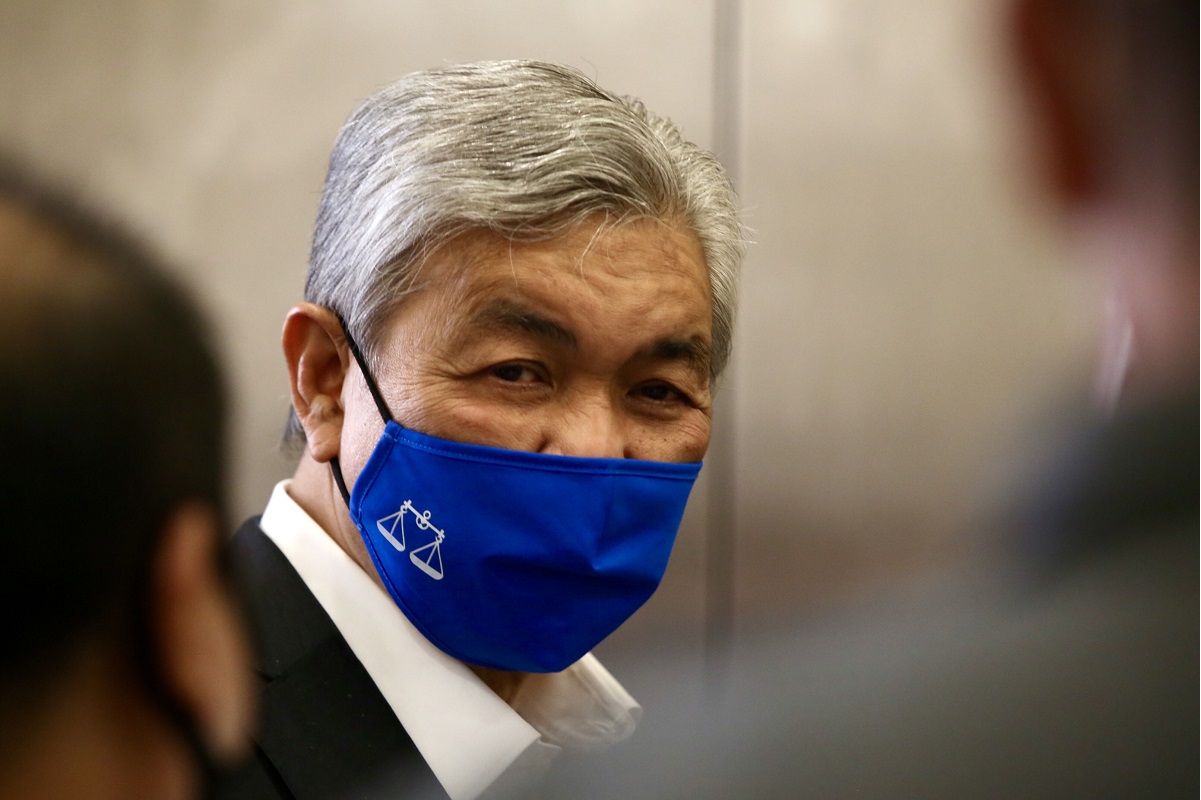 KUALA LUMPUR (Oct 13): The judge hearing former deputy premier Datuk Seri Ahmad Zahid Hamidi's corruption case today ordered the removal of a portion of an investigating officer's (IO) written witness statement which formed an opinion on the case.  
 
The eight paragraphs in Malaysian Anti-Corruption Commission (MACC) IO Fairul Rafiq Hamirudin that were ordered to be expunged, touch on cheques totalling RM2 million received by Ahmad Zahid. 
 
High Court judge Collin Lawrence Sequerah also directed similar statements by seven other IOs in the case to be also expunged.
 
The judge made the decision after hearing submissions from Ahmad Zahid's lawyers, led by Hisyam Teh Poh Teik, who had argued that the eight paragraphs amounted to an opinion and were prejudicial evidence against the former deputy prime minister. 
 
Deputy public prosecutor (DPP) Datuk Raja Rozela Raja Toran, assisted by DPPs Ahmad Sazilee Abdul Khairi and Gan Peng Kun, however submitted that such evidence was not hearsay and based on the evidence from the documents they had collected. 
 
Justice Sequerah, in ordering the removal of the eight paragraphs from Fairul's witness statement, said: "It is for the court alone to draw an opinion based on the evidence of the IO, and the court rules that these paragraphs prejudiced the accused."  
"I order the prosecution to rephrase the paragraphs," the judge added. 
Raja Rozela then asked for a short adjournment to allow the prosecution to adjust the witness statement.  
Besides Fairul, there are seven other IOs in Ahmad Zahid's case.  
The former deputy premier is facing 47 charges — 12 for criminal breach of trust, eight for corruption and 27 for money laundering — involving tens of millions of ringgit in funds belonging to charitable foundation Yayasan Akalbudi. 
IO tells of Zahid deal on OSC in Pakistan and Nepal 
In his testimony this afternoon, Fairuz said three cheques worth a total of RM2 million were given by Profound Radiance Sdn Bhd, the company awarded the one-stop centre (OSC) project in Nepal and Pakistan, by a man named Azlan Shah Jaffril to Ahmad Zahid. 
 
Azlan Shah paid RM300,000 on July 31, 2017, another RM1 million on Jan 3, 2018 and RM700,000 on Feb 9, 2018, the witness said. 
 
Fairul said his investigations revealed that Ahmad Zahid handed all three cheques to law firm Messrs Lewis & Co. 
"Checks with the Companies Commission of Malaysia revealed that Azlan Shah was appointed as a director of Profound Radiance on June 17, 2016.  
"Initially, Profound Radiance had its OSC project in Bangladesh terminated and Azlan Shah wrote several appeal letters.  
"As a result of its appeal dated Nov 12, 2015, made by Azlan Shah to then prime minister Datuk Seri Najib Razak, Najib minuted for the Home Ministry to reconsider the termination.  
"As a result, the company was given the OSC project for Nepal and Pakistan on July 1, 2016," the witness said in reply to questions from Gan. 
 
He said that the stub of the last cheque issued by Azlan had a note stating that the payment was political funds for the deputy premier.  
He added that the first cheque was handed at the office of the deputy prime minister, while the final cheque was given at Ahmad Zahid's then-official residence in Putrajaya. 
 
During cross-examination by Ahmad Zahid's counsel Datuk Ahmad Zaidi Zainal, Fairul disagreed that Najib had forced his client to approve through his minutes.  
Ahmad Zaidi: In the minutes by Najib, it is written that he is agreeable if Profound Radiance is given another chance, if it does not violate any offences. Seems like a directive to Ahmad Zahid.  
Fairul: I disagree. It is not a directive. 
Ahmad Zaidi: Why do you disagree as Najib says give the company a chance and Ahmad Zahid was forced to do that? 
 
Fairul: I disagree. 
 
Ahmad Zaidi: Do you agree that the Profound Radiance application has got the go-ahead from the Immigration Department secretary and the Home Ministry secretary-general Datuk Seri Alwi Ibrahim, before it is approved by my client?  
Fairul: Yes, but I disagree as the minister can make his own decision.  
The IO also said that to the best of his knowledge, Azlan had not been charged for perjury for giving false evidence in court. 
 
It was previously reported that Azlan had testified in a civil suit filed by Profound Radiance's former director, Nor Rosnani Ibrahim, that he had paid a RM2 million bribe to Ahmad Zahid in order to be given the OSC in Pakistan and Nepal. 
Azlan also gave evidence in the former deputy premier's trial where he denied that the payment was a form of bribe to Ahmad Zahid. 
 
The trial will resume on Oct 28, after the two-week Conditional Movement Control Order is over. 
 
Justice Sequerah also fixed new dates for the trial, namely Nov 16 to Nov 20, Nov 23 to Nov 25, and Nov 30 to Dec 4 this year.
Read also: 
Businessman refutes claims that payments to Zahid were bribes 
Director admits paying PMO official, Zahid to undertake foreign worker business
(Story updated @20:20)