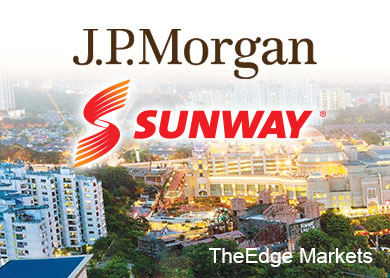 KUALA LUMPUR (Nov 12): US-based banking giant JPMorgan Chase & Co has emerged as a substantial shareholder in Sunway Bhd.
Based on Sunway's filing with Bursa Malaysia, JPMorgan Chase had purchased some 98 million shares or 5.69% in construction-cum-property development firm Sunway on November 4 this year.
JPMorgan Chase had bought the Sunway stake ahead of Singapore government investment arm GIC Private Ltd's sale of its entire stake in Sunway.
GIC had last Wednesday (November 5) sold some 151 million shares or 8.74% in Sunway, according to Sunway's statement to Bursa Malaysia.
Following the sale, GIC ceased to be major shareholder in Sunway.
It is worth noting that Malaysian-government linked funds had also become Sunway major shareholders in recent days.   
Permodalan Nasional Bhd bought about 86 million shares or 5.02% in Sunway on the open market.
The Employees Provident Fund acquired about 25 million shares in Sunway, raising its stake in the latter to 5.65%.
Today, Sunway shares remained unchanged at RM3.18 at about 2.45pm, giving the company a market capitalisation of RM5.5 billion.