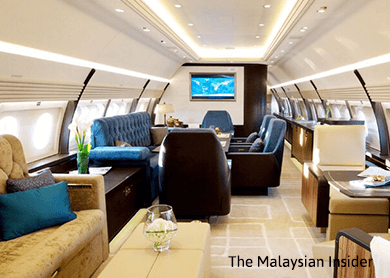 (June 9): Datuk Seri Najib Razak hit back at critics who questioned Putrajaya's decision to purchase a government jet instead of using the funds to upgrade security in Sabah, saying this "logic is quite mystifying".
Taking to this blog to answer criticism against his administration, the prime minister insisted that no funds earmarked for the security of Sabah have been diverted or reduced to purchase the government jet.
"The security of this country is of paramount importance to me.
"Because we care for security, the government established ESSCom (Eastern Sabah Security Command) to secure the boundaries of Sabah," Najib said in his blog www.najibrazak.com.
 "We have deployed five battalions comprising police and military troops to secure eastern Sabah. ESSCom is made up of two components. The first component deals with security and defence management while the second component handles enforcement and public action.
"The security and defence management component pools the resources of the various security agencies so as to improve its operational effectiveness while the enforcement and public action component ensures compliance with immigration regulations, the monitoring of controlled goods and issues affecting the daily lives of residents in the area.
"ESSCom ensures security for ESSZone which comprises 10 districts in eastern Sabah, namely Kudat, Kota Marudu, Pitas, Beluran, Sandakan, Kinabatangan, Lahad Datu, Kunak, Semporna and Tawau."
The prime minister said although ESSCom has been able to prevent fresh intrusions, abductions remained an ongoing security threat.
"The situation remains complex due to the nature of the insurgency in the Southern Philippines and our vast maritime border.
"This was the security situation that I inherited and which the terrorists chose to exploit
Sabah has been hit with a string of kidnappings, the latest being last month when four gunmen raided a seaside seafood restaurant in Sandakan and abducted two Malaysians.
Following the latest kidnapping, former prime minister Tun Dr Mahathir Mohamad also hit out at Najib for defending the government's purchase of the new executive jet for safety reasons.
"If he says he bought the new plane for security purposes, what about the security of Sabah?" Dr Mahathir had asked.
"People are being kidnapped in Sabah. What is the government doing about it? It is a serious issue." – The Malaysian Insider