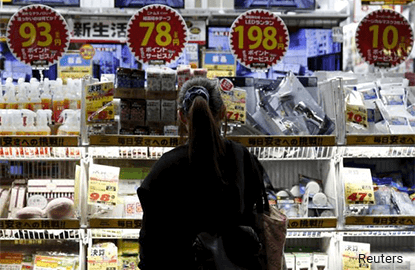 TOKYO (Feb 24): Japan's January core consumer prices likely stopped falling for the first time in 11 months and factory output rose for a third straight month, a Reuters poll showed, due to a pickup in energy prices and the global economic recovery.
Retail sales probably rose for a third month in January while household spending fell for the 11th month in a row, showing lackluster recovery in consumer spending.
The core consumer price index (CPI), which includes oil products but excludes volatile fresh food prices, was seen unchanged from a year ago, escaping from negative territory for the first time since February 2016 when it also was flat, the poll of 19 analysts showed.
That index fell 0.2% in December.
"Downward effects from energy prices have run their course, which helped core consumer prices stopped falling," said Takumi Tsunoda, senior economist at Shinkin Central Bank.
"But consumer spending lacks momentum, so prices remained weak except those of energy related products," he said.
The internal affairs ministry will announce core CPI at 8:30 a.m. Tokyo time on March 3, when it also unveils a new prices index that excludes fresh food and energy costs.
The Bank of Japan has a similar index on consumer prices stripping away the effect of energy and fresh food, which rose 0.1% in December from a year ago.
Slowing production gains
The poll showed an expectation that industrial production rose 0.3% in January from the previous month, a slowdown from 0.7% in December and 1.5% in November.
"Exports have been recovering since late last year thanks to the global economic recovery, which helped domestic production," said Takeshi Minami, chief economist at Norinchukin Research Institute.
"Latest exports slowed due to Chinese new year holidays, which weighed down on gains in factory output in January. But it will likely continue to pick up," he said.
The trade ministry will release industrial output data at 8:50 a.m. Tokyo time on Feb 28.
The poll also showed retail sales rose 0.9% in January from a year ago, while household spending slipped 0.4% from a year earlier.
The unemployment rate likely declined to 3.0% in January, after December's 3.1%, and the jobs-to-applicants ratio improved to 1.44, the highest reading since July 1991, when it stood at the same level.
Retail sales will be announced on Tuesday, and jobs data and household spending at the same time as core CPI on Friday.
The government lowered its assessment of consumer spending in February, the first downgrade in 11 months, while it left unchanged its overall assessment that the economy is recovering gradually though pockets of weakness remain.