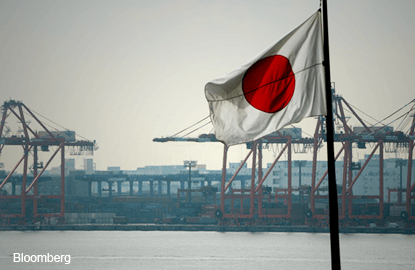 TOKYO (May 23): Japan's exports fell in April at the fastest pace in three months as a stronger yen and weakness in China and other emerging markets take their toll on the country's shipments, boding ill for growth prospects for the current quarter.
Exports declined 10.1 percent year-on-year in April, Ministry of Finance data showed on Monday, in line with a 10.0 percent annual drop expected by economists in a Reuters poll and worse than a 6.8 percent drop in March.
It marked the seventh straight month of declines and was the biggest drop since 12.9 percent in January, when Japanese shipments to Asia slowed sharply ahead of the Lunar New Year holidays.
 
The data underscores the challenge for policymakers to rev up the flagging growth in the face of sluggish external and domestic demand, with analysts warning about the risk of an economic contraction in the current quarter.
Exports to China - Japan's largest trading partner - fell 7.6 percent in April, while the U.S.-bound shipments fell 11.8 percent year-on-year.
 
Damage from last month's earthquakes that disrupted supply chains in the southern manufacturing hub of Kumamoto curbed car shipments to the United States, a ministry official said. U.S.-bound car exports fell 4.4 percent, down for the first time since November 2014.
Exports to Asia, which accounts for more than half of Japan's shipments, fell 11.1 percent in the year to April, while EU-bound shipments rose 9.9 percent.
Imports fell 23.3 percent in the year to April, versus a 19.0 percent annual decline expected by economists.
The trade balance came to a surplus of 823.5 billion yen  ($7.49 billion), against the median estimate for a 492.8 billion yen surplus, posting a third straight month of surplus.
Data last week showed the world's third-largest economy unexpectedly expanded at the fastest pace in a year in the first quarter, but analysts said the rebound is not strong enough to dispel concerns over a contraction this quarter.
The first-quarter data showed exports rose 0.6 pct quarter-on-quarter, despite a gain of around 9 percent in the yen since the start of the year.
The yen was trading at around 110 versus the dollar on Monday, pulling back from a 18-month high above 105 yen hit this month. A persistent yen rise would dampen Japanese manufacturers' sentiment and put a drag on sluggish exports, analysts say.