Click / Tap image to enlarge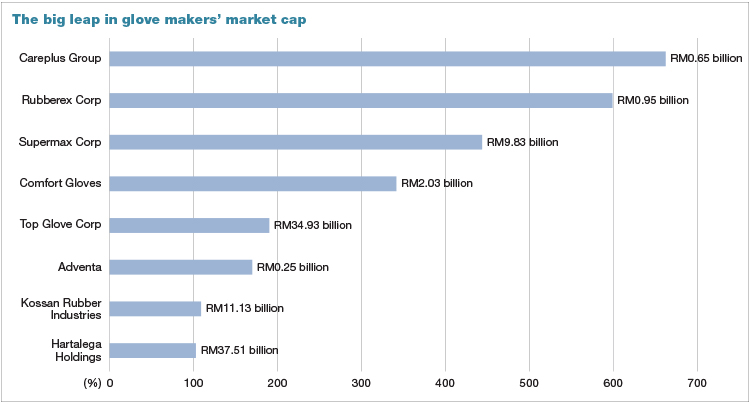 Click / Tap image to enlarge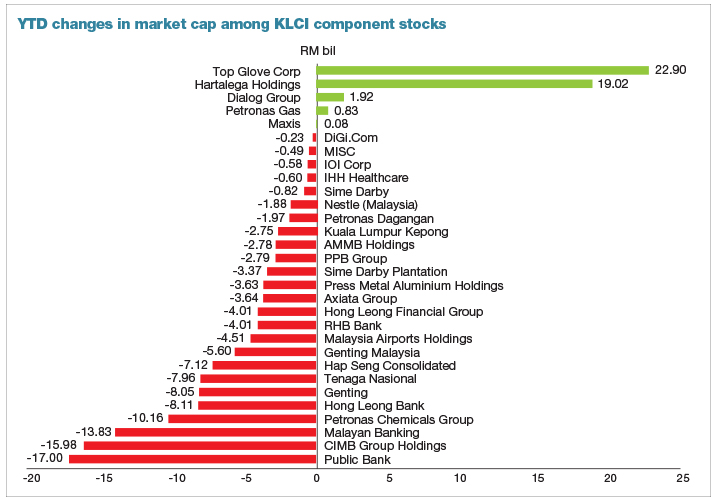 KUALA LUMPUR (May 29): The craze for glove manufacturers gains strength as their unprecedented hefty premium valuations show. The higher the share price climbs, the stronger the buying interest.
Hartalega Holdings Bhd and Top Glove Corp Bhd are currently among the top 10 largest stocks on Bursa Malaysia in terms of market capitalisation (cap). Their market cap have overtaken Digi.Com Bhd, Axiata Group Bhd and Nestle Malaysia Bhd.
What has gone up, will it climb higher?
Despite the sharp rise in share prices, analysts do not think the current share prices have factored in all the good news.
In short, in their view, glove makers will earn much higher profits so share prices should also be much higher than current price.
With optimistic prospects ahead supported by expectation of strong surge in sales volume given the Covid-19 pandemic, and wider profit margin, glove analysts are busy with revising their forecasts and target prices as the rally continues.
In a research note today, Maybank Kim Eng analyst Lee Yen Ling wrote that "massive earnings explosion in coming quarters will throw brokers' forecasts out of the window".
Lee has raised its target price of Top Glove to RM20, implying a 49% share price increment from the current price of RM13.38 amid expectation of higher average selling prices (ASPs) and exponential growth on glove consumption worldwide.
Maybank KimEng raised its earnings per share forecast by 37% for the financial year ending Aug 31, 2020 (FY20), 180% for FY21 and 18% for FY22 to impute for ASP hikes and spot orders until 1QFY21 (September to November 2020).
"Our earnings forecasts could still be conservative as glove players might continue to raise ASPs until June 2021," said Lee.
"Comparing the confirmed ASPs in September 2020 against January, the ASPs have increased 40-50%. Though the hikes are steep, the ex-factory price for a pair of gloves is just six US cents. This is still very cheap for the developed markets, for example US and Europe."
Lee anticipates Top Glove's net profit to soar to RM3.2 billion in FY21 compared with forecast of RM1.1 billion in FY20. However, Top Glove's net profit is expected to shrink to RM663 million.
If Top Glove is able to grow its market cap by 49% to RM52 billion, this would imply that the glove manufacturer will be the fourth largest listed company in Malaysia, surpassing chemical giant Petronas Chemical Group Bhd and hospital operator IHH Healthcare Bhd, should their share prices remain underperforming.
So far, 2020 is a prosperous year for glove makers as all of their fortune has leapt by a large quantum.
To put into perspective, Hartalega's market cap has more than doubled by RM19.02 billion to RM34.93 billion from its initial market cap of RM18.48 billion at the beginning of the year. It is currently ranked at 7th place among the largest market cap Malaysia companies.
The meteoric rise on Top Glove is reflected in its market cap, which ballooned by RM22.9 billion in value – the increment is equivalent to Dialog Group Bhd's market cap of RM21.36 billion.
With a market cap of RM34.93 billion, Top Glove is currently the 10th largest Malaysia listed company.
What a turn of fortune to see the glove manufacturer leaping from second bottom market cap placing among the KLCI constituents to the current standing.
Year-to-date (YTD), out of the thirty KLCI constituents, there are only five companies in the positive zone (see chart).
Among them, Dialog's market cap has increased by RM1.92 billion, while Petronas Gas Bhd and Maxis Bhd are able to creep up a meagre RM831 million and RM78 million in valuations respectively.
Based on a back of envelope calculation, an aggregate of RM131 billion of market cap has evaporated among the 30 component stocks.
Other than the number of companies that have lost their valuations YTD, the actual amount of market cap lost is remarkably hefty with the aggregate amount currently at RM131 billion.
A rising tide lifts all boats. Besides the two big boys, other glove makers' share prices are rocketing to new peaks as well.
Supermax Corporation Bhd's market cap jumped by more than four times or RM8.02 billion to RM9.8 billion — which propelled its market cap ranking to 34th place from 123rd place at the beginning of the year.
As for Kossan Rubber Industries Bhd, currently the 33rd largest from 61st previously, it saw its market cap more than doubled by RM5.8 billion to RM11.12 billion.
The market cap phenomenon is more extreme for the small cap glove makers as most have soared exponentially.
Comfort Gloves Bhd's market cap more than tripled, or rose by RM1.57 billion in value, to RM2.03 billion, followed by Rubberex Corporation Bhd, whose market cap leapt by about six times or RM815 million to RM951 million, and Careplus Group Bhd, which jumped by more than six times or RM563 million to RM648 million.