This article first appeared in The Edge Financial Daily, on October 22, 2018.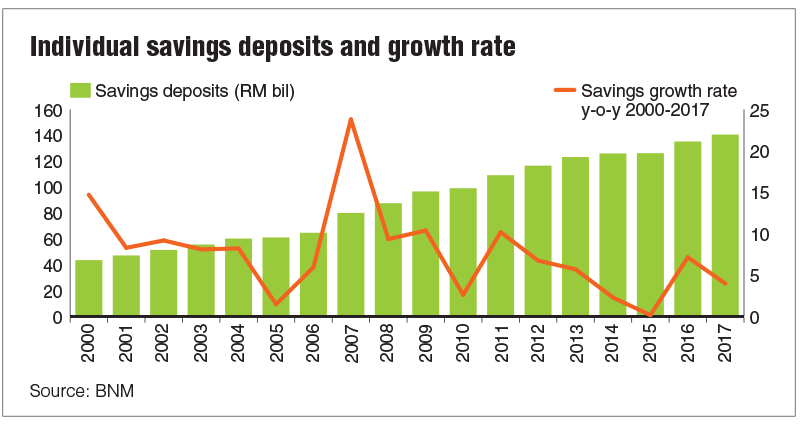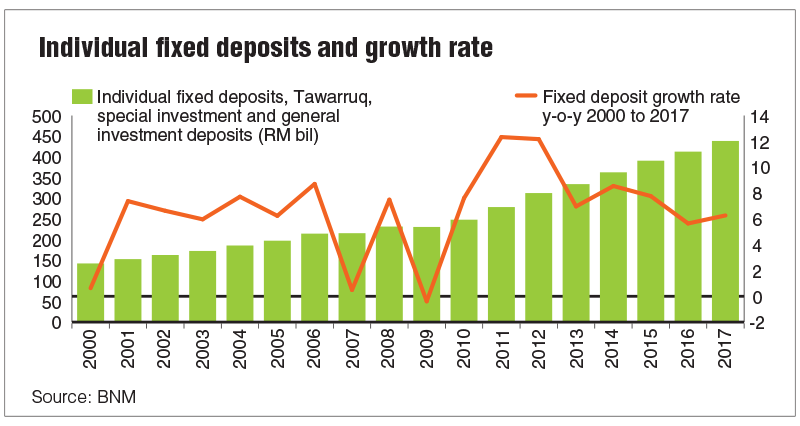 KUALA LUMPUR: Malaysians are saving less nowadays — a possible sign that people are not earning enough to keep up with their debt payments.
To put things into perspective, the absolute amount of individual savings in banks has been growing year-on-year. However, the pace of growth weakened in 2017 compared with previous years.
For example, savings deposits grew 6.74% to RM116.46 billion in 2012 from RM109.1 billion in 2011. But savings only went up by 3.98% to RM140.47 billion in 2017 from RM135.1 billion in 2016 (see Chart 1).
Likewise, fixed deposits grew at a rate of between 5.64% and 7.76% from 2015 to 2017, compared with a growth rate of between 6.96% and 12.17% from 2012 to 2014 (see Chart 2).
Sunway University Business School professor of economics Dr Yeah Kim Leng opined that the rising level of household debt-to-gross domestic product ratio in the country, which was at 84.2% in 2017 compared with 61% in 2008, was a contributing factor to the declining savings.
"When household debt goes up, you can expect savings and fixed deposit balances to decline as there would be less income available for savings, and [monthly income] would instead go towards financing assets that include property investments
"Another factor for the decrease in savings is the rising income inequality in the country, especially for the B40 (bottom 40%) [income] group. These are the households who find it hard to make ends meet and probably would have very little savings left," Yeah explained.
Socio-Economic Research Centre executive director Lee Heng Guie pointed out that the weaker growth rate of savings could be that some have decided to dip into their savings to pare down their debts.
Lee opined that the depletion of savings and fixed deposit growth rates is a concern given that they are the most liquid in times of emergency.
"Keeping a savings account may give you a lower rate of return compared with investing in the stock market or property market. For example, in terms of liquidity, when it comes to an emergency, savings are the most liquid [asset class]. What is also worrying are these individuals who withdraw their savings for money games," he told The Edge Financial Daily.
Lee said that the pickup in savings and fixed deposits seen from 2011 to 2012 was most probably due to the normalisation of the overnight policy rate, which was slashed from 3.25% in 2008 to 2% in 2009.
"After the 2008 global financial crisis, the central bank slashed the interest rate, and this started to normalise from 2010 onwards. So the role of interest rates is an important factor here especially for pensioners when deciding where to put their money.
"In a low interest rate regime, for those who are not risk-takers, probably they would be comfortable with keeping their money in savings or FD (fixed deposits), but if rates are too low, people may start to draw down and invest in equities, unit trusts and other high-yielding assets."
UOB Malaysia senior economist Julia Goh pointed out that the growth rate of household savings, which is defined as the difference between household income and expenditure, has also been on a decline.
"The compound annual growth rate (CAGR) of household savings declined from a growth rate of 7% in the periods of 2000 to 2005 and 2006 to 2010, to 6% in 2011 to 2016," she said.
It is worth noting that this was despite household income growing by a CAGR of 9% from 2011 to 2016.
On whether the declining level of savings would pose economic risks, Yeah said it would boil down to income growth.
"If there is a slowdown in income growth, private consumption would likewise be constrained. But I think whether our households have adequate savings, this is more of a longer-term rather than a near-term concern.
"The declining savings rate is reflective of longer-term trends, which is quite worrisome because what needs to be done is to accelerate income growth, which is also a challenge if productivity and skill levels are not raised to generate higher income," he said.