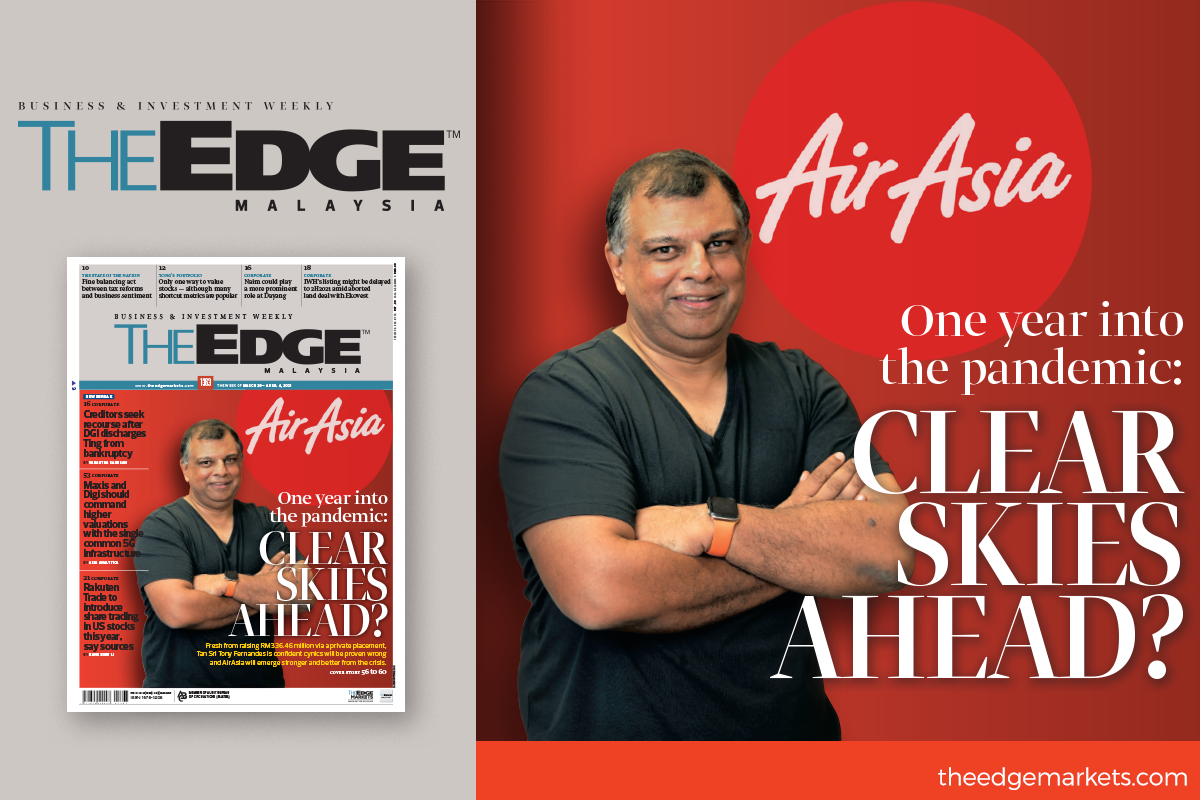 KUALA LUMPUR (March 28): One year into the Covid-19 pandemic, AirAsia Group Bhd co-founder and group CEO Tan Sri Tony Fernandes sees "the end" in sight.
"We're alive," he exclaims, noting that things are clearer today as countries worldwide roll out Covid-19 vaccines and the society is more informed about the virus.
In the latest issue of The Edge, we spoke to Fernandes who shared updates on AirAsia's fundraising activities, his commitment towards the airline, and his optimism over the domestic aviation sector recovery.
While it was pointed out that some cash-strapped airlines appear to have a headstart on AirAsia in obtaining their funding, the low-cost carrier's chieftain retorted by saying: "I don't have a big shareholder like Khazanah (Nasional Bhd), ok? If you say that MAS is faster, of course it is. Like who else? Singapore Airlines? They also have a big shareholder called Temasek. Name me a private airline that has been faster than AirAsia? It's not easy to raise capital in the aviation business... The reality is, which private airline has received funding quicker than us or done a placement?"
"We have done what most of you predicted we couldn't do. We have raised capital from a placement from reputable investors," he remarked, referring to the RM336.46 million raised over two tranches of private placement recently.
And in the midst of a Covid-19-induced turbulence that saw most of its planes grounded due to travel restrictions, AirAsia has accelerated its pivot to the digital space in the past year.
But questions are being asked as to why the airline is moving into the digital space — one in which regional giants have had a clear head start — and how it would finance this pivot in the midst of a credit crunch.
To this, Fernandes revealed that the main thrust of its digital transformation is logistics, noting that he wants to be "the best delivery guy in town". He also shares that the airline is looking to enter into the ride-hailing business.
Indeed, Fernandes and team are doing all they can to get AirAsia flying again.
"(There are) two ways to deal with life, you can put your head in the sand and cry and say life is unfair. Or we can go ahead and do something about it… why waste a crisis? We haven't wasted this crisis."
Read more about it in The Edge Malaysia weekly's March 29 edition.