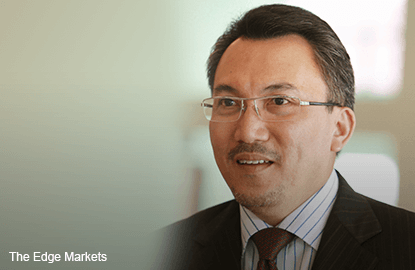 This article first appeared in The Edge Financial Daily, on April 26, 2016.
KUALA LUMPUR: Tan Sri Ismee Ismail is stepping down as Lembaga Tabung Haji's group managing director (MD) and chief executive officer (CEO), according to sources, and he is said to be joining a government-linked company (GLC), which is likely to be Sime Darby Bhd, as the No 2.
Ismee, who also sits on the 1Malaysia Development Bhd's (1MDB) board of directors, has been Tabung Haji's group MD and CEO since 2006.
Tabung Haji was mired in the centre of controversies revolving around then cash-strapped 1MDB last year, after the pilgrim fund announced that it was buying a 0.64ha parcel of land in the Tun Razak Exchange (TRX), a massive property project by 1MDB.
The acquisition drew flak from the public as it was 43 times more than the price paid by 1MDB to acquire the land from the federal government.
Tabung Haji chairman Datuk Seri Abdul Azeez Abdul Rahim, who had initially said the fund would sell the land to gain at least RM5 million in profit, reportedly said in February this year that it will develop apartments on the plot with a gross development value (GDV) of RM820 million.
In January this year, Tabung Haji earned public ire again after its financial management came into question.
In a letter leaked to the public, Bank Negara Governor Tan Sri Dr Zeti Akhtar Aziz had issued a warning to the fund on its financial standing, noting that the pilgrim fund had more liabilities than assets, with only 98 sen in assets for each ringgit in liability.
Note that Section 22 of the Tabung Haji Act states that it cannot declare dividends and bonuses to its contributors if its assets are worth less than its obligations.
The Edge weekly had reported that the pilgrim fund's reserves had been substantially eroded due to the practice of paying bonuses that have exceeded its earnings since 2012.
According to Tabung Haji's 2014 annual report, the fund paid RM2.46 billion in bonuses — at a rate of 8% — to its depositors in 2012, although net profit came in at only RM2.15 billion.
In 2014, the fund paid out RM3.24 billion to depositors — at a rate of 8.25%, the highest since 1998 — even though it only earned RM2.98 billion.
In a bid to assuage the concerns of depositors, Ismee had said in a statement that the fund has the capacity to pay bonuses to its depositors for financial year 2015.
He stated that assets and liabilities cited by Bank Negara in the letter do not take into account the current market value of equity investments under Tabung Haji's subsidiaries and associate companies, as well as its plantation and real estate assets.
For 2015, Tabung Haji announced a 5% dividend for its eight million depositors, a 1.25 percentage point drop from the previous year, and a Haj bonus of 3% against 2% in 2014.