This article first appeared in The Edge Malaysia Weekly, on April 8, 2019 - April 14, 2019.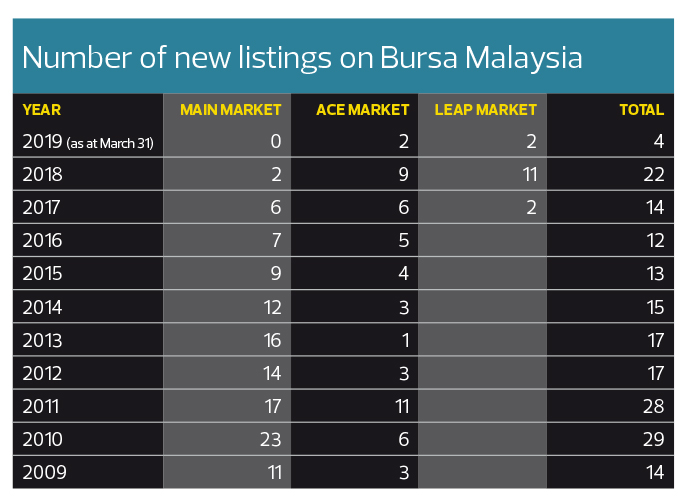 Bursa Malaysia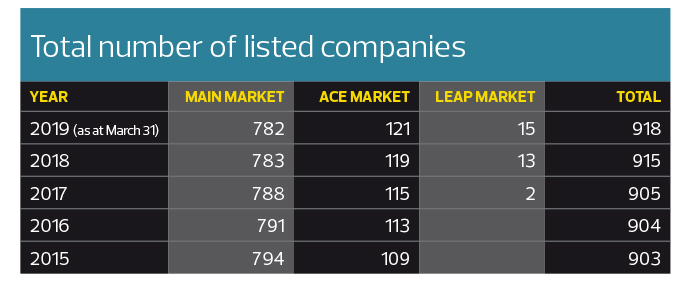 Bursa Malaysia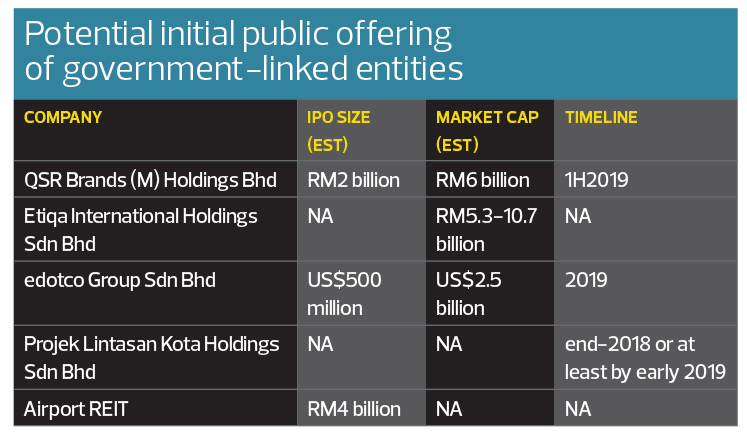 News Reports
IT has been another slow start to the year for initial public offerings (IPOs) in Malaysia, but investment bankers are anticipating a pickup in the coming months.
In any event, they do not expect 2019 to be worse than 2018 when the IPO market suffered its worst year since Bursa Malaysia's inception in 1973.
RHB Investment Bank Bhd CEO Robert Huray, for one, anticipates an improvement in listings in the months ahead.
"We can expect [some] good quality growth companies, both from the public and private sectors, going public in 2019," he tells The Edge.
Last year, the exchange saw only two listings on the Main Market of Bursa, namely Mi Equipment Holdings Bhd and Techbond Group Bhd. The total amount raised in IPOs also plunged 91% to RM633.12 million — the lowest in 20 years — compared with 2017's RM7.38 billion.
Astramina Advisory Sdn Bhd managing director Wong Muh Rong says investors are still uncertain about Malaysia's policies and ministers publicly airing their differences do not help matters.
She cited the recent outburst involving Entrepreneur Development Minister Datuk Seri Mohd Redzuan Md Yusof's rebuke of his colleague Yeo Bee Yin, the minister of energy, science, technology, environment and climate change, over rare earths mining company Lynas Corp Ltd.
"These sort of matters should be addressed in-house at Cabinet meetings," Wong observes.
An investment banker points out that companies are holding back on IPOs as they are afraid that they will not get the valuations they desire. "Bursa has been one of the worse performers in Asia year to date."
YTD, the FBM KLCI has fallen 2.9% to close at 1,641.81 points last Friday.
Nevertheless, Prime Minister Tun Dr Mahathir Mohamad's remarks at the two-day Invest Malaysia conference last month, suggesting Putrajaya could be looking to list mature government-linked entities, have stirred up some interest in the IPO market.
"If you want to excite the IPO market [with the listing of government-linked companies], let's do a really good one. We must pick something that Malaysia is good at, and Petroliam Nasional Bhd (Petronas) is one of them," says Astramina's Wong.
"Petronas is already run like an international public listed company, so it will have little trouble finding investors and proving its value," she adds.
Three of its units — Petronas Chemicals Group Bhd, Petronas Gas Bhd and Petronas Dagangan Bhd — are already listed on Bursa, with their market capitalisation at RM72.8 billion, RM34.67 billion and RM24.84 billion respectively.
However, a head of a local investment bank is sceptical of a public share sale of Petronas as the national oil company is considered a strategic asset to the government.
Pointing to plans for the domestic and international listing of Saudi oil giant Aramco as well as China's Sinopec Marketing Co, a subsidiary of China Petroleum & Chemical Corp, Wong opines that a divestment of even a 30% to 40% stake would be sufficient to excite the IPO market.
"The listing [of Petronas] may not be this year, but they can start working on the documentation for the IPO and then launch it once market conditions improve."
Wong expects more mergers and acquisitions and restructuring activities this year, but stresses, "We still need to see more progress in reform efforts by the [Pakatan Harapan-led] government after one year."
Investors are also keenly watching QSR Brands (M) Holdings Bhd's IPO, which is set to be the country's biggest listing since that of integrated petrochemical producer Lotte Chemical Titan Holding Bhd, which raised RM4 billion in July 2017.
QSR's largest shareholder, Johor Corp, is seeking to raise as much as RM2 billion from the IPO, which could value the company at some RM6 billion.
Johor Corp president and CEO Datuk Kamaruzzaman Abu Kassim said last May that private equity firm CVC Capital Partners Ltd and the Employees Provident Fund (EPF) were looking to exit the fast-food operator.
Initially slated for the first half of the year, the IPO may face further delays as its shareholders want higher valuations, a source close to the deal tells The Edge. The desire for richer valuations is telling, considering that QSR's IPO has been planned since 2016.
Companies Commission of Malaysia (SSM) data shows that QSR's net profit grew 4.7% to RM192.59 million in the financial year ended Dec 31, 2018 (FY2018), from RM183.95 million in FY2017. Revenue rose a marginal 1% to RM4.61 billion from RM4.56 billion in FY2017.
According to investment bankers, the potential listing of other government-linked entities include Malayan Banking Bhd's (Maybank) insurance arm Etiqa International Holdings Sdn Bhd (EIH), Axiata Group Bhd's 62.37%-owned unit edotco Group Sdn Bhd, highway concessionaire Projek Lintasan Kota Holdings Sdn Bhd (Prolintas), Felcra Bhd and the Airport Real Estate Investment Trust (REIT).
It is understood that Maybank has started making preparations for a possible IPO of Etiqa, including seeking Bank Negara Malaysia's approval.
Maybank's stake in Etiqa is parked under wholly-owned EIH, which has a 69.05% stake in Maybank Ageas Holdings Bhd, while Brussels-based insurer Ageas NV holds the remaining equity interest.
A listing of Etiqa would certainly appeal to the market given its relative size and pedigree. Although EIH's net profit fell 9% year on year to RM700.84 million for the financial year ended Dec 31, 2018, net interest income rose 6.4% y-o-y to RM1.16 billion last year.
In an April report last year, CIMB Research pegged Etiqa's market capitalisation upon listing at between RM5.3 billion and RM10.7 billion, based on a price-to-book value (P/BV) of 1.4 times to 2.8 times. It used Syarikat Takaful Malaysia Keluarga Bhd's P/BV as a benchmark.
Rumours of Maybank preparing to spin off and list Etiqa have been doing the rounds since 2016, however.
At present, Etiqa is the clear leader in the general takaful segment with a market share of more than 50%. It ranks No 3 on the family takaful list, with a market share of 15%.
"If you're launching an IPO, you need to ensure that the company is market ready and the listing optimises the valuation for its shareholders," says a senior director with a local investment bank, who declined to be named.
"But there is liquidity on the side and investors are willing to pay for better assets. Personally, I'm thinking that more immediate [ones] could be things like the possible restructuring of Malaysia Airlines Bhd and Tenaga Nasional Bhd because recent large-cap IPOs have disappointed.
"I think the only one that possibly has the most traction could be the Airport REIT," the senior director adds.
Under Budget 2019, the government, being the asset owner of almost all commercial airports in Malaysia, had proposed to set up the world's first Airport REIT. It had set a target of raising RM4 billion by selling a 30% stake in the REIT to private investment institutions.
However, last November, the Malaysian Aviation Commission pointed out that the Airport REIT exercise will only be carried out after the regulated asset base framework and the user fee structure have been negotiated and finalised between the government and Malaysia Airports Holdings Bhd. That is slated to be completed this year.
The idea to list Prolintas was first mooted in March 2017 by then Permodalan Nasional Bhd (PNB) group chairman Tan Sri Abdul Wahid Omar, who had set an end-2018 to early 2019 target.
However, investment bankers say a flotation of Prolintas, wholly owned by PNB, is unlikely to take place this year as the government needs to sort out its privatisation policy for highway tolls first.
Based on SSM data, the highway concessionaire has been posting losses for the past five years, which widened to RM100.1 million in FY2017 compared with RM31.38 million in FY2016. Revenue, however, rose 58% y-o-y to RM317.41 million in FY2017.
Thus, most investment bankers are of the view that the IPOs coming to market this year will be heavily geared towards private companies rather than government-linked entities. Big IPOs on the horizon are family-owned poultry group Leong Hup International Bhd and MR.DIY, the country's biggest home improvement retailer.
According to news reports, Leong Hup is looking to raise as much as US$600 million (RM2.49 billion) and MR.DIY, RM1.5 billion.
Leong Hup posted a 7.5% y-o-y fall in net profit to RM247.41 million in FY2017, on a 4.6% rise in revenue to RM5.5 billion.