This article first appeared in Enterprise, The Edge Malaysia Weekly, on January 8, 2018 - January 14, 2018.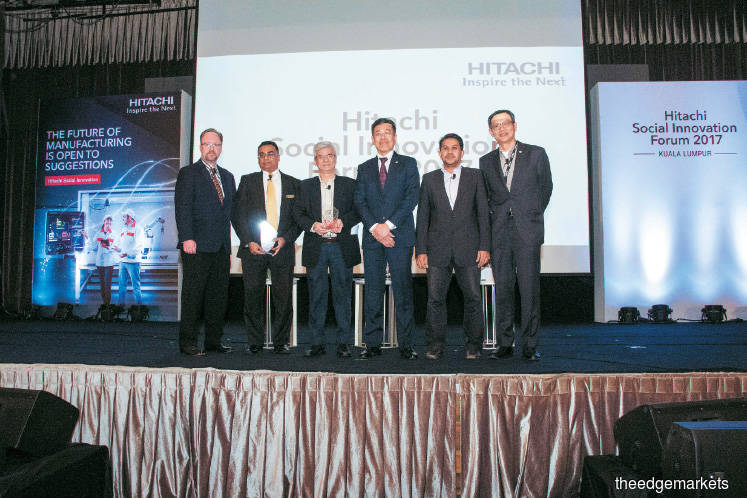 With the global push towards adopting Industry 4.0, some small and medium-sized enterprises (SMEs) in Malaysia with a small production volume may not see the need to automate their entire process. Indeed, it is not necessary for their entire production line to be automated; instead, they can, and should, take the first step by identifying specific processes in their production that can benefit from automation, says Jeyasigan Narayanan Nair of Malaysian Investment Development Authority (MIDA).
"You have to identify the pain points and address those issues first to improve your productivity and yield. It's not necessary to achieve your full-fledged Industry 4.0, but at least you've taken steps to move in this direction," says Jeyasigan, MIDA's director of advanced technology and research and development, at a panel session during the Hitachi Social Innovation Forum 2017.
Fellow panellist Andrew Hamilton, global client partner of Hitachi Consulting, points out that automation does not even have to be at the production stage. Some companies in the US, for example, put sensors in their products to get feedback from users of their products.
"Industry 4.0 is not just about what happens in the factory; it's the supply chain to the factory, it's the services provided to the factory in terms of power, water and smart buildings, and it extends into the market for visible engagement with clients and analysis," he says.
The technology for Industry 4.0 can also be used to manage human workers. For instance, Hamilton says, there is a video analytics system by Hitachi and Daicel Corporation that can track workers' movements that diverge from the norm and may impact the quality of production.
"It looks at the way people move. We've used it in the US to predict crime and in this part of the world, we use it in manufacturing to see if they're moving in a way that is unusual. By being able to integrate how people are behaving with the electronic results of the testing, we can identify issues early and learn from the process," he says.
Another Industry 4.0 solution is predictive maintenance. It uses a combination of sensors and machine learning algorithms to predict when equipment, inventory or goods will fail. Hamilton says Intel's predictive maintenance solution is a good example of how analytics can improve manufacturing from this perspective.
"It is a very good system for doing predictive maintenance, where all this data gathered can catch a problem before it happens. It's happening in Germany, the US and Malaysia," he says.
Encouraging Industry 4.0 in Malaysia
To better understand the needs and challenges of SMEs in adopting automation, MIDA is conducting a study on the future of manufacturing. The study will focus on the sectors of electrical and electronics, machinery and equipment, medical devices, chemical and aerospace.
A national strategy on Industry 4.0 is also being drafted and expected to be released in the first quarter of this year, Jeyasigan says. The plan is led by the ministries of international trade and industry; science, technology and innovation; human resources; and higher education.
Many incentives are available for SMEs to begin their journey towards industry 4.0, he adds.
"Among them is the Domestic Investment Strategy Fund (DISF) to upgrade to smart manufacturing. We also have the accelerated capital allowance and a special capital allowance for ICT. There are some tax incentives for companies who are adopting robotics and factory automation and so forth. Apart from that, we have soft loans under the MIDF schemes," Jeyasigan says.
"Even though Industry 4.0 is a buzzword and a lot of companies, especially SMEs, will come and tell us that they are not aware of how to do it, over these past two years, many forums, workshops, relevant agencies and the private sector have organised events to spread this information."
The trend towards adopting automation and data exchange in the manufacturing industry is inevitable as multinational companies are adopting these new technologies.
"Most Malaysian SMEs are catering to multinational companies that are already moving towards digitalisation and Industry 4.0 concepts. So, if the SMEs don't move in that direction, they might be left behind and lose their business. These are very crucial and real problems that a lot of SMEs are facing," Jeyasigan says.
"You also realise that a lot of companies are using foreign labour, so when you are looking at the issue of moving into Industry 4.0, automation and digitalisation will assist in reducing the use of foreign labour and increasing productivity."
But moving into Industry 4.0 will require the country to have sufficient technology providers and talent. Malaysia has providers because the government started promoting local companies to develop solutions for IoT four years ago, says Ong Chuan Poh, senior programme manager in the Department of Internet of Things at Malaysia Digital Economy Corporation (MDEC). IoT is a crucial component in driving automation.
As for talent, MDEC is working on developing the right ones, Ong says, speaking at the same panel session as Jeyasigan and Hamilton.
"MDEC is looking very seriously at talent, right from the school level, to technical and vocational education training (TVET), universities and even professionals. We have an initiative called Asean Data Analytics eXchange, or Adax, in short. We have a site of around 10,000 sq ft in Bangsar South with around 10 data scientists. This is where we have community-based training. Our target is to have maybe 20,000 data scientists by 2020," he says.
"We look at people who are working now, who want to go into data. We are working with universities to create a curriculum. We do a lot of these things to make sure we have people with talent for the end users."