This article first appeared in Digital Edge, The Edge Malaysia Weekly, on July 11, 2022 - July 17, 2022.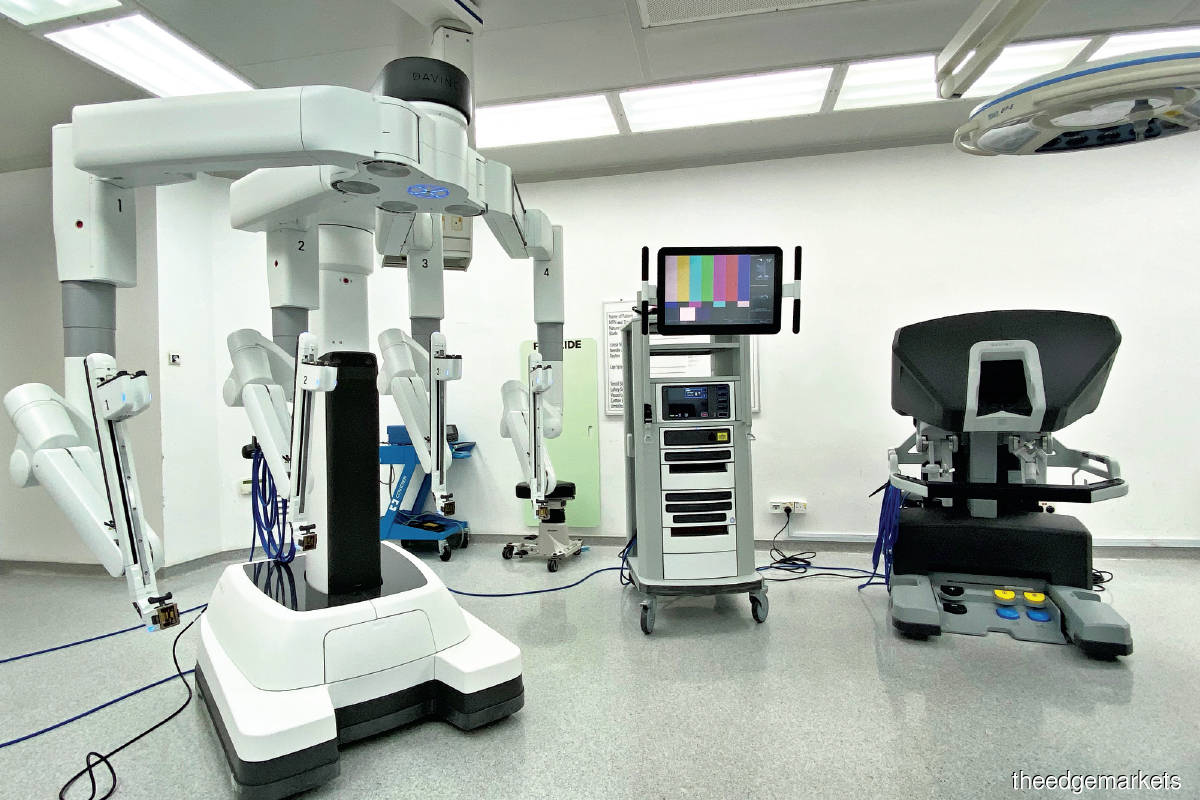 Artificial intelligence (AI) and machine learning have brought about a myriad of innovations and inventions that have stamped their mark on different sectors. The healthcare ecosystem is no different, with technological advancements taking place seemingly every moment.
Hospitals, especially, are making huge strides in an attempt to keep up with the demand to deliver a first-rate patient experience as well as provide suitable equipment and support for medical professionals. 
Healthcare technology can streamline processes, automate tasks and improve workflows on a scale that is not achievable by humans alone. Apart from improving patient care and experiences, it provides real-time information exchange and greater flexibility for patients and clinicians alike. 
Transcending from merely bricks-and-mortar and applying smart hospital technology in robotic process automation to improve standard operating procedures (SOPs) for operational efficiency, accessibility to services and patient care — while enhancing the inpatient experience as a differentiating factor — is of major significance for Sunway Medical Centre (SMC) as it embarks on its digitalisation journey. 
"New technology has propelled changes to how healthcare services are delivered in many ways. At SMC, we have embarked on a digital transformation plan that will change how we operate and deliver services to our patients in the future," says Eric Chong, information and communications technology (ICT) director. 
"We are now exploring various innovative solutions such as remote patient monitoring, enhanced mobile patient solutions and augmented reality-related technologies that will help deliver a wider range of services that extend beyond the physical setting of the hospital."
Across the spectrum 
Part of the responsibilities of healthcare providers is to enable a seamless, end-to-end journey for their patients. This can be achieved through digitalisation and adaptation of automation in day-to-day services, which are able to cut costs while saving time. 
SMC utilises technology to improve different segments across the spectrum at the hospital, such as analytics and business intelligence, telecommunications and remote connectivity, patient digital touchpoints as well as robotics and automation.
For instance, in order to enable proactive management of the patient's experience by making relevant information available with actionable insights, SMC uses SOP efficiency optimisation (SOPEO) to monitor hospital operations. SOPEO is able to convert the abundance of information scattered throughout the hospital ecosystem by making the necessary and relevant data available to the right person at the right time.
Chong adds: "Our new real-time hospital operations tracking system, SOPEO, has allowed us to reduce turnaround time for room cleaning to an hour, while cutting discharge time by 55%."
A patient's experience begins before he or she even steps into the hospital. SMC's telemedicine command centre, which operates around the clock, allows patients to call in, email or reach out using social media platforms to submit an enquiry, following which the attending staff will then make recommendations to consult a specialist. 
"Our relationship with patients does not begin and end only when they seek treatment at our hospital. We are looking into how to extend this relationship by using a combination of clinical services and innovative technology such as individual well-being and disease prevention," explains Chong. 
How SMC perceives future of healthcare
Further efforts to facilitate patients include the SunMed GO patient mobile app and SingleQueue System for end-to-end patient journey. SunMed GO provides accessibility and flexibility for patients to explore SMC's services and make and manage subsequent appointments, as well as access their medical reports. Meanwhile, SingleQueue provides transparency on multiple aspects of the patient's journey by using his or her mobile phone to scan the QR code displayed on the ticket to ascertain waiting time and receive an alert when it is almost his or her turn. 
Other means of integrating digitalisation include Portzo, which allows porters to assist patients efficiently, as well as Patient Xperience, which allows for constructive feedback to the hospital. 
For the convenience of patients, telemetry provides continuous monitoring of their heart rhythm, ensuring high-quality care. This is done by using a wireless network to transmit electrocardiogram (ECG) data continuously to a centralised monitor location. The monitoring system is primarily used by cardiologists and neurologists, allowing patients to move about freely without being attached to a conventional machine while nurses are able to monitor them, whether they are at the ward or on a different floor. 
To further provide comfort and care, an autonomous food delivery system assists in delivering food three times a day to young patients and their caregivers. These highly advanced robots have four stacked shelves on which meal trays can be placed, customised delivery functions and a navigation system that allows them to safely manoeuvre the ward. BellaBots, as they are known, can respond in English and Mandarin, and can be seen at the hospital lobby helping visitors find their way across the building. 
Medical professionals will also have to be supported with top-of-the-line equipment in order to provide better service and diagnoses. The use of AI and machine learning capabilities to assist in clinical diagnosis has intensified in the quest for clinical excellence. Meanwhile, the use of AI and machine learning-based medical solutions (such as radiological image analysis, which improves accuracy diagnosis as well as 3D printing technologies) assists surgeons with better visualisation for surgery planning. 
"Many of our recent acquisitions of IT technologies incorporate AI and machine learning to ease operations and improve efficiency so that we can better focus our resources on high-value work," says Chong. 
In an attempt to enhance convenience and foster innovation, SMC uses robotics and automation to improve efficiency by utilising robotic cognitive automation to regulate back-office functions as well as automated medication dispensing machines, which have reduced turnaround time for medicinal supply to wards by 45%. 
"Our next-generation medical equipment such as the da Vinci and Mako robotic arms allow surgeons to pre-plan and perform minimally invasive surgery to deliver better patient outcomes," states Chong. 
SMC also uses a comprehensive, interoperable electronic medical record (EMR) system that grants accurate hospital-wide data from a single point of access, with paperless access to a patient's medical records. 
The future of healthcare will continue to be shaped by advancements in technology, proliferation of internet and mobile devices as well as wider adoption of digital services. In order to continue delivering first-rate patient experience as well as top-tier facilities and equipment for medical professionals, SMC has started its digital transformation by laying the groundwork for further innovation. 
"Our commitment to providing best-in-class clinical services, the advancement in technology and demand for greater efficiency have spurred the introduction of new solutions that reduce patient waiting time, provide better accessibility to information and improve hospital operational efficiency," says Chong. 
"We are now building on the architecture that provides the foundation needed to enable us to deliver a patient-centric healthcare experience in the future."