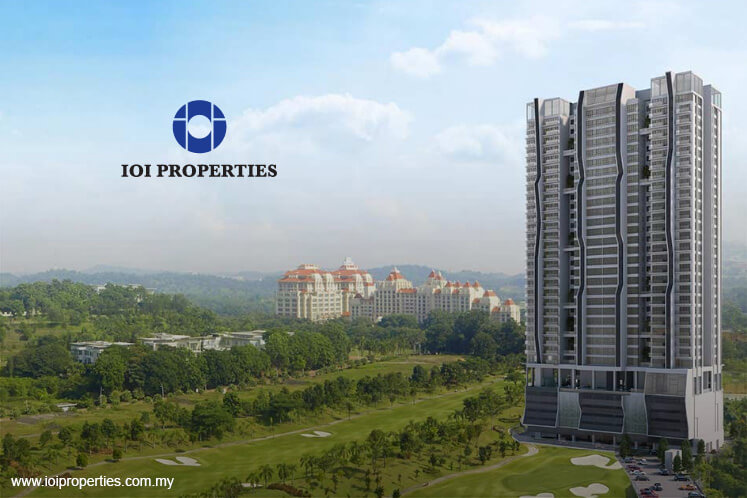 KUALA LUMPUR (Oct 17): Malaysian Rating Corporation Bhd (MARC) has assigned a preliminary rating of AAIS to the proposed RM3 billion sukuk by Fortune Premiere Sdn Bhd, a wholly-owned subsidiary of IOI Properties Group Bhd.
Based on MARC's approach to sukuk guideline, the rating entails that the company has a "very strong ability to make payment on the instrument issued under the Islamic financing contract. Risk is slight with degree of certainty for timely payment marginally lower than for instruments accorded the highest rating."
MARC said that the outlook on the rating of the multi-currency Islamic medium-term notes programme is stable, but only applies to ringgit-denominated notes issued under the programme.
"The assigned rating reflects the credit strength of IOI Properties which will provide an unconditional and irrevocable corporate guarantee on the proposed sukuk," the rating agency said.
"IOI Properties' credit profile incorporates its strong competitive position as reflected by its established brand name and track record of developing several townships in the Klang Valley and Johor," it added, noting that the group's strong balance sheet, as characterised by a low-to-moderate leverage position and healthy liquidity level, is a key factor for the rating.
Despite 'lackluster' sales performance in Malaysia, MARC is impressed by the exposure IOI Properties has in Singapore's and China's property industry.
"In Singapore, IOI Properties has a single ongoing project, Trilinq, which has a GDV (gross development value) of RM3.1 billion. The project was completed in June 2017 and has achieved sales of 90% as of date. In Xiamen, China, the group's two residential developments IOI Park Bay and IOI Palm City, which have GDV of RM0.9 billion and RM1.3 billion respectively, have been fully sold," it said, adding that IOI Properties has planned for its third project in Xiamen with the acquisition of a 6.2-acre land parcel in August 2016 for RM1.4 billion.
MARC also noted that as at end-March 2017, IOI Properties has a total remaining GDV of ongoing domestic projects of RM4.3 billion, spread across 13 townships. On top of that, the group has about 9,800 acres remaining land held for development, of which about 5,200 acres are in existing townships.
For the year ended June 30, 2017 (FY17), IOI Properties recorded strong net profit of RM920.87 million on the back of RM4.185 billion in revenue.
"IOI Properties has a strong liquidity position with cash holdings of RM2.4 billion as at end FY17, about RM1.6 billion net of amounts held under housing development accounts," MARC added.
Additionally, MARC noted a land acquisition in Central Boulevard, Singapore, via IOI Properties' wholly-owned subsidiary Wealthy Link Pte Ltd, which has led to a spike in group borrowings to RM12.5 billion as at end FY17. However, MARC recognised an ongoing plan to sell down a 33% stake in Wealthy Link to Hong Kong Land Holdings Ltd and a subsequent deconsolidation exercise will result in a pro-forma debt-to-equity of 0.31 times.
"The stable outlook reflects MARC's expectations that IOI Properties' credit metrics would remain commensurate with its current rating band. Pressure on the rating would emerge if take-up rates for its domestic developments continue to remain low and/or if borrowings level increase such that debt coverage weakens sharply over the near term," MARC concluded.