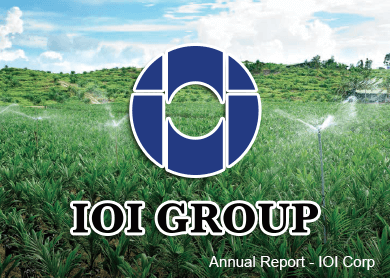 PUTRAJAYA (Oct 27): IOI Corp Bhd expects a 10% fall in fresh fruit bunch (FFB) production due to the current El-Nino effect and the ongoing haze that has blanketed the region, but said this would provide support for crude palm oil (CPO) prices.
"We are now entering seasonal low production period," said IOI Corp chief executive officer Datuk Lee Yeow Chor, adding the El-Nino effect and haze has further weighed down the production as the fewer hours of sunlight reduce photosynthesis.
This has prompted the group to lower its full year FFB production growth forecast to 3%–5% from 5%–7% previously.
"But I do not see negative impact to our profitability. There is a good chance (for CPO prices) to go up, when the inventory is declining," he said.
"CPO prices are likely to stabilise at the current level until the end of the year and have the potential to rise further in the first quarter of next year," he told reporters after IOI Corp's annual general meeting and extraordinary general meeting today.
But he declined to specify a specific price range target.
As at 12.30pm midday break, FCPO for January delivery was traded up RM14 at RM2,293 per tonne.
On the new minimum wage scheme that will come into force in next July, Lee said it has minimal impact on the group as all of its workers are earning above the range, including allowances and incentives.
Elaborating further, he said that stripping off the allowances and incentives, some 15% to 20% of its total plantation work force (25,000 workers) were earning around the minimum wage.
"Currently, we provide free housing and utilities to all workers and we have to cover foreign workers' medical expenses starting next year.
"We are bearing all types of cost presently. This has eroded the competitiveness of the plantation players," he added.
On a back of envelope calculation, assuming the increment was RM100 per worker, IOI Corp may have to fork out an additional RM4.5 million to RM6 million for workers' remuneration yearly.
The weakening ringgit did not bode well for IOI Corp as its total net debt stood at RM4.7 billion, while its gross debt was RM6 billion as at June 30, 2015, of which 90% is US dollar denominated. Should the ringgit depreciate further, IOI Corp may face further pressure on translation loss.
Lee, however, commented that the debt would not affect the group's cash at the moment as 50% of the debt will only be matured beyond 2022.
"We can only see the exact impact in financial year 2017 as the repayment will come in during the financial year," he said.
The weaker ringgit will also put pressure on its cost structure, Lee said, adding that every 20% rise in the US dollar against the ringgit will translate into a 3% rise in fertiliser cost.
He added fertiliser cost made up 15% to 20% of the total cost of the group.
"Currently, our cost of production stood at RM1,400 per metric tonne and the fertiliser cost for the next three months has also been locked in," he pointed out.
On its earnings, Lee said the outlook for the group remained positive and its downstream activities has hit its expectation.
"Our oleo chemical segment has performed well in the last five to six months due to the low palm kernel oil prices," he said.
"I am not sure how our results would be, but as I mentioned earlier, we expect CPO prices to go up — it is good for the company," he added.
In a report last month, Maybank Investment Bank Research estimated IOI Corp may sink into red in 1QFY16 with a possible net loss of RM440 million due to an estimated RM670 million unrealised forex translation losses on its US dollar debt related exposure of RM6.25 billion following a 16.5% decline in the ringgit to 4.395 against the US dollar during 3QCY15.
It said operationally, it expects IOI Corp to post flattish on-year 1QFY16 core net profit of RM230 million.
On whether IOI Corp can regain its Shariah-compliant status, Lee said the group has converted its non-Islamic debt to Islamic debt, which caused its conventional debt to fall below the 30% requirement.
"We have satisfied the requirement but we are not too sure ... they (the authority) may have other criteria," he added.
On the proposed Trans-Pacific Partnership Agreement (TPPA), Lee said the free trade agreement is positive to plantation players.
"The US is the main market for CPO products. With TPPA, the import tariff on certain palm oil products will be removed. I think this is positive to the exports," he said.
(Note: The Edge Research's fundamental score reflects a company's profitability and balance sheet strength, calculated based on historical numbers. The valuation score determines if a stock is attractively valued or not, also based on historical numbers. A score of 3 suggests strong fundamentals and attractive valuations.)