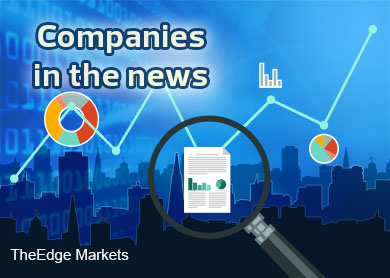 KUALA LUMPUR (November 17): Based on corporate announcements and newsflow today, stocks in focus tomorrow could include IOI Corp Bhd, Matrix Concepts Holdings Bhd, Gabungan AQRS Bhd, Malton Bhd and DKLS Industries Bhd.
IOI Corp Bhd posted a lower underlying profit of RM268.9 million for its first quarter ended Sept 30, 2014 (1QFY15), 24% lower from RM352.1 million in 1QFY14 mainly due to lower contribution from its resource-based manufacturing segment.
In its results announcement, IOI Corp said that its resource-based manufacturing profit stood at RM108.8 million, 50% lower than 1QFY14's RM218.6 million.
"The lower manufacturing profit is mainly due to lower margin as well as lower sales volume from oleochemicals and refinery sub-segments," it said.
Revenue for 1QFY15 was 6.76% lower at RM3.02 billion from RM3.24 billion in the previous corresponding quarter.
"We expect crude palm oil price to remain at the prevailing level before trending higher towards the beginning of next year when palm oil production enters its seasonal lows," it said, adding that it expected higher contribution from its Indonesian plantation subsidiary going forward.
"Overall, the group's performance for FY15 is expected to be satisfactory," IOI Corp added.
IOI Corp share price dropped 0.42% or two sen at RM4.70 today, giving it a market capitalization of RM29.8 billion.
 Matrix Concepts Holdings Bhd saw a 25% year-on-year (y-o-y) rise in net profit for its third quarter ended Sept 30 (3QFY14), backed by higher property sales during the quarter.
In a filing with Bursa Malaysia, Matrix said net profit rose to RM45.1 million from RM36.2 million previously. Meanwhile, revenue for rose to RM148.8 million compared to RM12.7 million Matrix attributed its improved results to the group's sales of residential and commercial development properties, which commanded a better profit margin compared to margins from land sales.
The group announced an interim single-tier dividend of 3.75 sen a share for 3QFY14. Matrix shares will trade ex-dividend on December 22 this year.
The counter closed 1 sen or 0.35% lower at RM2.87, translating to a market capitalisation of RM1.31 billion.
Gabungan AQRS Bhd's (GAQRS) net profit soared 141% to RM15.15 million in its third quarter ended Sept 30, from RM6.29 million a year ago.
Revenue rose 26% to RM133.27 million from RM105.46 million in the previous corresponding period, while earnings per share (EPS) grew to 4.12 sen for the quarter versus 1.77 sen previously.
In a filing with Bursa Malaysia, GAQRS attributed the improved earnings to higher contributions from its construction and property development divisions.
Going forward, the group expects both of its main segments to continue registering strong earnings.
"We will continue to focus on adding to our construction orderbook, on top of looking for good opportunities to add to our existing landbank. Against this backdrop, we expect our earnings and orderbook to improve further and sustain our future growth," said Datuk Azizan Jaafar, executive director of GAQRS.
GAQRS closed 2 sen lower at RM1.67, bringing its market capitalisation to RM65.3 million.
Malton Bhd's net profit for the first quarter ended Sept 30, 2014 (1Q15) more than tripled to RM15.11 million, from RM4.06 million in the previous corresponding quarter, buoyed by completion of certain parcels of land disposals for a total RM35.7 million in September, according to its filing with Bursa Malaysia.
As a result of the land sales, revenue also came in 22.5% higher at RM111.59 million, compared with RM91.11 million.
On prospects, Malton said ongoing development projects namely The Cantonment in Penang, Nova Saujana in Subang, Bukit Jalil City in Kuala Lumpur and SK One Residence in Seri Kembangan, together with the on-going construction contracts in hand, will continue to contribute positively to its earnings for the financial year ending June 30, 2015 (FYE 2015).
"Barring unforeseen circumstances, the Board of Directors envisages the Group to achieve satisfactory results for the FYE 2015," it noted.
Malton share price was up two sen or 1.96% at RM1.04, giving it a market capitalization of RM436.58 million.
DKLS Industries Bhd has achieved a 59.5% jump in net profit to RM9.73 million for the third quarter ended Sept 30 (3QFY14) from RM6.1 million a year earlier.
Consequently, earnings per share (EPS) rose to 10.5 sen from 6.58 sen previously.
Revenue for the quarter totalled RM59.68 million, up 13.4% from RM52.6 million in 3QFY13, a company filing with Bursa Malaysia showed today.
For the nine-month period ended Sept 30, DKLS's net profit was RM16.48 million or 17.78 sen per share - 8.06% higher than the RM16.45 million or 16.45 sen per share recorded a year ago.
Revenue for the period, however, dropped 12.77% on year to RM153.41 million from RM175.87 million.
DKLS closed unchanged at RM1.82, giving it a market capitalisation of RM166.86 million.