This article first appeared in Personal Wealth, The Edge Malaysia Weekly, on March 19, 2018 - March 25, 2018.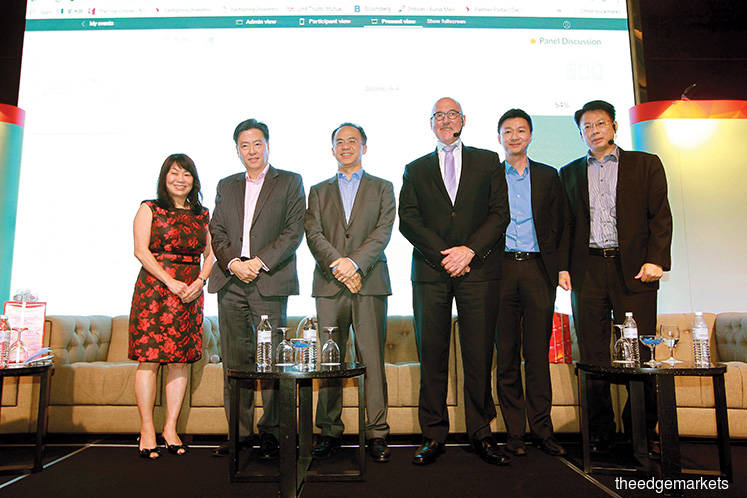 After the Goldilocks environment in the global markets last year, there is uncertainty about what this year will bring. But several strategies can be employed and there are opportunities in several areas, said the speakers at the Eastspring Public Symposium 2018, titled "Crouching Bears, Charging Bulls".
The symposium, held at the Connexion Conference and Event Centre at Nexus Bangsar South City in Kuala Lumpur on March 10, shed some light on the direction of the global economy this year and how investors can better prepare for it. There were three presentations followed by a panel discussion moderated by BFM business radio producer and presenter Melisa Idris.
In kicking off the event, Eastspring Investments Bhd CEO Raymond Tang spoke briefly about the company before introducing the speakers — Robert Rountree, global strategist at Eastspring Investments (Singapore) Ltd; Ooi Boon Peng, chief investment officer for fixed income at Eastspring Investments (Singapore) Ltd; Chen Fan Fai, head of investments for Asia-Pacific (retail and institutional business) at Eastspring Investments; Wong Weiyi, general manager of Fundsupermart.com Malaysia; and Carol Yip, CEO of Aged Care Group Sdn Bhd.
During the panel discussion, the speakers said dividend-yielding stocks and bonds in Asia-Pacific remained attractive to investors on the back of synchronised global growth and improving corporate earnings.
Rountree said investors could adopt a dividend-yielding strategy and buy into the equities of fundamentally sound companies in the region. Companies in the infrastructure, financial and healthcare sectors are undervalued and offer attractive yields. 
"I very much like the income-generating dividend play, not only with equities but also bonds. I would probably buy some high-yield bonds while anchoring my bond portfolio in safer [sovereign] bonds such as the Singapore government bond," he added.
Ooi said investors should allocate a third of their bond investments to developed-market sovereign bonds, a third to investment-grade corporate bonds and another third to high-yield corporate bonds and emerging-market sovereign bonds.
"During a recession, the developed-market sovereign bonds will perform and the investment-grade corporate bonds will be fine, but the high-yield bonds will suffer. In good times, the sovereign and investment-grade corporate bonds may not do well, but the high-yield corporate bonds and emerging-market sovereign bonds will outperform," he added.
"Investors should remember that, like James Bond, not all bonds are the same. They are all a bit different."
On the equity markets, Rountree said the Hong Kong and China markets are more attractive when it comes to valuations. Meanwhile, the Malaysian market could trend higher after the general election, said Chen.
"In general, investors do not like uncertainties. If the government's policies continue and are not disrupted after the election, prices should go up," he added.
Wong said investors who are concerned about market volatility due to the upcoming polls need not be too worried. According to the company's research report, which is now available online, general elections have not had a big impact on stock prices. "The key takeaway from the report is that six months before and after a general election, stock prices do not change much," he added.
Investors who are more conservative could reduce a small portion of their allocation to Malaysian equities while adopting a wait-and-see attitude, said Wong. "Only when the market responds adversely and people start selling in a big way, should we reassess our investments from a fundamental point of view."
Yip said investors who are planning to stay in an aged care facility should be disciplined in taking profit and set aside some cash for the future. She pointed out that one would need about RM250,000 for five years at an aged care home at the current market price.
This could go up to RM500,000 with inflation, she warned. "If you chose a hotel-style aged care facility, it could easily reach RM1 million. Set aside money for that. You will need cash," she said. — By Kuek Ser Kwang Zhe