This article first appeared in Personal Wealth, The Edge Malaysia Weekly, on April 23, 2018 - April 29, 2018.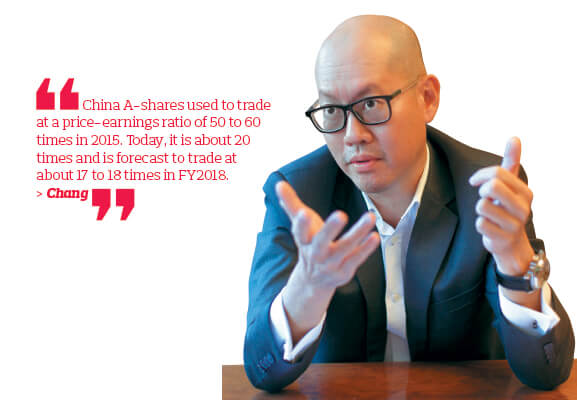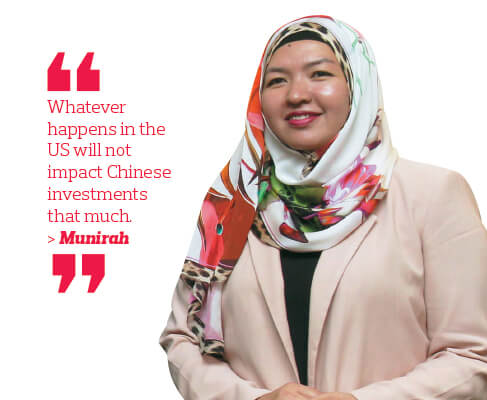 Despite the threat of a trade war, the China A-share market remains attractive due to its cheap valuations, a high growth trajectory and inclusion into MSCI's indices, says CIMB-Principal Asset Management Bhd.
According to chief investment officer Patrick Chang, the fear of a trade war breaking out will not have a huge impact on investments in China. "Everybody is concerned this could escalate into something bigger. But to put things into perspective, China is not going to play hardball, neither is US President Donald Trump," he says.
"Of course, the markets will be spooked. But that is natural because the markets always react negatively on the downside. The way I look at it is that there are currently opportunities in the China market.
"In fact, the correlation between the Chinese market and the global markets is actually very low. Its nominal gross domestic product is still growing at a commendable 6.4%. It has its own heartbeat, driven by local factors."
CEO Munirah Khairuddin says investors should not think short term when investing in China. "It has a very politically stable government. If it were not stable, President Xi Jinping would not be able to convincingly launch the One Belt, One Road Initiative. It is a 30-year plan that was very carefully strategised, requiring a lot of cohesion, confidence and political will. So, whatever happens in the US will not impact Chinese investments that much."
China is embroiled in a potential trade war. The Trump administration recently proposed a 25% tariff on US$50 billion worth of Chinese imports to protest the country's alleged misappropriation of American intellectual property. Earlier, Beijing slapped taxes on US$3 billion worth of US products in response to the country's imposition of a 25% tariff on steel and a 10% tariff on aluminium.
Last year, Xi established the Financial Stability and Development Committee to strengthen financial supervision, aiming to deleverage and prevent systemic risks in the financial industry after years of aggressive expansion by financial institutions. He also slowed down a lot of investments in China's fixed assets, moving the economy to a more consumption-based one.
"This is actually a good move because today, China's economy is driven by consumption. Even those in Tier-3 and Tier-4 cities have more cash flow than in previous years. It is also an economy that is no longer cash-driven — people are paying with WeChat and Alipay. These are good changes in the economy, caused by moderate deleveraging," says Chang.
INVESTING IN THE A-SHARE MARKET
It is because of the positive sentiment that the fund house decided to launch the CIMB-Principal China Direct Opportunities fund. Its maiden China-focused fund gives Malaysian retail investors the opportunity to directly invest in the A-share market.
According to Munirah, the fund is the first of its kind in Malaysia, launched under its Renminbi Qualified Foreign Institutional Investor (RQFII) licence. "Two other institutions in the country have the licence, but we were the first asset management company to receive it and, through the fund, make it available to retail investors," she says.
Local funds with exposure to China A-shares include AmFunds Management Bhd's AmChina A-Shares. But it is a wholesale feeder fund that invests primarily in Allianz China A-shares, an open-end fund incorporated in Luxembourg. On the other hand, CIMB-Principal China Direct Opportunities invests directly in the A-share market, which is made possible with its RQFII licence.
The China A-share market is the largest equity market in Asia and the second largest in the world after the New York Stock Exchange. A-shares are traded on the Shanghai and Shenzhen stock exchanges.
According to Chang, the fund house started doing in-depth research on the A-share market in the last 12 months, when it realised that its valuations were getting a lot cheaper. "It is a very exciting market. China A-shares used to trade at a price-earnings ratio of 50 to 60 times in 2015. Today, it is about 20 times and is forecast to trade at about 17 to 18 times in FY2018," he says.
Another thing that makes the market very interesting is its inclusion in MSCI's indices, says Chang. In June, the index provider will include A-shares in its China, Emerging Markets and All Country World (ACWI) indices. Initially, the A-shares will make up about 4% to 5% of the MSCI China Index, about 0.8% of the MSCI Emerging Markets Index and about 0.15% of the MSCI ACWI.
Chang sees this as a huge opportunity, especially when the A-shares get more weightage on the indices. As China's economy continues to stabilise, more high-growth companies will be part of the A-share market, which makes the outlook for the market even better, he adds.
Chang cites the example of SenseTime, an artificial intelligence (AI) company that focuses on innovative computer vision and deep learning technologies. "SenseTime is a unicorn that may be listed on the China A-share market in the next 12 months. The company invests heavily in R&D and has about 800 R&D workers, 150 of whom have PhDs," he says.
"Its AI sophistication is rated No 3 in the world — higher than that of University of California, Berkeley and Stanford University in the US. This is the kind of calibre shown by potential companies in the A-share market."
Other high-growth companies that investors could have access to in the future include Didi Chuxing, which is China's version of ride-hailing company Grab, and Meituan Dianping, an on-demand online service provider. "I recently found out that Meituan is looking for an H-share listing, but will also dual-list on the A-share market," says Chang.
"The company is weighing a valuation of at least US$60 billion in its initial public offering. There will be a lot of exciting IPOs in the next 6 to 12 months and these are the types of companies that we are looking to tap."
CIMB-Principal China Direct Opportunities is an equity growth fund that aims to provide capital appreciation over the medium to long term. The fund will invest at least 70% of its net asset value in China A-Shares, focusing mainly on small and mid-cap companies with good growth potential, while the other 30% will be invested in liquid assets.
CIMB-Principal has been granted an RQFII licence with a preliminary investment limit of RMB600 million (RM370.1 million). Subject to the utilisation of its quota and the requirements of China's State Administration of Foreign Exchange, the fund house may apply to increase the quota.
Why didn't it launch a fund that focuses on China H-shares, which are more accessible to foreign investors? Chang says that apart from the fact that the earnings profile of China A-shares is rising much faster than that of the H-shares, the A-shares also benefit from better fund inflows, thanks to their inclusion into the MSCI indices. Also, the A-share market is less volatile and more liquid, underpinned by strong retail and institutional investors, with an average daily trading volume of US$50 million.
ADDRESSING THE RISKS
CIMB-Principal China Direct Opportunities is co-managed with CCB Principal Asset Management Co Ltd — one of China's fastest-growing asset management companies. Backed by China Construction Bank, US-based Principal Financial Group and China Huadian Capital Holdings Co Ltd, CCB Principal had US$207 billion under management as at December last year.
"We are fortunate to have partners such as CCB Principal working with us. They are very capable. Half of their personnel have at least a master's degree. Meanwhile, we have two Chinese nationals on our team. They are portfolio managers and one of them is a data scientist," says Munirah.
She is optimistic that the fund house will reach its target fund size of US$100 million within the first year of its inception. She says the launch of the fund is a prequel to many future opportunities for the company. Potential products in its pipeline include those that invest in renminbi bonds and small-cap companies in China.
"We are always thinking of new segments or sectors to get into. So, technology is big on our radar screen. However, diversified multi-asset portfolios are the kinds we are looking into right now," says Munirah.