This article first appeared in Personal Wealth, The Edge Malaysia Weekly, on May 18, 2020 - May 24, 2020.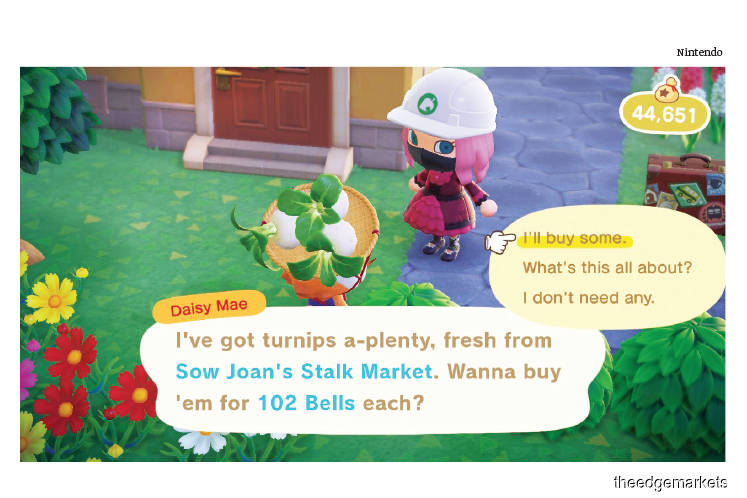 I finally made my first million from my investments. Well, sort of. 
After a week of the Movement Control Order, I finally gave in and bought a digital copy of Animal Crossing: New Horizons, a video game for the Nintendo Switch console. The latest game in the highly popular franchise is estimated to have garnered 12 million players worldwide. 
Essentially, Animal Crossing: New Horizons is a life simulation game that runs in real time. That means if it is 9am on Monday in real life, it is 9am on Monday in the game as well. The player assumes the role of a character who moves to a deserted island and the goal of the game is to develop the island into a thriving community.
After playing the game for a few days, I had my first taste of the game's most speculative asset — turnips — which can be bought on Sunday mornings at the Sow Joan's Stalk Market (a play on the Dow Jones Industrial Average) for about 100 bells (the in-game currency) each. 
Players can sell the turnips from Monday onwards for a profit or loss as the selling price changes twice a day. The price ranges from 20 to 650 bells per turnip, meaning players could stand to make a profit of more than six times. But if they hold on to their assets for too long, the turnips will rot, resulting in a total loss. 
I withdrew all of my savings from the in-game bank and bought as many turnips as I could to make a quick profit. In hindsight, that was not the best decision I made.  
From Monday to Friday, I religiously checked the price of turnips on my island. Once, the price reached 160 bells, but I believed I could get a better price if I just held on and waited. On Saturday, I started feeling anxious as I would lose my entire investment — and my life savings — if I did not sell the turnips that day.
In the morning, the selling price was 78 bells. But this would mean a 22% loss. So, I decided to wait until evening. At 8pm, the price was … 66 bells. 
I was determined not to make a loss, so I quickly tried to apply an arbitrage strategy. After all, the selling price could be better on other players' islands. Thankfully, I was able to do so by connecting the console to the WiFi. 
I made a plea on Facebook, asking if anyone would allow me to sell my turnips on their island for 100 bells each, so that I could break even. Lo and behold, a kind stranger responded and allowed me to sell my turnips on her island. The selling price was 124 bells, giving me a decent profit.
The following week, I wasted no time in applying this strategy. On Tuesday, I immediately contacted someone who shared that the price of turnips on her island was 602 bells apiece. I sold my entire turnip holdings for 1,204,708 bells — which made me a millionaire!
I learnt several lessons from this experience. First, I should not use all my savings on such a high-risk asset. As I had done so during the game, I needed to delay my debt payments (which the game requires me to do in order to expand my house and increase my storage space) and put off developing my island with much-needed facilities that would have helped me progress in the game. 
Second, do not time the market. I thought I would be able to get a better deal, so I waited until what I thought would be the right time to sell. This never happened. So, I wasted the opportunity to pay off my debt much earlier. 
And third, explore various strategies to solve my problem. If I had just accepted the low price, it would have taken me a long time to recover my losses. I was lucky that I was able to apply the arbitrage strategy, which worked out well for me. 
While I may not be a real millionaire yet, I believe that the lessons learnt from the game will go a long way in helping me achieve my dreams in real life. The RM260 I spent on the game may turn out to be a good investment after all.