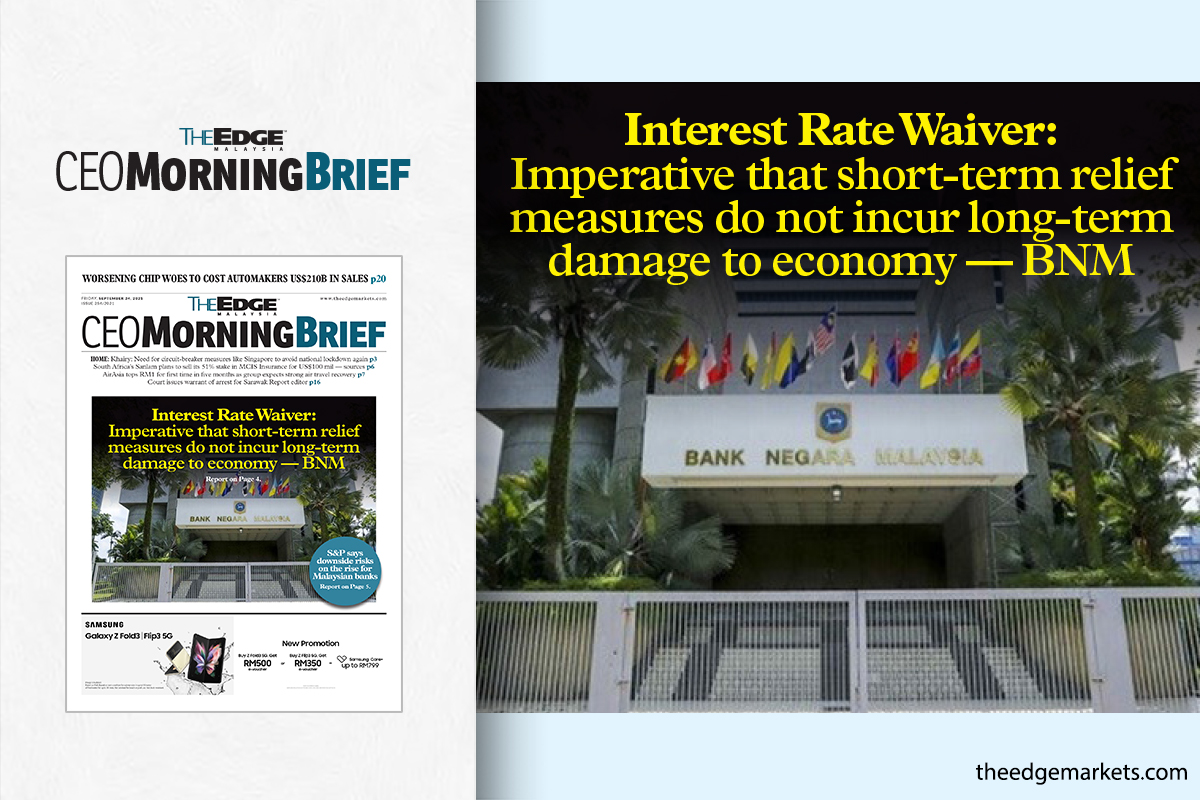 KUALA LUMPUR (Sept 24): It is "imperative that short-term relief measures do not incur significant long-term damage to the economy", emphasized Bank Negara Malaysia (BNM).
The Central Bank was responding to questions by The Edge regarding the interest payment waivers for the bottom 50% income bracket group (B50) that had made headlines last week.
BNM, in its response to The Edge, highlighted that it is important to consider the effect of such a move on future lending decisions by individual banks.
"If banks become more reluctant to lend to this segment of borrowers due to perceived high risks, this would be a concern," added the Central Bank its email reply.
BNM governor Nor Shamsiah Mohd Yunus had spoken out in August on the issue of waiving interest payments during the loan moratorium period at a press conference after releasing the report of Malaysia's second quarter 2021 economic performance.
At that time, the governor explained that profits earned from interest are used to cover the funding cost of banks. That would mean that a waiver of interest rates, where interest income accounts for 80% of a bank's revenue, would result in serious ramifications to the economy as banks might have to pull back on lending in order to conserve buffers, especially since higher credit losses are still expected.
A point to note is that the governor was referring to waiving interest payments as a whole then and not specific to any segment currently under the loan moratorium today.
In the present circumstances, analysts do not think that banks would choose to withhold lending to this group of borrowers in the future.
"This is a one-off incident. As long as they (B50) qualify, banks will continue to lend to this segment. Besides that, banks will also continue to practise financial inclusion for ESG reasons," opined Hong Leong Investment Bank Research analyst Chan Jit Hoong.
MIDF Research vice president Imran Yassin shares similar views, saying that banks could be more cautious in the future in terms of lending to this group, but it is unlikely that they would hold back on lending to the B50.
BNM said that it will continue to closely monitor the implementation of repayment assistance by banks that are already in place for borrowers in need.
The regulator added that it is also working with AKPK and the banks on additional arrangements to ensure that borrowers will continue to be supported to meet their loan repayments as they gradually resume repayments.
Banks' boards and shareholders will need to make a commercial decision
It is also worth noting that in BNM's reply, it also said that banks' boards and shareholders will need to make a commercial decision on the interest payments waiver as "banks will be affected by the interest waiver to varying degrees depending on their size and profile of borrowers".
"... particularly as it may result in financial year losses for some banks and affect future distributions to shareholders," added the regulator.
When contacted on this interest rate waiver matter, the Association of Banks in Malaysia (ABM) executive director Kalpana Sambasivamurthy said: "Please note that ABM is engaging with the relevant authorities to obtain further clarification and details in relation to the proposal for interest payment waivers for the B50 group."
As Oct 1 looms nearer, details on the interest payment waivers are still scant. Banks appear to have been caught off-guard by the interest payment waiver announcement with bankers still in discussions with the government.
To recap, Finance Minister Tengku Datuk Seri Zafrul Abdul Aziz had on Sept 14 announced that the Ministry has instructed banks to immediately work on the exemption from interest payments for bank loan moratorium recipients' under the B50 category for the fourth quarter of 2021.   
Analysts do not think that the interest payment waivers will result in losses for banks.
"I don't see a risk of banks running into losses because of the interest payment waivers for the B50 group. The impact will be moderate but we're not looking at losses because this will only be a three-month waiver.
One possible impact is that banks will have to account for higher provisions, but it won't be so significant that it would drag banks into losses as the B50 makes up only a small portion of total bank loans," said Imran.  
In a Sept 14 report by Maybank Investment Bank Research, it estimated a total modification loss this year of about RM1.42 billion for the banks under its coverage compared with RM1.35 billion in 2020. It also sees an average 7% impact to earnings for the banks as a result of the waivers.
"A point to note is that the modification loss is one-off in nature and it will be clawed back in future years, over the life of the loans. There is ample liquidity in the system and the banks are well capitalized. We expect earnings to rebound in 2022 in the absence of such modification losses," added the research house.
Similarly, HLIB's Chan also does not see the waiver having a significant impact on the banks. He reminded that with the economy gradually opening up, it would be a positive for the sector.
Read also:
S&P says downside risks are on the rise for Malaysian banks