Click / Tap image to enlarge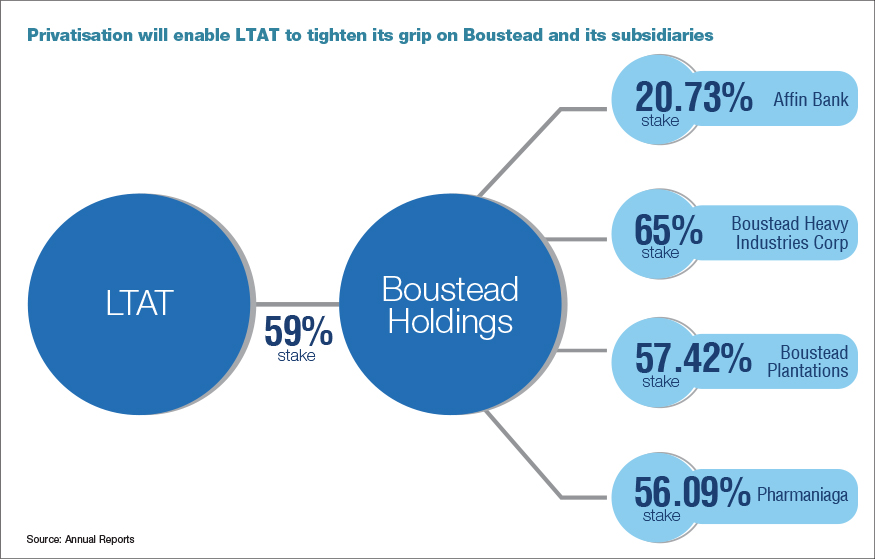 KUALA LUMPUR (May 28): Little traded Boustead Holdings Bhd's share price leaped nearly 19% following a news report that its controlling shareholder Lembaga Tabung Angkatan Tentera (LTAT) is looking to take the debt-laden conglomerate private.
The stock soared shortly after opening at 70 sen in the morning session. It retreated to 62.5 sen as at 3.45pm, up 3.5 sen or nearly 6% — trading at a two-month high. Its trading volume ballooned to 43.9 million shares, substantially higher compared with its 200-day average trading volume of 2.17 million shares.
To recap, Bloomberg yesterday, quoting unnamed sources, reported that LTAT, which holds a 59% stake in Boustead, was mulling to take the conglomerate that has four listed subsidiaries under its belt private.
According to Bloomberg, LTAT has secured a loan for the privatisation exercise. However, it said the discussions are still in the early stages; there is no concrete decision made.
Judging by the group's assets, the current market valuation of Boustead, the main contributor to LTAT's dividend income, appears to be substantially undervalued. Its net asset per share was at RM1.85 as at end-2019, nearly triple the market price. 
Nonetheless, it is worth noting that the conglomerate's total borrowings amounted to RM7.91 billion as at end-2019. 
Boustead holds equity interest in four publicly listed companies — Affin Bank Bhd, Boustead Plantations Bhd, Boustead Heavy Industries Corp Bhd (BHIC) and Pharmaniaga Bhd, all of which its parent LTAT also holds a stake.
Some quarters commented a privatisation exercise will enable LTAT to tighten its grip on these listed companies. 
For instance, Boustead holds a 20.73% stake in Affin Bank; it is the third largest shareholder after LTAT, which is the largest stakeholder with a 35.33% stake, and Bank of East Asia (23.56%).
Over at Boustead Plantations Bhd, Boustead is the planter's largest shareholder, controlling a 57.42% stake as of April 30. LTAT is the second-largest shareholder, controlling a 12.10% stake.
Boustead holds a controlling 65% stake in BHIC. According to its 2018 annual report, Boustead Holdings holds the largest stake in BHIC, followed by LTAT with 8.16%.
At Pharmaniaga, Boustead holds 56.09% while LTAT owns an 11.23% stake.
Read also: Malaysia Armed Forces Fund weighs taking Boustead private