This article first appeared in Personal Wealth, The Edge Malaysia Weekly, on August 6, 2018 - August 12, 2018.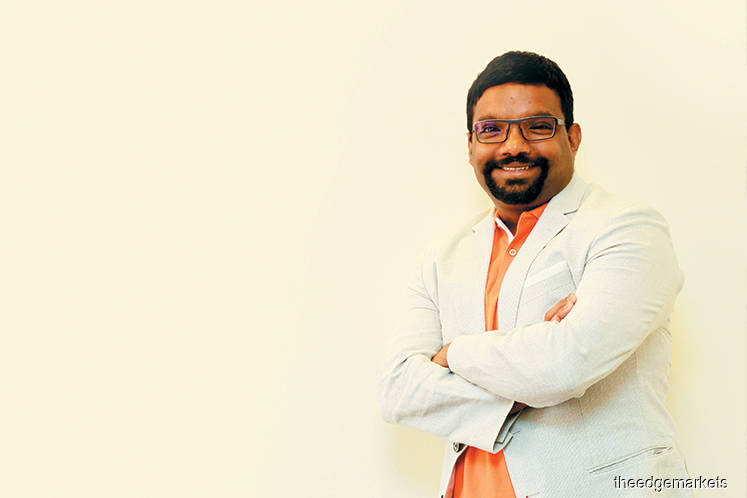 The emerging affluent is an appealing consumer class to many financial service providers. In fact, this demographic is poised to be a game changer for the industry, says AXA Affin Life Insurance Bhd CEO Rohit Chandrasekharan Nambiar.
The emerging or moderately affluent — consumers who are earning enough to start saving and investing — "is a 10 million people market opportunity", he adds, citing internal estimates. "This demographic has seen relatively less penetration compared with the top segments. And we need to address this group differently because the life insurance market is highly concentrated."
The 37-year-old, who took the helm in December, hopes this push will turn AXA Affin Life into a household name, amid fierce competition from the incumbents, and accelerate the insurer's domestic business to grow its small 1.3% market share.
Rohit certainly has his work cut out for him as this business is dominated by three giants — AIA Bhd, Great Eastern Life Assurance (M) Bhd and Prudential Assurance Malaysia Bhd — which have a combined market share of 66.7% in terms of gross earned premiums, according to a CIMB Research report.
There are currently 23 general insurers and 14 life insurers in the country. The life insurance segment is dominated by foreign insurers (81.7% market share in 2016) compared with the 18.3% market share of local insurers.
"We cannot do the same things that the top three are doing because the market has gone to them," Rohit tells Personal Wealth. "The area in which all of the insurers typically play is — if I were to loosely define the market — the affluent category, which comprises about a million people.
"Then, we have a segment called the mass affluent, which comprises about six million Malaysians. Basically, they are married, have children and own a house and a car. One or both spouses are working. This segment has been heavily penetrated because this is where the money is.
"But there is another segment — the young professionals and young families — that no one is really going after."
This is where on-demand life insurance (which harnesses the best of analytics, cloud computing and the online channel) is an appealing proposition, says Rohit. He adds that the company recently included on-demand insurance as part of its offerings via its online, mobile and hybrid channels.
Essentially, the service provides convenience through an attractive customer interface and offers flexibility of coverage. It also ticks all the right boxes where Bank Negara Malaysia is concerned as the regulator has been pushing insurance companies to offer direct, no-commission channels to consumers.
Rolling out unique, on-demand solutions
As the industry has been beleaguered with legacy issues, insurers have taken a measured approach in rolling out their digital propositions, says Rohit. But digitalisation has opened new avenues in creating more innovative and personalised health, wealth and retirement solutions. Usage-based solutions, which are perceived as a more practical approach to insurance, have been big in the motor, travel and home insurance segments for some years now, he points out.
There are already life insurers that provide term life coverage with monthly premiums from as low as RM5. But the AXA eMedic solution is believed to be the country's first online medical insurance plan in the on-demand category.
Rohit, who was previously chief transformation and operations officer at AXA Affin General Insurance, argues that the service does not only provide entry-level protection but also eventually leads to fairer risk distribution as it offers better value for many customers.
"At the group level, we have a category called the emerging customers team. It is slightly different than micro-insurance. By our definition, micro-insurance is for the lowest strata — it is to give protection to someone struggling to have bread," says Rohit.
"Emerging customers sit just above that. Basically, this demographic comprises people who can afford their basic needs and probably own a car or motorcycle, but they do not have any form of insurance coverage because it is too expensive. For them, it is largely either through micro-finance institutions or through banks, or the basic life coverage offered by telecommunications players.
"AXA has done quite a bit in the emerging customer base around the world. In India, we signed our 10 millionth customer earlier this year. That is the space we are talking about engaging in Malaysia — the emerging customer as well as the mass affluent. These could be young families, young professionals … the millennial generation."
He adds that this focus is in line with Bank Negara's aspiration to increase insurance penetration from 56% currently to 75% by 2020. "If you look at the price point of the average agency's health insurance products, the average premium for a health plus savings plan is between RM2,500 and RM3,000.
"For someone who earns RM3,000 a month, this kind of commitment is a lot of money. What if I then come in and say that I will give you a price point of RM600 to RM700 a year for cover that starts at RM20,000 a year? On top of that, how about giving you the option of paying monthly?
"It is about giving different propositions to different customers, and we want to acquire them when they are younger and less wealthy. So, when they become older and wealthier, and need more complex financial solutions — which I don't believe can be done digitally yet — our agents and financial advisers can come in and talk to these customers."
AXA eMedic is accessible to those aged 16 to 39 years old for as low as RM37 monthly. The plan is renewable up to the age of 80. Some of the major exclusions are pre-existing medical conditions and illnesses that surface during the first 120 days of cover.
This strategy enables the insurer to tap into a larger distribution channel and "travel with them" through the different life stages and lifestyle changes, says Rohit. "Some insurance products are extremely complex. So for such products, we really need agents to talk to our customers. As for the digital products we have been launching, we have ensured that they are all simple, plain-vanilla products."
To expand the reach of AXA eMedic, the insurer has tied up with DiGi Telecommunications. This gives the company access to the telco's 11 million customers, says Rohit.
"About 2.5 million of DiGi's customers are on post-paid programmes while the rest are on the pre-paid programme. The idea is, whenever we launch a product that we believe is simple, the service proposition, the after-sales service and the claim process also have to be simple. When all this is in place, we tie up with those who have the reach and that gives us the ability to deliver solutions to the masses," he adds.
The insurer also plans to launch digital products via Affin Bank. Rohit says this will enable the bank's online customers to buy the products directly. "We have a goldmine in Affin Bank. It has a huge amount of access, particularly in the second and third-tier cities," he adds.
Rohit stresses that its offerings, such as eLife and eMedic, are unlike other available digital insurance products as it has made sure that the process of engagement and claims is as seamless as the process of buying. "For example, using the eMedic experience, a customer will do his research through multiple touchpoints. Once he decides to buy, he can buy the product off AXA's or DiGi's website. Once he gets the service he wants, he can access his policy and medical card, which are downloaded to your mobile phone via our app," he says.
"If you do not want to call our customer service, you can use WhatsApp. That is because some people just don't like meeting people. So, we have a service called 'Ask Michelle' and we will respond to you."
Rohit says the company has decided to hold off on installing a chatbot as it wants to have as much data integrated as possible to accommodate the quirks of its local customers. "When it comes to claims, you have the option of going cashless for reimbursement, where you don't have to submit a hard copy of the hospital receipts anymore. You can just email us your scanned copy and we will do the rest," he adds.
As far as engagement is concerned, Rohit says the idea is to build a relationship with its customers by incorporating a lifestyle proposition. This is in line with the findings of a Bain & Co survey last year, which suggested that health and life insurance customers are looking for wellness exams, preventive tests and expert guidance during treatments and recovery as part of their life insurance policy.
"We are working with BookDoc, which helps track your footsteps. And if you are active, we will reward you," says Rohit.
"We also offer subscriptions to [local healthtech start-up] Naluri, which comes in as a health and fitness coach. For example, I have this habit of munching after my dinner while watching TV and end up finishing a packet of chips before I even realise it. So, I got on Naluri and stated that I wanted to kick this habit. The coach actually got me through what was happening.
"Now what I am trying to do, and I think I have been partly successful, is cycle while watching TV. This way, I keep myself occupied and I have stopped munching. Naluri also helps customers cope with chronic diseases as it connects you to health professionals and a clinical psychologist.
"All this is so we can focus on living benefits, so we can work with them to make them healthy proactively. And if they fall sick, we want them to know that we will be there to take care of them."
While the company's competitors have similar structures and offerings in place, none of them have the whole proposition integrated, insists Rohit. "We also have another layer built in. Let's say a customer tells us that he has more income now and wants to move from a simple digital product to an agency product. We will give him the option of portability to another product, seamlessly and with all of his loyalty benefits intact. The real differentiation we have is giving customers the digital experience and multiple touchpoints."
The insurer does not intend to stop there. Following the positive uptake of AXA eMedic, the coverage has been extended to children from as young as 15 days. Also in the works are plans to improve the consumer segment to include expatriates.
Rohit says underwriters faced a series of problems in extending the eMedic cover to include children and expatriates as the loss ratios are high in the first category and the insurer would have to adhere to cumbersome financial regulations in the other.
"When we were going to launch eMedic, the underwriters wanted to ask 28 questions! I wanted to scrap the project there and then because 28 questions for a digital product is out of the question," he adds.
"They came back with 21 questions and then went back to 25. But I wanted something that took no more than five minutes. Then they had seven questions, but I insisted that there be no more than three questions.
"While we were going through the process, we realised that the whole company had undergone a mindset change. I love this quote: 'The fastest fish eats the small and big fish'. Once upon a time, it was the big fish that ate the small fish. That has been the message to the team — we have to move faster than anybody else."
Tailoring for different segments
Simplification is the key to making digital offerings successful. Rohit says this is something insurers need to strive for as it is the only way to ensure trust and increase awareness among consumers.
"Since taking over, I have gone directly to the customer. A customer can hit me up on social media and file a complaint. I have learnt a lot from those instances. I have looked at four specific complaints in the last six months and I have been able to solve about half," he adds.
"The complaints are mostly related to two levels — the first is when the agent is no longer with the company so they do not know whom to go to. The second is a lack of clarity about the process and a lack of understanding about the products.
"I have learnt so much from them. So, to address these issues, we recently made a video series and sent the videos to the customers, showing them how they can claim, whether they are going through a cashless facility or the reimbursement process."
The overt focus on digital natives may seem a little heavy-handed on Rohit's part, but his rationale is "to catch them young so that as they age, we are with them". The emphasis on young consumers does not negate the work the insurer is doing to develop its ageing segment, he stresses.
Once the emerging affluent market reaches a certain age and acquires more wealth, they will require more tailored solutions to suit their changing personal and professional roles, says Rohit. "We launched a very interesting product early this year — AXA Create — which is a legacy planning product. The product involves multiple layers such as legacy planning for the person, who will need to know how much the cover will be for his children and spouse or even retirement," he adds.
"It also involves an account value element and a certain technicality on how to plan it. That is why it is better for an agent to advise him on this product. We cater for many high-net-worth individuals and retail customers above the age of 40 through our intermediary channels such as Affin Bank and Citibank."
Rohit acknowledges that are there are pros and cons. "We cannot be No 1 in the market. It is a bit silly to say that when we are in the 11th or 12th spot. We need to make it more realistic but still ambitious. So, in line with the AXA group strategy, we want to be the leader or preferred player in our preferred segments," he says.
"Last year, 65% of our book was health and protection. This year, as at May, it is 95% because of the new strategy.
"The plus is we are satisfying real needs, not just with our digital products but also products like AXA Create and other financial products for the older demographics to help them plan their future. And this is good for the agency business because typically, there is more stickiness compared with health and protection. It is also good to have products that are not tied too much to market movements, such as investment-linked ones, which is dropped by customers if the returns are low.
"The challenge for our agency force in terms of this strategy of going digital is that the ticket size has dropped because compared with your savings products, the ticket size of the health product is smaller. For example, the ticket size of a savings product in January last year was about RM6,500, but the ticket size of the health product was RM2,500 to RM3,000.
"But with the future of insurance distribution going increasingly digital, the challenge is redefining the role of the insurer's agency force, which is still a big part of the equation."
Rohit stresses that digitalisation does not mean a big leap from buying insurance products from human agents to purchasing online, or even that the agency force will be completely irrelevant in the future. "The agency force can be divided into two. There are really good agents, where roughly 15% of the agency force are professionals and are really focused on customers. In turn, they are really loved by their customers.
The second group are agents that sell insurance part-time. This is very common in Asia. I call this category the "sometimes agents". They could be running a sundry shop and if someone asks about insurance, they will sell the customer an insurance product. This is a category that needs focus."
While it has been a tough call to make, Rohit says AXA Affin Life has been aggressive in terminating the services of underperforming agents or proactively retraining them. "Last year, we launched a programme that focuses on younger agents. As part of the scheme, we give them a sort of loan to help them achieve their targets. The benefit for them is that when they move from a salaried job to becoming an insurance agent, there is a period where they do not have income. This is the most distressing time for them. But because we are giving them a certain level of comfort, they are able to build the business."
Rohit's confidence stems from the fact that a chunk of AXA Affin Life's business still comes from outside the Klang Valley. "The top agency manager in terms of production is from Johor Baru. He produces roughly 22% of the agency business. The other fastest-growing agent this year is in Ipoh," he says.
The agency force has been instrumental in growing the insurer's business in tier-two and tier-three cities, he adds. "Will the agency force be around in the future? Yes, I believe so, but probably not in its current form and structure.
"I do believe that the agency force will shrink across the world, not in terms of volume, but in terms of number of people. There was a time in the 1980s and 1990s, when all the companies did was to recruit thousands of agents and fire thousands more. At the time, the goal was global reach because every agent got at least one person on board. Later, we realised that the model did not work because when an agent goes missing, there is no one to service the customers and there are doubts that the customers are even real.
"The world will move towards a phase where there will be fewer agents, but providing real professional advice. So, what we are doing is developing this young channel and providing them training at multiple levels."
All these strategies are to realign the focus on being customer-centric, says Rohit. "Insurance has been a sleeping giant. Over a period of time, we have forgotten why we are here and that we are here because people want to be protected or want financial planning tools. But we have become so complex that it is just impossible to have a straight relationship with the customer.
"I really believe that we are at a crossroads where we have to go back to the basics, with the customer in the centre of everything we are working towards and keeping it simple. These are the factors that will drive the disruption.
"Everything we are doing today, be it artificial intelligence, robotics or chatbots, it is about the customer. Now, whether the customer will talk to us through an agent, come to us directly or through a bank or a non-financial institution, we need to be there."
The fundamental issue with insurance is that it is the only industry where consumers pay in advance for services they may or may not see decades from now, says Rohit. "It is predicated so much on trust. It is because of this that I believe the insurance bill will be similar to an electricity bill in the future, where you pay for what you use.
"I believe that premiums will move from a pre-underwriting philosophy to a post-underwritten one. We still have a long way to go, but that is a crystal-ball view of the industry."