This article first appeared in Personal Wealth, The Edge Malaysia Weekly, on November 11, 2019 - November 17, 2019.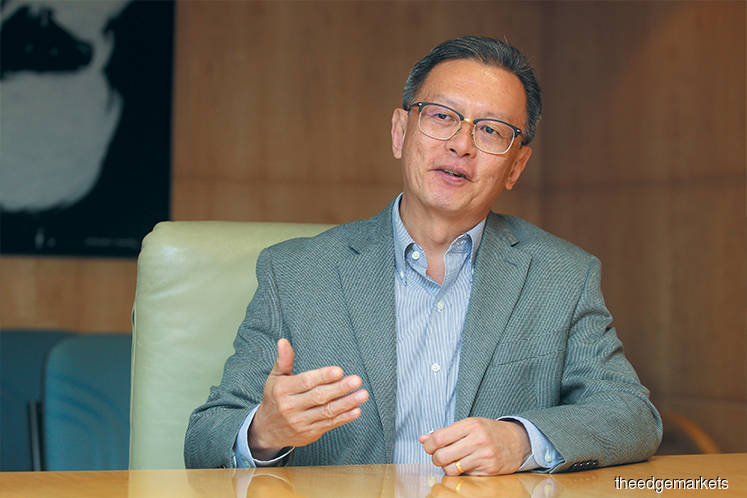 From time to time, we carry out market research to see if there are any new needs that require coverage. So, even before the Ministry of Health approached us, we noticed that mental health coverage was an area that we wanted to look into. - Low
There has been greater awareness of the importance of mental health over the past decade due to efforts to destigmatise the issue. As a result, global agencies and governments have been able to shine a spotlight on it as more people seek professional help for their illnesses.
According to the World Health Organisation, a person dies every 40 seconds due to suicide. Around the world, an estimated 300 million people are affected by depression while 60 million people live with bipolar affective disorder. Schizophrenia, a severe mental disorder, is said to affect about 23 million people.
In Malaysia, 29.2% of the population suffered from mental health issues in 2015 compared with 10.7% in 1996, according to the National Health and Morbidity Survey 2015. In the 2017 edition of the survey, it found that anxiety was the most common mental health problem among Malaysian adolescents (age 10 to 17) at 39.7%, followed by depression (18.3%) and stress (9.6%).
Etiqa Life Insurance Bhd CEO Paul Low Hong Ceong says the high number of adults and children diagnosed with mental health issues around the world is difficult to ignore. He adds that the Ministry of Health (MoH) saw a need to tackle these issues and approached insurers earlier this year to see if they could do anything about it.
"From time to time, we carry out market research to see if there are any new needs that require coverage. So, even before MoH approached us, we noticed that mental health coverage was an area that we wanted to look into," says Low.
"There is still a lack of data when it comes to the details, such as the severity of each mental health illness, the specific types of illnesses and the common triggers for these illnesses."
On July 1, Etiqa launched the country's first critical illness (CI) rider to include mental illness coverage with its SecureLink investment-linked insurance plan, called IL CI Plus (investment-linked critical illness plus). The rider covers 68 critical illnesses, including four types of mental illness — bipolar affective disorder, major depressive disorder, schizophrenia and schizoaffective disorder. The new SecureLink plan was launched on the same day.
According to its press release, any customer accepted by Etiqa is eligible for coverage, subject to the normal underwriting process. The one-time payout ranges from RM1,500 to RM30,000, depending on the sum insured.
Low says if a person is properly diagnosed with a mental health illness, a lump sum payment — which is 15% of the sum insured — will be made. Due to the lack of comprehensive data on mental illnesses, the payout is the amount of risk Etiqa is comfortable with at the moment, he adds.
With the inclusion of mental illness coverage, the insurer saw a 20% increase in demand for the CI rider a month after the launch, says Low, who believes that more people will take up the rider once they are aware of the mental health coverage.
The mental health coverage challenge
In the past, mental health was not covered by insurance policies as the definition of mental illness was not well-defined enough to be underwritten, say industry players. The concern is still there, says Low, adding that the problem is more about the subjective nature of the diagnostic process for mental illnesses.
"For example, the screening process is not like cancer, where we can use machines to scan a person's body to determine if a person has it or not. Mental health diagnosis is a process that takes time and involves conversations between the patient and a psychiatrist," he says.
So, how does Etiqa define the claim criteria? Low says since it is provided under critical illness coverage, a person's mental health needs to be at a critical stage before the lump sum payment is made. The person would need to go through the process of being diagnosed by a certified professional, be on medication and hospitalised for a mental illness before being eligible for a claim. "With this process in place, we are able to make sure that we are helping those who really need it," he adds.
Low says the rider will not offer mental health coverage to those with pre-existing conditions as well as those already receiving regular treatments for their mental health. "The coverage is still at the initial stage and there is some way to go to further enhance this product. Our main challenges are the establishment of sufficient long-term data and the subjectivity of the diagnosis, but we decided to launch the product anyway after seeing MoH data that shows a rising number of mental illness cases," he adds.
Low foresees that the next challenge will be the assessment of claims. However, he does not expect this to be a big hurdle as it generally follows the same claims process as the other critical illnesses covered by the rider.
"The risk is still manageable. As long as the person goes through a certified psychiatrist and fulfils the requirements for claim, we will honour it," he says.